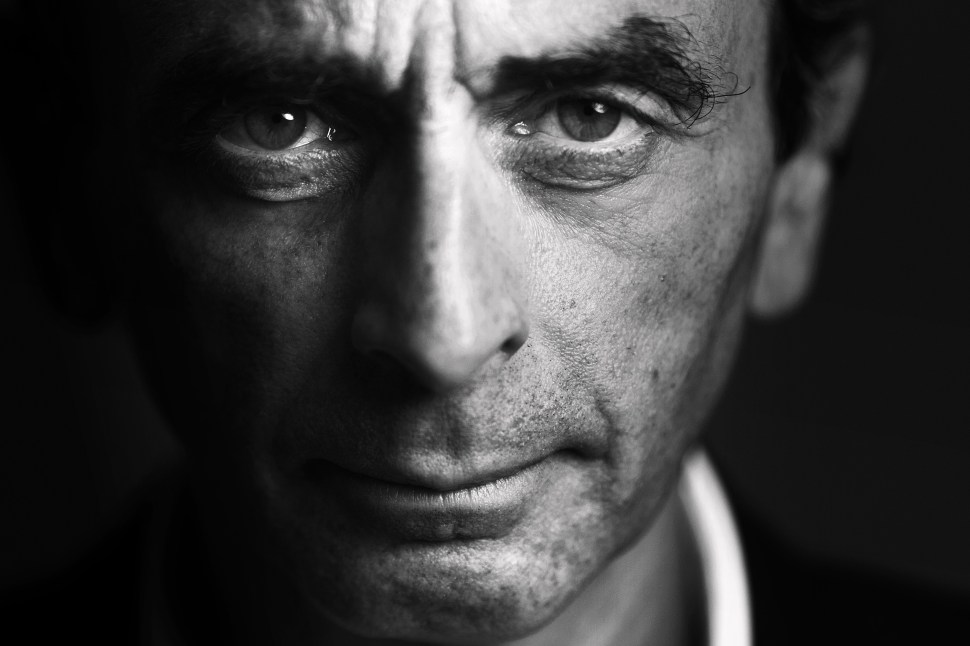 "Look, in genuine power circles, you will see no women. In finance, it is infinitesimal, not to say marginal … If power does not stay in men's hands, it fades away…"
No, this is not a reactionary uncle's utterance during a family meeting. Nor an anonymous provocative post on a macho man Internet forum. Watch it, this rant took place in March 2013 on French television, during a prime-time program. And the author of these words straight out of the Middle Ages is Eric Zemmour, one of the most publicized journalists and polemicists here in France.
How can I introduce the Zemmour case to you Americans? To give you a hint, just imagine that you have to introduce Rush Limbaugh to a French friend.
Where to start? For many years, this intellectual was recognized and highly endorsed by most of the French intelligentsia. He used to be covered by all cultural TV shows, giving him the opportunity to spread his racist, Islamophobic—and last but not least—sexist public speech.
However, in France, you're not supposed to mess with incitement to racial hatred. Legal actions directed by Prime Minister Manuel Valls against the so-called humorist Dieudonné M'bala M'bala and his anti-Semitic obsessions are the best recent illustration of this principle.
So then, how to explain that Gallic mainstream media continues to provide exposure to M. Zemmour, who spreads his hatred of Islam, blacks, leftists, not to mention women, for years now?
Indeed, if M. Zemmour has cleverly spread his ideological poison for all these years, it was thanks to the backing of a powerful partner in crime: The French press. In this regard, a joke has been circulating on social media, retweeted by comedians and journalists from all sides. "Zemmour complains about media's censorship towards him: a claim he was able to repeat time and again on LCI, TF1, iTélé RTL, France2, France3, TV5, M6, BFMTV, Euronews, Arte, Direct8… "
Even though it looks hardly credible, the questionable character vomiting such dubious opinions was a leading columnist of the program «On n'est pas couchés» ("We Are Not in Bed Yet"), a french leading weekly talk show, between 2006 and 2011. The show, hosted by the famous media figure Laurent Ruquier, was broadcasted on France 2, one of the channels of the public service.
M. Zemmour's offensive statements toward black and Arab people—the deep root of all the touchy issues of the French society, in his opinion—were fast to focus the wrath of anti-racist associations upon him: Targeted by a lawsuit initiated by several anti-racist NGOs (SOS Racisme, the LICRA, MRAP and the French Jewish Students Union) for his statements made on a few television channels during the promoting tour of his book, French Melancholy, M. Zemmour was convicted for incitation to racial hatred in 2011. The New York Times, reporting the episode, cautiously qualified M. Zemmour as a "French provocateur." A huge understatement.
His recurring declarations of inferiority of the female gender, just as shocking, haven't yet produced such an outcry and remain unpunished until now. Quite a strange phenomenon, keeping in mind his retrograde patriarchal vision of women's status, not to mention his views on "sterilized" men who embrace feminists' dictatorship.
In one of his first best sellers, «Le premier sexe» ("Prime Sex") released in 2006, M. Zemmour got straight to the point:
«Women drive under speed limit; they smoke when tobacco kills; they get parity when politics no longer serves much ; they're left-winged when the revolution is over; they become a literary asset when literature market is dying; they become fond of soccer when the magic of my childhood has turned into a cash machine. There is a female curse that is the reverse of a blessing. They do not destroy, they protect. They do not create, they maintain. They do not invent, they retain. They do not force, they preserve. They do not transgress, they civilize. They do not prevail, they dominate. By getting feminized, men are sterilizing themselves. They refrain from any innovation, any transgression. They just conserve. »
In that book, which exudes misogyny and hate toward independent and sexually liberated women, M. Zemmour kills two birds with one stone: He combines sexist comments with attacks against young muslims.
«Like any average males since the beginning of humanity, young Arabs are scared of women. Afraid of these castrating machines, of their supposed insatiable sexual appetite. All around the Mediterranean world, one solves this fear of femininity question by expressing an overplayed virility and by concealing the feminine sex appeal—hair and ankles, hips and breasts—under loose and shapeless clothes. That's the way our Arabs react. The most religiously oriented force their sisters to veil themselves; others require girls to dress like them with tracksuits and tennis. Costumed as such, they look less scary. Provided they stick to their feminity, to their intent to scare men and to challenge their uncertain and fragile masculinity, so to desire them and get a hard-on, men have no alternative that resorting to the B-plan they develop since prehistory: a militant disrespect, all the more violent because of their inner insecurities. Only the "slut" and the "whore" may wake up the male's fragile desire»
As weird as it may look, because of French feminist organizations' inertia, M. Zemmour has never been prosecuted for his numerous misogynistic words.
Quite oddly, he counts many female fans, who support him and praise his "straight talk" and his refusal to be politically correct on social networks.
But 2014 was definitely M. Zemmour's year. His new book, The French Suicide, which earned him coverage in The New Yorker, is a hit in bookstores. The journalist, probably feeling almighty because of years of impunity, envisioned millions of French Muslims deported during an interview published in the Italian newspaper Corriere della Sera. Confronted and denounced by the politician Jean Luc Mélenchon, the news channel I Télé abruptly ended its 11-year collaboration with the polemicist. At the same time, M. Zemmour was placed under police protection after death threats apparently coming from Islamists, straight after Charlie Hebdo's terrible attack.
Now, despite early warnings coming from its own staff, RTL Radio, one of the most-popular media entities in France, keeps him on board for his weekly morning column. He also successfully to preserved his column in French right-winged daily Le Figaro, which shows no visible intention to end its collaboration. Until when?
Melanie Mendelewitsch is a novelist and independent journalist based in Paris. She has written for GQ, Vanity Fair, Glamour, Grazia and Slate.