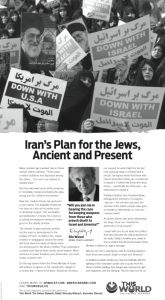 Rabbi Shmuley Boteach announced today that the writer, political activist and Holocaust survivor Elie Wiesel, will attend Prime Minister Netanyahu's congressional speech regarding Iran on March 3.  A full-page advertisement declaring Mr. Wiesel's intention to attend the controversial speech will appear in The New York Times on February 14th to be followed by The Washington Post.
Signifying the urgent threat that a nuclear Iran portends for Israel and the rest of the world, Mr. Wiesel, who won the Nobel Peace Prize in 1986, directly addresses President Obama, Vice President Biden and distinguished members of Congress, and asks them to support Mr. Netanyahu's right to call attention to the crisis. In the advertisement, Mr. Wiesel states, "As one who has seen the enemies of the Jewish people make good on threats to exterminate us, how can I remain silent?"
"I plead with you to put aside the politics that have obscured the critical decisions to be made. Surely it is within your power to find a solution that will permit Israel's Prime Minister to deliver his urgent message. Will you join me in hearing the case for keeping weapons from those who preach death to Israel and America?"
"There are few personalities more respected and admired in the entire world than Professor Wiesel," said Rabbi Shmuley Boteach, Executive Director of This World. "He represents a conscience of mankind. As someone who witnessed the devastating genocide of the Jews first hand, Professor Wiesel clearly understands the stakes of an Iranian nuclear power. He is the living face of the 6 million victims of the Holocaust."
This is not the first time Mr. Wiesel has been involved in controversy or in an advertisement. Last summer, during the height of the Israel-Gaza conflagration, the London Times rejected a provocative ad featuring the Nobelist, citing concern for reader sensitivities. At the time, a Times representative told the media buyer for Jewish Values Network, "[The Times] [feels] that the opinion being expressed is too strong and too forcefully made and will cause concern amongst a significant number of Times readers." The Guardian and other papers accepted the ad.
Meanwhile, the President himself is reported to have strong, warm feelings for Mr. Wiesel, having first met at Occidental College in California when Mr. Obama was a university student. In 2012, Mr. Wiesel told the Israeli newspaper Haaretz that he and the president were collaborating on a book.