The townhouse at 66 Morton Street, which just sold for $17 million, according to city records—$3.1 million more than the asking price—has long been a "Mecca for filmmakers," according to the listing held by Eileen Robert and Charlie Miller, of Corcoran, drawing camera crews for Working Girl and Autumn In New York.
Ms. Robert attributed the significant premium in the closing price to an "active bidding war," when we reached her by phone, but would only make wry reference to an "American LLC" when asked about the buyers, who are identified in public documents as Triple Y Properties LLC, with an address at 24 Vestry Street, which is, in turn, the corporate headquarters for the David Yurman company, maker of spangly cabled ornamentation favored by Real Housewives and privileged teens in your nicer parts of New Jersey.
Could the "Y" in "Triple Y" have anything to do with the "Y" in "Yurman"? As in David, Sybil and Evan, the co-founding couple's son, who joined the company in 2003 to head up men's jewelry design? We wonder…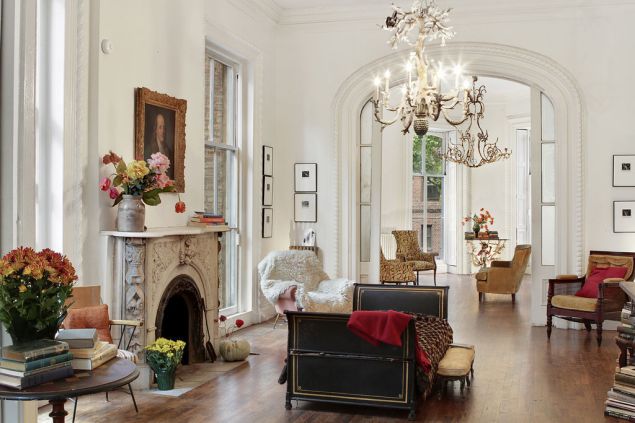 No doubt, the house, which was built in 1852 for the Trustees of Trinity Church, seems a likely bet for a family so obviously concerned with aesthetic finery. A pretty redbrick affair, it features distinctive polygonal bay windows and a bowed facade. There are nine fireplaces, three of them arrayed in a "triple parlor" space, a back garden and a music room. How charming! Whimsical chandeliers hang from high, high ceilings and a pair pocket doors secret themselves in great arched entryways on the parlor level.
The seller, Mary E. Kaplan, the listing notes, has been using the home as a single-family for decades, so heavy demolition work will probably prove unnecessary, but the brokers do suggest renovation and the photos they offer appear to have all been taken on one floor. (Ms. Kaplan, a daughter of Jacob Kaplan–a molasses baron, philanthropist and longtime chieftain of the Welch Grape Juice Company–has owned the home since 1969; it's unclear what she paid for it, but it's safe to say she's making out like a bandit here.) If indeed the Yurmans are the buyers, we're sure they'll have no trouble dreaming up a fetching overhaul.