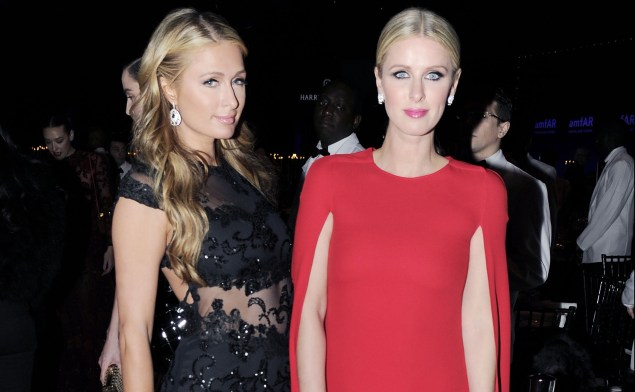 As Fashion Week and icy blasts slammed the city, dinner parties commenced, the couture was amped up, and drinks flowed later than ever. On Tuesday, February 10, at the Mandarin Oriental at Columbus Circle, The New York Botanical Garden hosted its Orchid Dinner.
"In the dead of winter, the Orchid Dinner, with its beautiful orchids and equally beautifully dressed women, is the perfect antidote to a dreary, cold sky," Frank de Biasi, one of the flower designers behind the event, cooed eloquently. "I remarked to my dinner partners we'd never seen a New York City benefit party go on so late with dancing!" Carolyn Englefield of Veranda co-hosted the night, which saw the excitable Baccarat CEO, Daniela Riccardi declare, "We must enjoy the moment and revel in it!!"
Revelry was in sweet supply the next evening at the amfAR gala at Cipriani Wall Street. The Foundation for AIDS Research raked in more than $2 million as it honored Harry Belafonte, Patrick Demarchelier and Rosario Dawson, the latter sparkled in Harry Winston's Exquisite Jewels.
"I'm wearing Harry Winston as well," Kendall Jenner yelled out. Kim Kardashian swooped in for cocktails, sizzled it up for the cameras, and ducked out in a flash.
---

$120,000
Amount paid for Patrick Demarchelier portraits of Naomi Campbell


$2.2M
Rumored cost of Moncler's Valentine's Day runway show


---
"It's got your name on it, Patrick," Anna Wintour told the photographer as he accepted his magnum bottle of Moët & Chandon as award.
"The best Champagne from France always does,"  Mr. Demarchelier shot back, laughing.
After dinner had been swept away and the honorees had received their awards of Moët, Whoopi Goldberg, Jeremy Piven and Marcia Gay Harden hung around for a stellar performance of Dame Shirley Bassey's greatest hits.
Next, Shindigger zipped up to the wine cellar room at the Standard Hotel for Vogue Mexico's 15th anniversary dinner honoring editor-in-chief, Kelly Talamas.
"There's really good energy here," said Maria Cornejo, who detailed her next collection's take on individuality. "It was really hard for me to edit this season," she said with a sigh, with a nod to fashion consultant Roopal Patel, who obviously helped, to her right.
"We just looked at the collection and thought it would show better in the apartment," Dee Ocleppo, Mrs. Tommy Hillfiger, enthused from one of her sitting rooms at The Plaza's One Central Park South. "We thought people would like to come to the apartment," she said with a laugh. With bubbly to sip and Basquiats to gawk at, she was right.
"I do like the Liz a lot," Ms. Ocleppo confessed, pointing to a painting of Elizabeth Taylor, "she anchors the room. It's very subtle."
As subtle as a Warhol on a plush wall can be, of course.
One moment on the calendar not to miss, despite the artic wind, was Prada Soho's preview of their show "The Iconoclasts." The flagship installation is a curated display by invited costume designers, this time by Michael Wilkinson and  Tim Martin.
"My Fashion Week is very low-key," Zosia Mamet divulged to Shindigger. "I'm not doing a whole lot of it," she said. "I did go to a Lucky dinner to kick it off. I'm going to Cynthia Rowley's party," she continued. Jill Stuart and Rebecca Minkoff were other runway shows on her list.
As the disco beats and Champagne raged on, Shindigger bumped into Kesha, who had already made a splash at the VFILES party the night before.
"This is pretty fun!" she yelled over the dance music. "I love Prada and Miu Miu. I love the vintage throwback aesthetic of it. It feels very '60s and '70s to me," she reasoned, revealing her Italian threads. "Those are my glory days. It's like I was born in the wrong decade!"