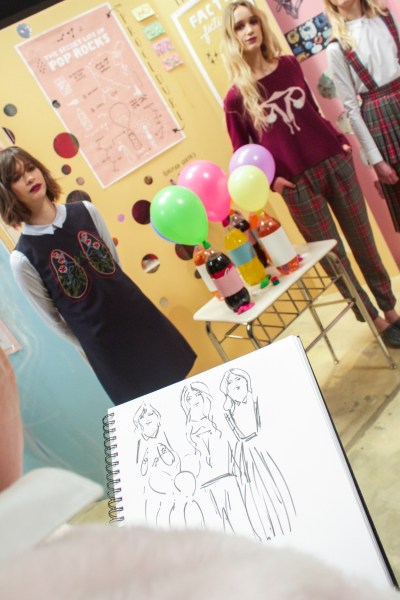 When Rachel Antonoff showed her autumn and winter 2015 collection at the Professional Children's School on Thursday, many attendees were struck by a design element that was at once intensely familiar and rarely seen on clothing: an outline of the female reproductive organs.
A burgundy sweater showed the shape of a uterus, fallopian tubes and ovaries in pale pink intarsia. Paired with plaid pants and oxfords, the outfit was reminiscent of a school uniform, save for the extra-educational sweater's design.
We caught up with the designer, Ms. Antonoff, to ask about the collection and its science-fair-themed presentation.
What was the inspiration behind your collection at large?
Fall '15 was inspired by the intersection between biology and botany, specifically relating to a love triangle between a student named Fern, her bio teacher Seymour and her botany professor Angelika. One of the prints is an illustration of the three characters, another is called 'Organ Garden' which looks like a floral but is actually a garden of hearts, livers, spleens, etc.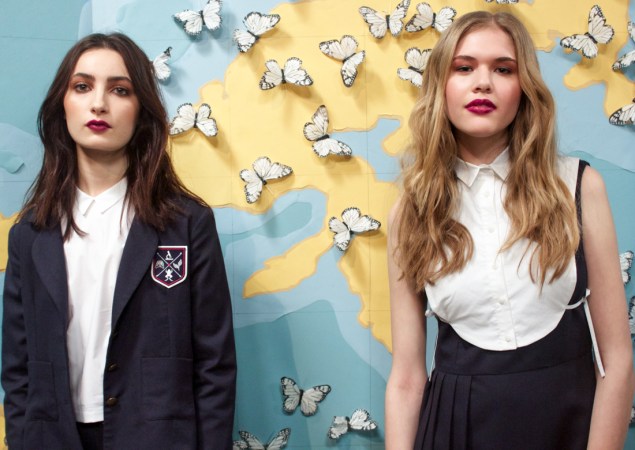 How would you say this collection differs from prior collections of yours?
I think its a bit more subtle and a bit more grown up. The theme may be very 'cute' in nature but I think the pieces are a little older.
Your clothes have such a playful way about them. Is this something you try to cultivate, or does it just come through naturally?
I'm not sure I know how to do it any other way. I think its important for clothes to be fun to wear, maybe even make you laugh a little.
Re: the uterus sweater everyone's talking about, how long have you been interested in female reproductive organs as a design motif? What sparked this interest?
I've always loved the way the female reproductive system looks and it worked so well with this season's concept, felt like a no brainer.
What are some of your favorite pieces from the line, and the stories behind them?
I love all of the sleepwear-inspired pieces. The bathrobe coat, towel gown and PJ set. The idea that a gown could be as comfortable as a towel is just heaven to me. I love the reproductive system sweater, it just makes me smile and I really love the colors. And it tickles me that we have a 'Seymour Pussy' T-shirt in the collection.
How would you describe the woman you are designing for?
The woman I am designing for truly dresses for herself and does not want to be told what to wear.
If you could dress anyone in the world in this collection head to toe, who would it be and why?
There are so many women I would love to dress. The one who comes to mind right now, is Linda Rodin, she is just the coolest.
Anything else you would like to throw in about the presentation or the collection?
I was really excited and proud to hold the presentation at my old high school, PCS!