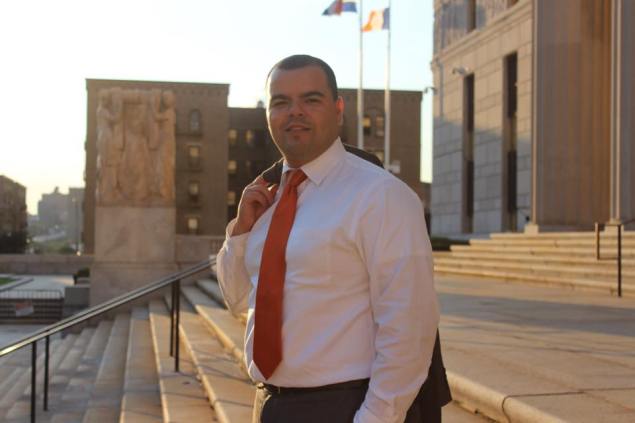 The next chairman of the Bronx Democratic Party could be a 34-year-old assemblyman long regarded as a rising star in the borough.
But the ascension of Assemblyman Marcos Crespo, a South Bronx lawmaker, is quietly rankling progressives inside and outside the borough. The Democrat voted against same-sex marriage in 2011, the year it became law, and against the Women's Equality Act in 2013 and 2014.
In a city where prominent Democrats are expected, without question, to be socially liberal, Mr. Crespo's voting history is troubling to some in his own party.
"Anybody who voted against marriage, obviously, has marginalized the LGBT community and doesn't consider us a part of the civil rights movement," said Allen Roskoff, the president of the Jim Owles Liberal Democratic Club, a citywide LGBT club. "It's disrespectful and unacceptable."
Mr. Crespo's 2011 vote against same-sex marriage is notable because the bill passed the Assembly with relative ease and was overwhelmingly supported by New York City lawmakers. Several Democrats who had voted against the bill in the past switched their vote in 2011 as Gov. Andrew Cuomo stepped up pressure on the legislature to legalize same-sex marriage.
Mr. Crespo did not respond to requests for comment.
The lawmaker Mr. Crespo hopes to replace as county leader, Assembly Speaker Carl Heastie, voted for same-sex marriage as a rank-and-file member in 2011. Mr. Heastie, elected speaker earlier this month, had switched his vote from 2007, when he opposed a same-sex marriage bill. That 2007 bill never passed the State Senate.
Mr. Heastie announced that he would step down as county leader upon his election as speaker. A vote to replace him has not yet been scheduled.
Though heavily Democratic, the Bronx can be more socially conservative than other parts of the city. Churches hold more sway and LGBT enclaves like Manhattan's Chelsea and Queens' Jackson Heights are nonexistent.
Before he was elected to the Assembly in 2009, Mr. Crespo worked for State Senator Rubén Díaz Sr., a Pentecostal minister and proud opponent of same-sex marriage and abortion. Mr. Díaz has often complained that social conservatives like himself—he takes more liberal stances on fiscal issues—are alienated in the city political establishment.
Mr. Díaz said he would play no role in the selection of county leader—it's up to Democratic district leaders—and insisted he would support the decision of the county organization. Mr. Crespo is facing Assemblyman Jeffrey Dinowitz, 60, a Riverdale lawmaker and number two-ranking official in the Bronx machine.
"I fight my own fight. I do not fight anyone else's fight," Mr. Diaz said. "If they choose Marcos Crespo, amen. If they don't choose Marcos Crespo, amen."
Mr. Crespo is also close to Mr. Díaz's son, Bronx Borough President Ruben Diaz Jr. The younger Diaz is the de facto leader of Bronx Democrats and harbors ambitions of being a citywide elected official one day. Mr. Crespo filled the Assembly vacancy Mr. Diaz created when he ran for borough president in 2009.
Like Mr. Heastie, Mr. Diaz voted against same-sex marriage as an assemblyman in 2007. But he announced in 2013 he supported same-sex marriage, following a national trend of Democrats changing their views as gay rights entered the political mainstream.
Mr. Diaz's office did not immediately respond to a request for comment regarding Mr. Crespo's past votes. The Bronx's most prominent openly gay elected official, Councilman Ritchie Torres, was mum, but did not express support for Mr. Crespo.
"I would rather speak to Marco directly," Mr. Torres said.
Mr. Crespo's opposition to the Women's Equality Act, a ten-point package of bills, raised eyebrows because it has been championed by Assembly Democrats and Mr. Cuomo, who even created the Women's Equality Party as he ran for re-election last year. The act, which would create a stronger equal pay law and increased protections for victims of domestic violence, among other measures, has proved controversial among Senate Republicans and conservatives because of a plank that would codify the Roe vs. Wade Supreme Court decision on abortion in the State Constitution.
Mr. Dinowitz's progressive bona fides are not in question. He voted for same-sex marriage in 2007 and 2011 and backed the Women's Equality Act. Well-regarded by party insiders, Mr. Dinowitz faces an uphill battle because he would become a white county leader in a predominately black and Latino borough.
While he said he disagreed with Mr. Crespo's votes, Mr. Dinowitz emphasized that Mr. Crespo's views should not disqualify him from leading the county organization. Though Democratic organizations are not as powerful as they once were, they play a crucial role in local elections and nominating civil court judges.
"As Assembly members, we vote our conscience, presumably. While I think he voted the wrong way on those bills, I don't think that precludes him from being county leader at all," Mr. Dinowitz said.
Mr. Dinowitz compared Mr. Crespo to his mentor, the elder Diaz: "He has never been one to make a crusade on these issues, yelling and screaming."