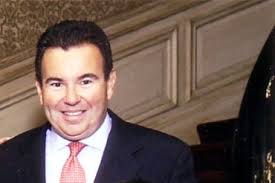 NEWARK – The defense attorneys for former Bergen County Democratic Chairman Joe Ferriero this afternoon argued that their embattled client didn't know he was breaking the law when he drew the attention of federal investigators who ultimately slapped him with bribery and extortion charges.
Jousting between the defense and the prosecution dominated the early trial rounds in the courtroom of Judge Esther Salas. A tan jacketed Ferriero sat with his attorneys.
Threatening a company with loss of money in order to get money from that company does not constitute the routine duties of lobbyists or political operatives, the prosecution argued. Lobbyists aren't out to extort people, or shouldn't be, the prosecution argued.
Yesterday, the potentially far-reaching aspects of the case emerged with news that a Virginia company that first proposed the Xanadu project in the Meadowlands "was asked to raise $50,000 in 2005 for Bob Menendez, then a congressman, after it received a critical permit from the Army Corps of Engineers, court documents show," according to a Bergen Record report.
As part of their case, defense attorneys Jennifer Mara and Michael Baldassare said they want to cross-examine other players related to the conduct of party business.
The judge was skeptical early on one front.
"It's not about what everybody else was doing it's about [his relationship to the law]," Salas told Ferriero defense attorney Mara. "It's not an available defense. The good faith mistake of law is not available because you don't have a law that he relied on that was subsequently repealed."
Mara conceded in the bribery case.
But dug in on her argument in the case of the seven racketeering charges her client faces.
"There was no intent to extort," Mara said. "We are going to argue that Mr. Ferriero had no intent to extort based on that meeting with the Mills Corporation."
Mara wants to put DeCotiis on the stand to ask him about this, a meeting in August of 2002 among Ferriero and attorneys Donald Scarinci and Bob DeCotiis.
"You're not going to be permitted to question witnesses regarding what other people were doing running consulting businesses. It's not an available defense," Salas said, in the case of the bribery portion of the case. "I'm not going to allow that area of testimony to happen. The only area that's left is this issue of extortion, where there is a wilfulness component."
But in the racketeering portion, she will allow DeCotiis to testify.
"I think that's fair," Salas said, but in her decision emphasized that she will not allow the court to devolve into a "sideshow" about what others are doing.
The prosecution made it clear that Bob DeCotiis had done nothing wrong and that there would be no evidence to suggest otherwise.
The two words "scorched earth" – from the attorney's testimony to the feds – dominated the afternoon arguments in this corruption trial.
"It has everything to do with scorched earth coming out of [Bob] Decotiis' testimony," said Baldassare, referring to words allegedly spoken by attorney Donald Scarinci at a 2002 meeting of lawyers. "He was merely present at the meeting. Mere presence isn't enough."
According to DeCotiis' memory of the meeting in Dumont where Ferriero was in attendance, Scarinci and Hollenbeck told DeCotiis that they had been asked to represent a competitor who intended to use "scorched earth"- Scarinci's alleged words – tactics to defeat the Mills Corporation's bid to serve as project developer for the Meadowlands. For $35,000 a month, though, they would work for Mills, according to the indictment.
"I have real concerns in this case," said Baldassare. "There are a lot of players who might say to themselves, 'How are these guys not defendants?"
Baldassare argued that the prosecution is unfairly singling out his client. The prosecution maintained that it is not alleging any conspiracies, charged or uncharged – related to the Dumont meeting.
Read the Bergen Record's update here.