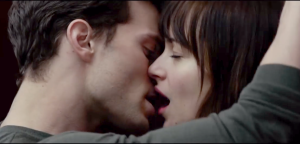 Sex scenes are very uncomfortable to film–and the Times is ON IT.
An article in this Sunday's Times arts section reexamines the role of onscreen intercourse in a post-Fifty Shades of Grey world. As reporter Melena Ryzik writes, "filming sex scenes is no turn-on," and the comments of several Hollywood insiders bear this out.
In the article, Fifty Shades cinematographer Seamus McGarvey spills some steamy secrets about how he captures coitus. Among the sordid details is that actors Dakota Johnson and Jamie Dornan each had covers over their private parts, and the filmmakers had to add pubic hair during postproduction.
Mr. McGarvey also gives detail on other sex scenes he has captured on film–when shooting a libidinous moment between Tilda Swinton and John C. Reilly in We Need to Talk About Kevin, he literally got under the covers to capture the heated passion. He also praised Atonement director Joe Wright, who he said choreographs sex scenes like a dance–though Keira Knightley gave a slightly different account of the experience when she was interviewed by Graham Norton.
On the opposite end of the spectrum is comedy heavyweight Judd Apatow, who says improvisation is key for intercourse.
"If it's overly rehearsed or overly thought through, it seems like a bad soft-core porn on Cinemax," Mr. Apatow says.
Indeed, even when Mr. Apatow tries to prepare in advance, it inevitably fails,
"I took photos of every possible angle you could have sex in, but then on the day, all of it goes out the window," the meticulous Mr. Apatow admits. "There's only so many places you can put the camera for that activity"
The best quotes, naturally, come from Jean-Marc Vallee, the French Canadian director of Wild and Dallas Buyers Club, who tries to stay all business when filming bedroom scenes.
"I do get excited, but not sexually," Mr. Vallee says. "I'm excited as a filmmaker."
He also inadvertently embarrasses Reese Witherspoon, Matthew McConaughey and Jared Leto,
"I've never seen an actor with an erection, in all of the films and the sex scenes that I've done," Mr. Vallee awkwardly admits.
With quotes like this, it's clear why the Times, not usually known for such vivid discussions about sex, is blocking comments on the article. The Grey Lady is unwaveringly wise, even if she's not always in tune with modern mores.