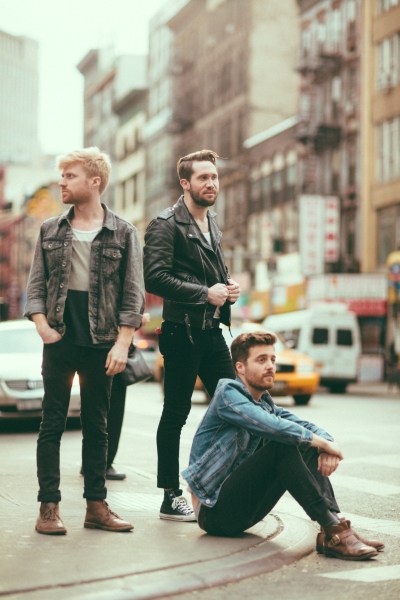 On brainy pop trio Jukebox the Ghost's current tour—which arrives at Irving Plaza on Saturday, February 28—Jesse Kristin has been getting to enjoy his very own regular "Beth" moment. For those readers whose classic-rock knowledge may be deficient, I'm referring to what used to happen at Kiss concerts when Peter Criss (and later Eric Singer) would leave his seat behind the drums and sing "Beth," the sensitive ballad that also happened to be the biggest hit those grease-painted rockers ever had.
One of the standout tracks on Jukebox the Ghost's 2014 self-titled album, the incisive and more than a little Randy Newman-ish "Hollywood," is sung by Kristin, the band's drummer. Now, when that song comes around, in a break from past group protocol, he gets out in front of his kit to take the center stage microphone. And as was the case with Kiss, audiences … well … lick it up.
"That's a highlight every night," singer/keyboardist Ben Thornewill says. "There's a big clap-along, and it's just this explosion of energy that happens in the middle of the set, which sets the rest of the songs on fire. It's like, 'Oh, this isn't supposed to happen. What's going on? Are you messing with my mind?' "
Here's another way the Jukebox men like to mess with listeners' minds: By writing and recording songs that seem almost annoyingly perky at first but on closer examination show a much darker hue. "That's part of our natural writing style," Thornewill says. "We shy away from anything that's too brazenly happy. We want to do something that's fun but can also be rewarding on multiple listens."
Achieving this multi-layered effect on Jukebox the Ghost (the band's fourth album) was a lengthy process, which involved deconstructing and then reconstructing dozens of songs. "Writing 50 songs isn't the hardest thing in the world," Thornewill notes. "The excruciating thing is figuring out what happens to them. Some of it is natural selection. We're not making a ballads record, so there's only so much room for those—lop off one chunk of songs. And then in the demoing process, we spent four months chopping up songs, combining them, finding the parts that worked and the parts that didn't."
The boys in the band thought they'd be through with all this tinkering once they entered the recording studio. They were wrong. "Oh, we recorded multiple versions of everything, different verses, different choruses," Thornewill says. "We could spend six hours on four seconds of music. The verses of [leadoff track] 'Sound of a Broken Heart' were a real struggle. The original version was very Stevie Wonder, choppy bass, big seventh chords on piano, super groovy. Our producer said it wasn't working and I'd say, 'No, this is why I love the song,' and it went on and on. Now it's much more pure-sounding, not quite as groovy, but it's better for all the changes. In my mind, though, it's still preserving some element of Stevie Wonder-style piano playing—but if you listen, you won't hear anything remotely like that."
---

'When I was 3, my dad would play classical guitar and I'd weep. I'd tell him that it made my heart too full.'

---
Similarly, critics often say they hear traces of artists like Elton John, Billy Joel, Joe Jackson and Ben Folds in Jukebox the Ghost's music, but whether they're really there is debatable. Often these comparisons seem born of convenience; Thornewill's also a piano-pumper. "I certainly don't mind being compared to those people," he acknowledges, "though I'd say Regina Spektor's playing and writing is closest to what I'm doing, which is why I try not to listen to her too much. Actually, if I could change one element of my personality, I'd listen to more music. I tend to only put on three to four songs a day."
One suspects this wasn't always the case, and Thornewill confirms that his childhood was steeped in music. "My origin story's pretty good," he says. "When I was 3, my dad would play classical guitar and I'd weep. I'd tell him that it made my heart too full. When I was 6, I started taking piano lessons and my mom said, 'If you like it, I want you to sign a contract that says you'll take lessons until the end of high school.' Now my mom is not a tyrannical woman, but she knew there was a psychological element to it. So she still has this contract somewhere, signed by 7-year-old me, saying that I'd take classical piano till I graduated high school."
Thornewill not only honored that contract but also went on to major in music at George Washington University, where he met Kristin and guitarist Tommy Siegel. The threesome formed Jukebox the Ghost in 2003 and established a reputation the old-fashioned way, through tireless gigging. "Our attitude was just, 'Let's see what happens,' " Thornewill recalls. "And now here we are, having inadvertently become touring veterans. People say, 'Wow, you guys have really played this smart, you built it from the ground up.' That was never our plan. But it's been a blessing."
In January, Jukebox the Ghost made its next step up the music-biz ladder, signing a deal with Cherrytree Records, part of the Universal distribution empire. Under the terms of that deal, the Jukebox the Ghost album, which was originally released in October on Yep Roc, will be reissued with an extra disc. When asked what that disc will contain, Thornewill is cryptic: "It's a cool, totally unique thing. We didn't want to do just a rebranding. It's not new songs, but it is a full album's worth of other material. It's something that we haven't done before and I actually don't know if anyone's done it before. Yes, it already exists, we have completed it. I'm sorry to be so coy and vague."
Whatever could this mysterious bonus item be? And might it be even more exciting than Jesse Kristin's nightly "Beth" moment? Stay tuned.
[youtube https://www.youtube.com/watch?v=y5OWwSlBHU4&w=560&h=315]