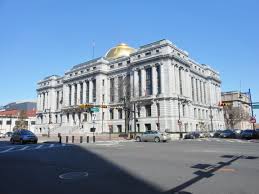 NEWARK – A potential change in the direction of the more-than-decade long effort to build Triangle Park, a park meant to provide a pedestrian link between Newark's Ironbound neighborhood, Penn Station and the Prudential Center arena and spur downtown development could be a flashpoint for controversy at a Newark City Council meeting scheduled for Wednesday.
According to Augusto Amador, councilman for Newark's East Ward, an upcoming vote that might amend the original plan to develop the park, signed between major Newark property owners Edison Properties, Jose Lopez and the Newark Housing Authority, could prove problematic.
"We're looking for transparency in this process," Amador said. "I'm not supporting any other plan, and I'm not going to vote for what comes before us."
The reported replacement for the original stakeholders in the plan is Boraie Development, a real estate development firm based in New Brunswick. The firm courted controversy when it received $4.8 million in post-Hurricane Sandy aid to help build luxury apartments in New Brunswick.
Boraie Development has worked in recent years with former NBA star and Newark native Shaquille O'Neal on development plans in downtown Newark. The firm is also politically well-connected, having donated to the campaigns of former Newark mayor and now-U.S. Senator Cory Booker (D-NJ) among other politicians.
"I sense that in some members of the council, there is a certain level of frustration," Amador said regarding the approximately $12 million project. "There hasn't been any consideration given to the Edison plan because, from what I understand, [city authorities] have been negotiating with Boraie to be the developer in charge of the project. This project demands, and deserves, to have transparency."
The meeting is scheduled for 12:30 p.m. on Wednesday in Newark City Hall's council chambers.