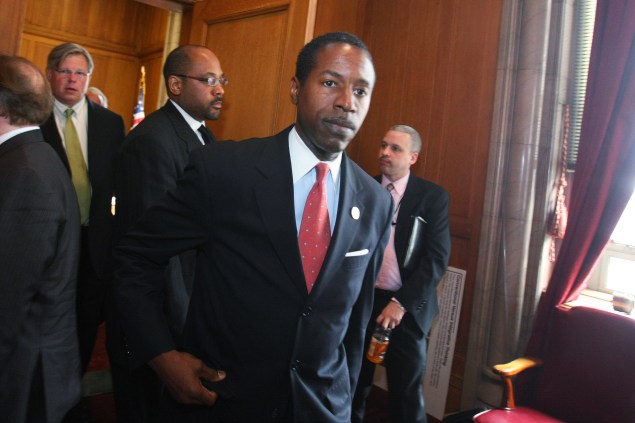 He's not quite the best thing since sliced bread.
Former State Senator Malcolm Smith, a one-time Democratic majority leader, was found guilty today on federal corruption charges, joining a long list of Albany legislators who have run into legal trouble.
Mr. Smith was indicted in 2013 for undertaking a bribery scheme to land himself on the Republican ballot for mayor. Federal prosecutors alleged that Mr. Smith, a Democrat, tried to bribe Republican county leaders in an unsuccessful attempt to allow him to run on the GOP ballot line. A former Republican city councilman, Dan Halloran of Queens, was found guilty last year of quarterbacking Mr. Smith's bribery scheme and trying to line up support for him in Queens.
A colorful lawmaker from southeast Queens, Mr. Smith was quoted in the criminal complaint telling an undercover FBI agent that he should be considered "the best thing since sliced bread" or even "better than sliced bread."
Mr. Smith had pleaded not guilty to the charges. The trial, scheduled for last summer, was pushed back to January and lost at least some consequence after Mr. Smith failed to win another term in the Senate last year.
For U.S. Attorney Preet Bharara, the guilty verdict is yet another high profile victory in his crusade against political corruption. Mr. Bharara brought corruption charges against former Assembly Speaker Sheldon Silver last month, forcing the powerful pol to resign the post he had held for 21 years.
And as he did after Mr. Silver's arrest, when he urged the political establishment to "stay tuned," Mr. Bharara once more said he was not finished going after corrupt lawmakers.
"And sadly, this was just one of many pockets of corruption this Office has uncovered in New York, which has become the 'show me the money' state," Mr. Bharara said. "It should not be asking too much to expect public officials at least to obey the law. This Office will continue the vigorous prosecution of political corruption until every public official understands that violating the public trust will likely land you in prison."
Updated, 1:35 p.m., with Mr. Bharara's statement.