The month of May couldn't appear to be farther away, what with this 7 degree weather outside, but time marches on inexorably, and soon it will indeed be May, and thus time to ship up to Randall's Island for the fourth edition of Frieze New York. The idea of venturing outside now seems absolutely horrifying, but what goes on outside of Frieze New York, in Randall's Island Park, is often one of the loveliest parts of the fair, as many works from the Frieze Projects sector line the waterside walkways that loop around the white tent, and they often involve fun or bizarre performances and interactive installations.
This year should be no different, as Cecilia Alemani, the director of High Line Art, is once again curating Frieze Projects, and she's chose six different artworks—many of which, this year, take place inside the fair. Aki Sasamoto will construct a secret room that contains a maze that is really a personality test. Pia Camil will pass out fabric that visitors can use to accessorize or accentuate their outfits. Allyson Vieira will build a giant fractured column out of hunks of recycled plastic. Samara Golden is doing something underground that reveals how that giant tent thing works on a subterranean level. And there will be a tribute to Flux-Labyrinth, the installation first created in Berlin in the 1970s by George Maciunas and his merry gang of Fluxus peers.
But you know what might take the cake here? The Frieze Projects work by our friend Korakrit Arunanandchai, who will be creating massage chairs upholstered with his trademark bleached denim, and then placed all around the fair.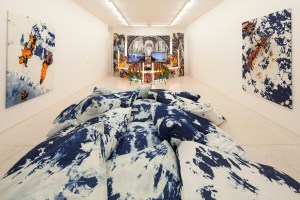 (We reached out to the artist to ask "Why massage chairs?" but from the looks of his Instagram, it appears he's in Thailand, and anyway the whole thing seems pretty intuitive to us—who doesn't want to sit in a massage chair after walking around an art fair for a few hours? Hell, we could sit in a massage chair right now. But we'll keep you posted if he responds.)
No word yet if there will be any sign of a Frieze Projects performance in Gap Lounge, though we're still not sure if Gap Lounge was a performance itself.
UPDATE: Mr. Arunanondchai has responded to our query regarding the massage beds. His statement is such:
Hello from Bangkok! I got asked to propose for a Frieze Project and I was thinking about what project I would want to see as a visitor of Frieze. I love massages and I think it would be a nice gift for the fair goers to be able to rest and get a massage. There's something very immersive for the people sitting on these chairs and it's also a strange spectacle for the passerby to see people in these mechanical massage chairs. They really take you in and become one with you.

The soundtrack is made by the musician Harry Bornstein, who soundtracks most of my videos and is a remix of a conversation me and my twin had while walking through the same fair in London.

These massage chairs themselves are a little bit of a prelude to the exhibition I am opening at Palais de Tokyo in June 18 which will be a series of "abstract beds"