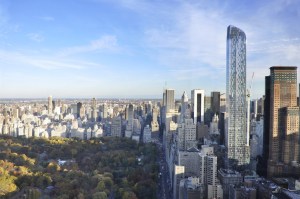 Well, the seller is Russian. The seller is an oligarch. The apartment is on Columbus Circle. But it's at 80 Columbus Circle, rather than at 25–the Time Warner Center–which was the recent subject of exhaustive reporting by the New York Times. The paper dubbed the building "an enclave of powerful Russians," in a series of articles that threw many foreign buyer-involved transactions there into rather deep shade. But Oleg Baibakov, the oligarch in question at 80 Columbus Circle, the Mandarin Oriental Residences, even used his own name on the deed! That's how we know he just sold his three-bedroom condo there for $19.5 million, according to city records.
Mr. Baibakov, a real estate player and one-time mining mogul, gave the listing to the Jacky Teplitzky Team, at Douglas Elliman, which had most recently listed the 3,168 square-foot unit for $22.995 million. Alas, it was not to be. But somehow, we doubt the seller is sweating the "loss." After all, he paid only $13.5 million for it in the first place. (Tycoon 101: Buy low, sell high. And repeat.) At 71 flights up, the place has fantastic Park and skyline views. "If Columbus lived in an apartment like this," the listing notes, quite unaccountably, "he could see the new World without getting out of bed!"
Would Columbus likewise have appreciated the black granite and stainless steel finishes, the motorized window treatments and custom closets? Likely not; we can't imagine such a swashbuckler would have had the wardrobe to fill them. He'd also probably have been perplexed by the fancy bathroom hardware, and downright terrified by the Creston audio/visual system.
The buyers were apparently less interested than Mr. Baibakov in transparency, flying under the flag of Sky Mansion East LLC. But if that moniker indicates anything about their sense of subtlety, i.e. that they have none, we're certain they'll have no trouble at all getting accustomed to all their flashy new pad's quirks.