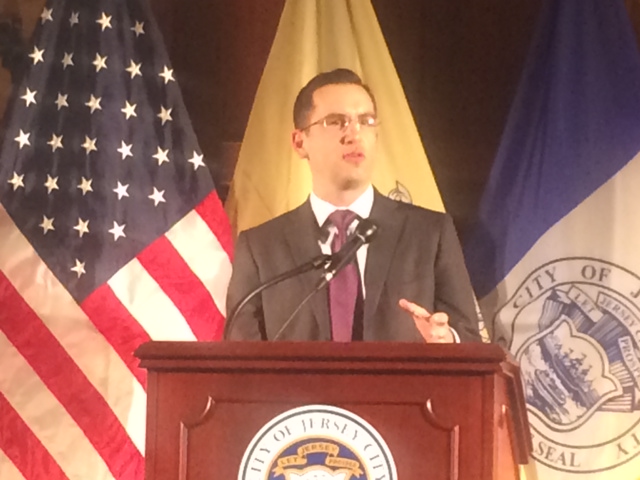 JERSEY CITY – Before a packed crowd at City Hall, Jersey City Mayor Steve Fulop tried to draw a bright line between the economic state of affairs in New Jersey's second-largest city and the troubled affairs of the Garden State under New Jersey Governor Chris Christie during his State of the City address.
"We are seeing the greatest economic surge in Jersey City's history," Fulop, a potential 2017 Democratic gubernatorial candidate, said on Tuesday to an overflow crowd of approximately 600 people. "Our goal is to be a guiding example to the entire state of what happens when government functions properly."
Fulop made his remarks on the same day that New Jersey Governor Chris Christie laid out his latest $33.8 billion budget just as trouble over the state's pension and benefits problem boiled over. A Superior Court judge ruled on Monday that the state must meet its pension obligation with a nearly $1.6 billion contribution this year and similar contributions in years ahead. The resulting fiscal shockwave forced Christie to address the issues head on in his budget address.
Christie laid out a plan to put $1.3 billion toward next year's payment, partly by overhauling the current pension system. Among the plan's specifics are to freeze existing pension plans, to align future public employee retirement benefits with private-sector levels, and to transfer the assets, liabilities and risks of the existing pension and new retirement plans to employee entities willing and able to assume this obligation.
In contrast with the state's fiscal conundrum, Fulop pointed to a Jersey City economy that has seen 9,000 new jobs created since he took office in 2013, as well as 6,000 new housing units under construction and 18,000 more units approved, according to federal and state statistics.
Fulop also touted no municipal tax increase for 2015, a credit rating upgrade from Moody's Investor Service, as well as Jersey City recently becoming the first municipality in New Jersey and the sixth in the entire nation to implement a paid sick leave ordinance, as other key parts of Jersey City's improving fortunes.
"Our unemployment rate continues to decline at a higher rate than that of New Jersey and the rest of the nation," said Fulop. "By the end of next year, I can comfortably say Jersey City will be the largest city in the state of New Jersey."
In an interview with PolitickerNJ after the speech, Fulop etched even deeper lines between himself and Christie, focusing first on the ongoing pension plan controversy.
"I have deep concerns about lumping together some of the municipal employees, including police officers and firefighters [into any pension freeze plan], because their pensions are funded close to 80 percent," Fulop said. "It would be entirely unfair to support lumping them in, in any way whatsoever. That is grossly unfair, and it should be taken off the board."
Although Jersey City has had comparative success with its credit rating and its unemployment numbers in contrast to the state, Fulop explained why he didn't think his administration necessarily had any positive advice to offer the Christie administration.
"I don't think Chris Christie is looking for advice from me," Fulop said. "There have been a lot of problems over the last six years [since Christie has been in office]. We're philosophically as different as different can be. That's where it is."