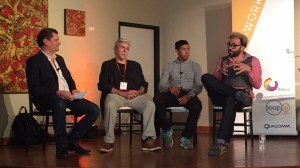 Welcome to Future Forecast, a column that will explore the inner workings of our future lives. From music to sleep and shopping, I'll consult with experts on different topics and rack their brains about the innovation that will shape our future experiences. 
Today's topic is artificial intelligence. To get things started, I'll pose a question:
Have you ever bitten into what you thought was a chocolate chip cookie, expecting molten chocolatey goodness only to find dry oats and some raisins? Everyone has. The two varieties look alike. It really is a simple mistake, and when faced with a cookie platter, who stops to look that closely?
There's now a computer that can distinguish the nearly identical baked treats from each other every time. After seeing only six photos identified as oatmeal raisin cookies and six identified as chocolate chip, the computer learned to spot the difference better than a human can.
Recognizing cookies may sound like child's play, but the reveal was only a simple, concrete example Richard Socher, co-founder of the new AI lab MetaMind, gave of what's happening in AI when he presented last week at the 2015 Deep Learning Summit in San Francisco. 
At the two-day conference hosted by tech event company RE.WORK, world leaders in AI gathered to present their research and discuss everything from neural networks to speech and pattern recognition. The summit featured more than 50 speakers from Google, Facebook, Yahoo, Orbeus and Mateio as well as several other companies and universities. It's the first of its kind; there would have never been a summit exclusively about deep learning a few years ago.
I chatted with Patrick Ehlen, who moderated the panel and is head of deep learning at Loop. AI Labs, which sponsored the event. He gave us the highlights and clued us in on just how artificially intelligent our future is looking.
"[Deep learning research] has really taken off over the last year," Mr. Ehlen told me. "There were only a few labs and such working with this, but now a lot of people are looking into it."
Although deep learning has been around since the 1950's, advancements from the last two years are pushing progress quicker than ever. Google has a massive neural network that, until recently, took 1,000 computers to run. Now, it needs only four.
What's really pushing the field, Mr. Ehlen told me, is the fact that startups and smaller companies are now able to access the tools needed to do this research.
"Before, only mega companies like Google and Facebook could do this and now, anyone can with the right tools," he said.
This is largely due to software like Theano (developed at The University of Montreal) and Caffe (developed at Berkley), which are frameworks or "tool kits" for using different programing languages that make it possible for anyone to work with deep learning. There are companies—like one called H20—that specifically focus on developing programming tools for AI research.
All this recent progress led to some pretty interesting talks at the summit. Simon Oscindero, AI architect at Flickr, discussed how they are developing software than can actually recognize how aesthetically pleasing an image is to the human eye. This will obviously improve their search function, but the technique itself will have a variety of other applications that could help humans organize and create. Everyone from graphic designers to architects could use this as a tool one day.
In a talk that Mr. Ehlen himself gave, he discussed that deep learning will bring more personalization to our lives within the next five to 10 years. This will range from better recommendations on the internet to a better understanding of users' apps and services. 
"It will really be able to get to know you very well and will be able to put your life context into one package," he said.
The most shocking news came from Andrew Ng, the Chief Scientist at Baidu Research which is the umbrella organization over the Silicon Valley AI Lab, the Institute of Deep Learning and the Big Data Lab. He gave a fireside chat were he revealed that Elon Musk is wrong about everything. I repeat: ELON MUSK IS SPEAKING ABSURDITIES.
Mr. Ehlen confirmed that this was the overall opinion at the conference (although perhaps not stated so directly). This is to no surprise considering anyone who knows AI knows that computers will definitely not become more intelligent than us and exterminate us.
"This whole 'they're going to destroy us' meme is kind of a distraction," Mr. Ehlen said.
Mr. Ng did, however, discuss the problems that machine intelligence will bring to light, emphasizing that they'll be social and economic in nature. For example, self-driving cars will replace truck drivers, and then what will truck drivers do? Future algorithms have the potential to replace many peoples' jobs, and Mr. Ehlen likened it to another industrial revolution.
Although we have some social issues to figure out, progress is among us. Plus, it's pretty awesome that Google's DeepMind computer can kick our asses at Atari games.