Hans Ulrich Obrist was taking a spin through the frenzied opening of Art Los Angeles Contemporary when he tried to explain how this city's current hot spot status has something to do with quantum mechanics.
"I had a conversation with Walter Hopps, and he said for an arts city to flourish it needs to follow the superstring theory of multidimensionality," said the co-director of London's Serpentine Gallery, referring to the late curator who died in Los Angeles a decade ago. "L.A. has art fairs, lots of great art schools, great museums, collectors, and, of course, great artists. Lots of young artists are moving here, and there are other disciplines like literature and film. You might say L.A. is a 'superstring city.' "
Superstring theory is great and all, but Mr. Obrist, what about that L.A. traffic? For the second year in a row, there were three major art fairs that, depending on the time of day, would take over an hour to shuttle between: Art Los Angeles Contemporary (ALAC from here on out) in an old airplane hanger at the Santa Monica Airport, the Printed Matter L.A. Art Book Fair at the Museum of Contemporary Art's downtown Geffen Contemporary building, and Paramount Ranch 2 at an abandoned ghost town movie set in Agoura Hills. And while collectors from Basel and Berlin and Dubai could in the past ignore these sorts of things, L.A. is in the midst of an ever-intensifying art boom, which means everybody has to get there before all the works get snapped up, traffic be damned.
Gridlock forced me to do one fair a day, and splitting the showcases up as such made sense—each had its own ethos, with little room for overlap. Though maybe The Hole, Kathy Grayson's New York gallery located on the Bowery, felt out of place amongst the suit-clad sellers at ALAC and a little more at home at Paramount Ranch, where like-minded weirdos such as Milwaukee's Green Gallery and Zürich's Hacienda had set up shop in the funky former Wild West back lot where they shot Dr. Quinn, Medicine Woman. And maybe Thomas Duncan Gallery, showing Oscar Enberg in a former fake horse stall, might be better off at ALAC—he was wearing a suit not next to the blue-chip guys, but beside a fake horse trough.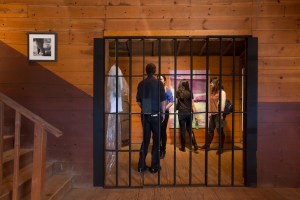 As for sales, ALAC reps claimed that they were "brisk" (code for:  "people spent gobs and gobs of money"). David Kordansky Gallery was selling some very pleasing paintings by Zach Harris, and a sales associate in the booth said they'd sold all but one at prices between $18,000 and $32,000 a pop. Brian Butler, owner of L.A. gallery 1301PE, reported a nearly sold-out booth. And Stefan Simchowitz—the polarizing collector who The New York Times magazine recently dubbed "The Art World's Patron Satan"—was seen buying a large Katherine Bernhardt from CANADA Gallery, resulting in some post-sale mugging for the cameras by Simco and forced smiles by recoiling gallerist Phil Grauer.
(Later, Mr. Grauer could be seen groaning at his computer when the picture popped up on blogs.)
The Book Fair sales were a little harder to track, as its main room was a teeming nest of publishers at tables hawking zines, stickers, T-shirts, tote bags, multiples, and anarchist pamphlets, but it seemed like everyone was swiping credit cards through scanner contraptions affixed to iPhones at a pretty good clip. When fanboys bumped into their heroes, the whole thing looked like an art world Comic Con—for instance, a young man tried to get the inestimable L.A. sculpture legend Charles Ray to autograph his baseball cap.
"No!" said Mr. Ray. "No, no, no, no! You have to buy a book or a poster."
On Saturday night, the Art Book Fair and Paramount Ranch teamed up to throw an after-party at Jewel's Catch One, the legendary black gay disco in the desolate neighborhood of Arlington Heights, where the art/rap collective Future Brown DJ'd an apocalyptic set of global hip-hop and punishing grime. There was no parking for miles, and the club took a no guest list policy very seriously.
"But I'm on the list," one prominent German curator plead to deaf ears. No dice.
The club was chock full of visiting luminaries all throwing down, but perhaps they couldn't stay out too late: There was one more day to buy up works by hot artists before heading home to the colder cities they came from, and the perils of L.A. driving loomed large.
"It's different than Miami in December, because you need to come to L.A. to see artists anyway," said Henriette Huldisch, the curator of the MIT List Visual Arts Center. "I think I'd rather come to L.A. at the end of January. It's warm still, but not as overwhelming. Except the traffic is just as bad."