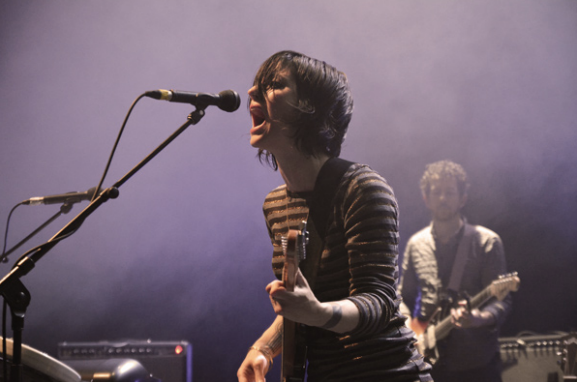 Sharon Van Etten played a packed house at the Warsaw last night, performing a mix of last year's Are We There, oldies from Tramp and a couple brand new tunes.
Her opener was Leon Bridges, a 25-year-old '60s-style soul singer and guitarist hailing from Fort Worth, Texas, who just got signed to Columbia Records. His songs are doo-woppy and pretty catchy—the refrain from "Better Man," "What can I do to get back to your heart? I would swim the Mississippi River if you would give me another start" is still stuck in my head—with back-up singers and a saxophonist, everybody dressed the part. But as a performer, he seemed unsure of himself, singing flat and turning his head from the mic to check his guitar playing. And if he sang one more song pronouncing my hometown "New Or-leens" I was gonna take the stage and fight him. Maybe it was the Polish prom vibes of the Warsaw, but I kinda felt like I was watching a high school talent show.
That all changed when Sharon took the stage in a spangly black top and perfect short blunt haircut and unleashed her raw power with "Taking Chances." Her voice, breathy and resonant, goes from deep and rough around the edges, to high and resounding. In between songs, she'll downplay it with a mousy, "O.K., thanks," in a confusing New Jersey-Tennessee-Texas hybrid twang. A few songs in, when a crowd member became ill and had to be escorted out, her face filled with tears and she actually walked off the stage to see if everything was O.K. It was, she announced with relief, and then said, "I'm going to continue to play sad songs while knowing nothing sad has happened."
Van Etten excels at playing sad songs. Are We There is a break-up album, in the genre that I fondly call "music that makes you want to kill yourself in the best way." But her steady energy and lilting voice make the gloomiest tunes uplifting. Last night she delivered on the rallying "Afraid of Nothing" and the quixotic hopefulness of "Nothing will Change," which is the kind of gorgeous, moody song where when you're in it, it doesn't matter that the love is doomed, you just want to inhabit the space of denial forever. Her band is top-notch, the back-up harmonies of Heather Woods Broderick searingly good, their voices fortifying each other.
---


Sharon Van Etten excels at playing sad songs… But her steady energy and lilting voice make the gloomiest tunes uplifting.


---
She was solo on organ for the lush "Love More" an oldie off her debut Epic. She said it was a song about good friends, which is surprising because it contains the lyrics "You chained me to the wall of our room/yeah you chained me like a dog." "Serpents" off Tramp, was high-energy rock, driving guitars and the refrain "Everything changes" sounding like a direct counter to "Nothing will Change."
I was waiting for the tour-de-force ballad "Every time the Sun Comes Up," but couldn't complain with the harrowing closer of "Your love is killing me," which slays the listener in a hurts-so-good kind of way, haunting organ and desperate cries of "Break my legs so I won't walk to you/Cut my tongue so I can't talk to you/Burn my skin so I can't feel you."
Warsaw has all the vibe of a cool, alternative place to have a show in Brooklyn: Otherwise known as the Polish National Home, the space doubles as an event hall and a community center—in a side room you'll find band merchandise on one table, trays of pierogies on another, while the main room houses a stage with blue velvet curtains and an ornate ceiling with gold trim. But all this ostensible charm was extinguished by the overall really unpleasant experience I had with the folks that run the place.
First, when I was told to stop taking pictures with my "pro camera" as they called it, and complied, walking back to find my friend in the crowd, the floor attendant grabbed me by both shoulders and pushed me towards the exit to check it. After the show, while waiting in the front room for my friend who was in the bathroom, I was told by a different employee that I needed to get out of the way. Put off by this persistent, aggressive attitude, I began to argue with him. His response: "And I asked you nicely … you fucking twat. You're lucky I don't slap the shit out of you." I caught up with my friend at the bar entrance, where we waited inside by the door watching for the car she'd called, when another employee said we needed to leave immediately. When my friend asked for an explanation, as we just wanted to wait inside five minutes until the car arrived, this other guy barked in her face, "Because I run the place and I said so. Get out."
I will absolutely see Sharon perform again, just not if it's at the Warsaw.
[youtube https://www.youtube.com/watch?v=nyuPWHwZru0&w=560&h=315]