Here's the thing about the Grammys. While the official broadcast is entertaining enough—especially when we get a Kanye West stage crash while a confused singer attempts to collect the prize for Album of the Year—all the goings-on before and after the awards are basically hidden to the public.
And so it's good we were there to take it all in. On Friday, there was a party for something called GEM the App where Carmen Electra arrived looking like she just walked off the set of Baywatch 20 years ago: Stunning, in a skintight black dress. She was, wait for it, Electra-fying!
Saturday morning brought us to the annual How I Wrote That Song panel at 1OAK. It was hilariously early to be at this most turbulent of nightclubs, but perhaps panelist Rick Ross had actually no idea what time it was: He strutted out to the panel 15 minutes late trailed by a cloud of maybe-legal smoke and clutching a bottle of champagne. Not that any of that fazed the rapper—he discussed the genesis of his coke rap cut "Aston Martin Music" with the severity of a novelist explaining his craft on Charlie Rose.
Ester Dean, another panelist, has co-written chart-topping earworm hits for Rihanna, Kelly Clarkson and Nicki Minaj, but no one seemed to care about her career as a songwriter, as she also happened to star in that most vaunted piece of cinema, the Citizen Kane of a cappella films, Pitch Perfect. 
What can fans expect from the sequel?
"Lot's of music, lot's of dancing, lot's of makeup," she said. "And I'm in it a lot, which I love!"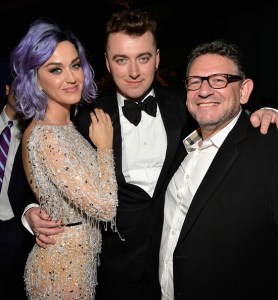 On the eve of the awards, LL Cool J hosted a dinner at Hinoki & The Bird, a Japanese small- plates joint where the waitresses don't wear pants. The proceedings were sponsored by Hennessy, but the rapper-turned-actor-turned-Grammy-host-for-time-eternal couldn't really tipple with a stadium full of musical egos to corral the next night.
Speaking of which, LL, you nervous about that? Hosting the Grammys, the music world's leading awards show that oftentimes seems stuck in an alternate universe where aging rockers dominate the pop music landscape? Can you feel the magnitude of  this magical night?
"Of course I feel it, like everyone else," he told us. "I'm not immune to feeling it but I feel like everybody who is watching it is watching because they love music." 
And then after that illuminating conversation, he went to bro out with Michael Strahan.
The next night, after some celebratory brunches and cocktail parties, the awards began, happened, and—following all those wonderful Kanye stage-crashing antics—ended. First up on the after-party circuit: The official Recording Academy celebration, next door at the Los Angeles Convention Center. "Passport to the World" was this year's theme. White hot-air balloons hanging from the ceiling, acrobats flipping and jackknife diving above, oversized paddle boats moseying around and models in top hats standing on a dock. Jessie J and Gloria Gaynor each performed, which was just peachy, but you're probably wondering—where are the Kardashians? Have no fear! Khloe Kardashian was on the scene co-hosting E!'s after-Grammy special with Christina Milian.
The Recording Academy certainly earned the right to have a good time and all, but the real bottle popping was going on at the Universal party, downtown in the gloriously restored theater at the Ace Hotel. Why are all these music execs so pleased, you ask? Well, Universal's golden goose, Sam Smith, took home three top awards, and he is going to make the Universal suits at the Ace awkwardly standing next to the pop stars very, very rich as long as he's around. "Stay With Me," indeed.