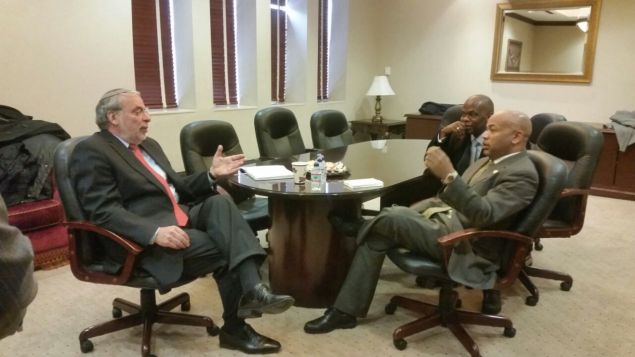 Assembly Speaker Carl Heastie visited the Orthodox Jewish enclave of Borough Park, Broooklyn for the first time since his election as speaker, meeting with a local assemblyman and community leaders.
Assemblyman Dov Hikind, a fellow Democrat, touted yesterday's meeting at the Avenue Plaza Hotel in a press release. He said there were "numerous issues" the residents of his district wanted to address in Albany, including the education investment tax credit bill, security funding for private schools and additional funding for infertility drugs.
News of the meeting, initially intended to be private, was first reported by the Observer on Friday. Mr. Hikind sent out a media alert Saturday night.
"I was delighted to bring Speaker Heastie to our community," Mr. Hikind said. "I have known the Speaker as a respected colleague for years and look forward to working with him in his new capacity as our Speaker. We had a very warm gathering … in Boro Park where the Speaker answered questions from the many people who had come to welcome him."
According to sources at the Sunday meeting, Mr. Heastie spoke for about three minutes, which is typical for the taciturn speaker. But Mr. Hikind was more gregarious.
"Hikind put on a show," a source said.
For Mr. Heastie, a Bronx Democrat elected speaker earlier this month, the meeting was a chance to cement ties with a constituency he has not represented before. Though confined to certain neighborhoods, the Orthodox Jewish community is vocal and influential presence in the city and state political arena.
Mr. Hikind, a conservative Democratic assemblyman for more than 30 years, was close to the former speaker, Sheldon Silver. Mr. Silver, a fellow Orthodox Jew, resigned his post after he was arrested–and later indicted–on federal corruption charges.
Despite his faith, more conservative Orthodox Jews could grow frustrated with the liberal Mr. Silver because he was close to the teachers' unions and other progressive groups often at odds with right-leaning Orthodox. Mr. Heastie does support the education investment tax credit, a bill that would give tax breaks to individuals who donate to funds that support private schools. The Republican-controlled State Senate passed the bill but it could face stiff opposition in the Democrat-controlled Assembly.
Another top issue for Mr. Hikind is securing funding for drugs to boost fertility in women, a priority for Orthodox Jewish families. A powerful Borough Park ally of Mr. Hikind's, rabbi and lobbyist Shiya Ostreicher, started a nonprofit company called Affordable Drugs that provides only fertility drugs, according to the New York Post. The company, launched in 2004, is located in the same Borough Park building as Mr. Hikind's district office. The Post reported Affordable Drugs applied for IRS tax-exempt status in 2006 but as of 2013, the IRS has no record of the group.
Mr. Hikind and other Orthodox elected officials hope to renew funding for a $10 million pot for insurance companies to cover the cost of fertility drugs. The Orthodox Jewish community is a prime beneficiary of the drugs.
A spokesman for Mr. Heastie did not immediately return a request for comment.