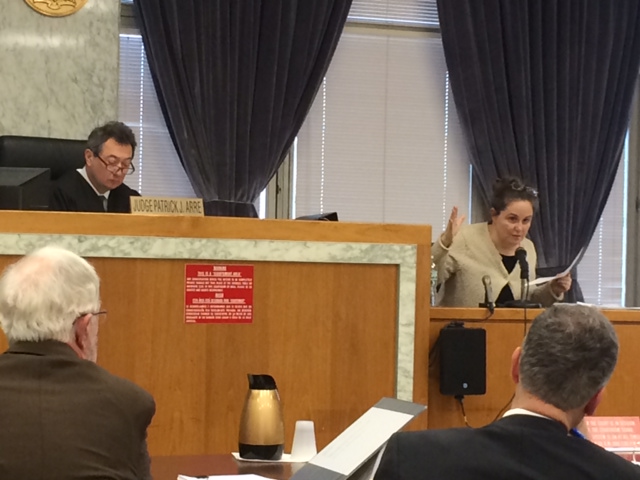 HOBOKEN – One of the Hoboken-based bloggers who saw a defamation case filed against her dismissed last week will seek legal fees from the plaintiffs, and could pursue libel charges against a Hudson County weekly newspaper's coverage of the case.
Nancy Pincus, who blogs under the name "Grafix Avenger," was a named co-defendant with fellow blogger Roman Brice, who blogs under the name "Hoboken Horse," in a case filed against them by Hoboken residents Lane Bajardi and his wife Kimberly Cardinal Bajardi.
The trial was rooted in a lawsuit filed by the Bajardis in July 2012 in Hudson County Superior Court seeking $2 million in damages. Pincus and Brice were named as defendants, as well as 10 other unnamed individuals – listed in the court documents by their on-line screen names – for allegedly posting remarks in 2011 and 2012 that allegedly injured the careers and future employment of the Bajardis. Lane Bajardi is a WINS 1010 radio reporter.
Pincus and Brice both often focus on Hoboken government and politics. Pincus and Brice generally support Hoboken Mayor Dawn Zimmer, while Bajardi is an ally of Councilman Beth Mason, a vocal Zimmer opponent.
Among the accusations that the Bajardis claimed Pincus made against them under the name of her "Grafix Avenger" blog is that Lane Bajardi is a political operative for Mason. Another allegation made on the "Grafix Avenger" blog inferred that Bajardi was somehow involved in stealing emails from Zimmer and was being investigated by the FBI, the Bajardis claimed.
The jury trial of the two Hoboken-based bloggers ended last week after Hudson County Superior Court Judge Patrick J. Arre ruled in favor of a defense motion to dismiss the case, stating that the plaintiffs had failed to make a prima facie, or sufficient, case against the defendants and citing New Jersey's "particularly high regard for free speech."
In the aftermath of the ruling, Stephan Katzman, Pincus' attorney, has been reported as saying that a motion for legal fees against the Bajardis will be filed.
In a post that appeared on the "Grafix Avenger" blog on Monday, Pincus hints that she might also take legal action against the Hoboken Reporter, one of the weekly newspapers of the Hudson Reporter chain that also appears online.
The post, entitled "The Bounds of Ethical Jou[r]nalism," reads as follows:
"Since when is the Plaintiff of a dismissed lawsuit called a 'victim' and dismissed Defendants called 'antagonists'?
Meet The Hoboken Reporter [link to blogger trial article in the post here]. When do such DELIBERATE mis-characterizations published by the press cross the line to libel?
That's what I want to know."
Pincus deferred comment to Katzman, her attorney. Katzman did not immediately return phone calls seeking comment.
Management officials at the Hudson Reporter did not immediately return phone calls seeking comment.