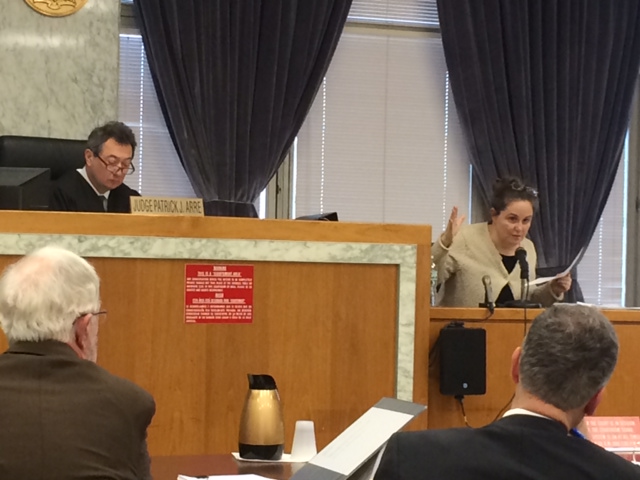 JERSEY CITY – A defamation case involving Hoboken political bloggers continued before jurors in Hudson County Superior Court on Monday, underscoring freedom of speech issues and the general nastiness of political discourse in Hoboken, Hudson's real estate boom town.
The trial, which began last week, is rooted in a lawsuit filed by Hoboken resident Lane Bajardi and wife Kimberly Cardinal Bajardi in July 2012 in Hudson County Superior Court seeking $2 million in damages. The Hoboken-based bloggers Roman Brice and Nancy Pincus are named as defendants, as well as 10 other unnamed individuals – listed in the court documents by their on-line screen names – for allegedly posting remarks in 2011 and 2012 that allegedly injured the careers and future employment of the Bajardis. Lane Bajardi is a WINS 1010 radio reporter.
Pincus and Brice blog under the names "Grafix Avenger" and the "Hoboken Horse," respectively, both often focusing on Hoboken government and politics. Pincus and Brice both generally support Hoboken Mayor Dawn Zimmer, while Bajardi is an ally of Councilman Beth Mason, a vocal Zimmer opponent.
Among the accusations that the Bajardis assert Pincus made against them under the name of her "Grafix Avenger" blog is that Lane Bajardi is a political operative for Mason, with the Bajardis' attorney referring to a blog post that pointed to a pervasive political atmosphere of "paid operatives and cyber-sleaze merchants."
"The Mason checkbook seems to have flipped open to offer Bajardi a bone," said one segment of a September 2011 Grafix Avenger blog post read out in court while Pincus took the stand. "They will make the Feds go away in plenty of time for the next election."
Another allegation made on the Grafix Avenger blog inferred that Bajardi was somehow involved in stealing emails from Zimmer and was being investigated by the FBI, the Bajardis claim.
"Do you work for the FBI?" asked Jonathan Cohen, attorney for the Bajardis. "Did you contact the FBI or the U.S. Attorney's Office to verify the story?
"No, I did not," Pincus said.
Another Grafix Avenger blog post from the same period referred to the Bajardis' parenting skills.
"You both suck as parents. You better call DYFS," the post, read out in court, states. "[The Bajardis' child] would be better off raised by wolves."
Pincus defended the Grafix Avenger blog posts as part of exercising her First Amendment rights.
"It's part of political discourse," said Pincus, who noted that she considered her work "political satire." "It is to encourage conversation on things that affect everyone in Hoboken."
Regarding Bajardi, Pincus said that her posts are a matter of political digital give-and-take.
"Mr. Bajardi has posted hundreds of comments about me," Pincus said before she left the stand. "He has said a lot worse about me."
The trial will continue later Monday afternoon.