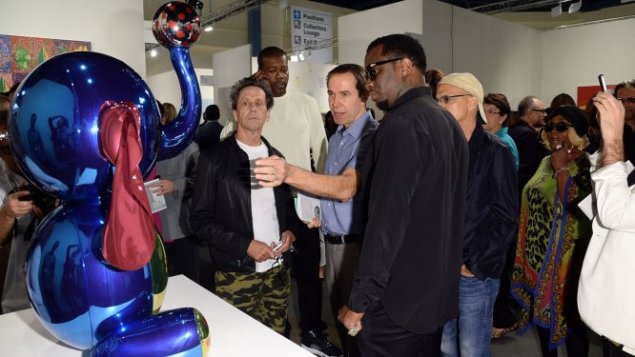 United Talent Agency has launched UTA Fine Arts, a new arm of the company devoted to representing fine artists. The Wall Street Journal reported that the new division of the Beverly Hills talent management company will be headed by Joshua Roth, a former fine art attorney who has worked with artists like Mark Grotjahn and Sterling Ruby, and previously served as chair of the Art Law department at Los Angeles-based law firm Glaser Weil.
The news is a major shakeup for both the entertainment industry and the art world; it's the first time that a talent agency will represent fine artists. Until now, art dealers and public relations firms have usually played the role of manager and advisor for visual artists, overseeing both their sales and external projects such as seeking grant funding or commissioned artworks.
A press release from the agency claimed that "with popular recognition of contemporary art at an all-time high, a myriad of new opportunities—and new complexities—have materialized for studio artists." And while that may be true—Jay Z's music video inside Pace Gallery and Jeff Koons' sculpture of Lady Gaga certainly point to the a pop culture crossover occurring with force—does the entertainment industry's love affair with the art world mean that artists should design T-shirts for the Gap or be the new face of a cologne?
According to the release, part of UTA Fine Arts' mission will be to help with project financing and commissions, arrange corporate and institutional partnerships, and even find artists gigs in the entertainment industry or endorsement deals. UTA chairman Jim Berkus told the Journal that the company won't be in charge of managing sales or exhibitions, but instead will provide support for seeking project funding, corporate sponsorship and merchandising opportunities.
The agency will claim a 10 percent fee on any project they work with an artist on—the same as it does with movie stars (such as Angeline Jolie of Harrison Ford, who it currently reps) and writers. The Journal points out that most galleries charge a whopping 50 percent.
When asked to expand on how UTA Fine Arts would navigate its new role in the art industry next to dealers, Mr. Roth responded in a statement provided to the Observer:
The role of UTA Fine Arts is to help visual artists identify new or previously untapped opportunities, and UTA FA will work closely with the galleries as part of a team approach to building artist's careers. UTA FA is not seeking to market artworks to art collectors or otherwise act as a sales agent for its clients. Dealers should and will continue to perform this critical function.
While the agency hasn't signed any artists yet, Mr. Roth told the Journal that he would build its roster during the next year. Who should we expect to join up? Apparently you don't already have to be a crossover hit like Jeff Koons to have an agent. The agency will work with artists of varying levels—from emerging to established—he said.