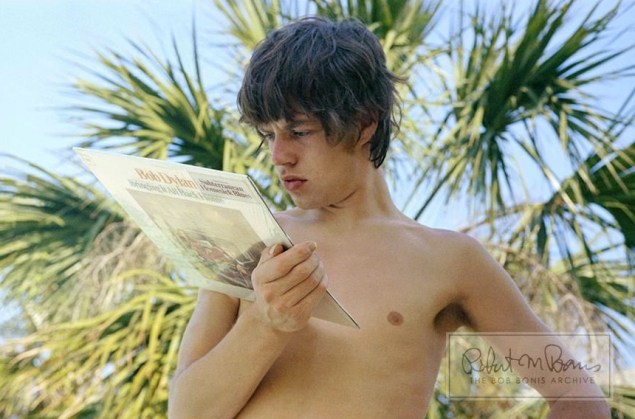 It was Robert Fraser, the late London dealer, who suggested to Paul McCartney that Richard Hamilton, the Brit from whom Pop Art arguably derives its name, design the album cover to follow-up Peter Blake's exuberantly busy—and undeniably iconic—design for Sgt. Pepper's Lonely Hearts Club Band. Hamilton's solution was a monochrome. He had each copy of The White Album stamped with its own serial number, making up a limited edition of about five million. Just a Conceptual joke. Popular entertainment and the art business have traded moves from time to time ever since—Hello, Lady Gaga—but now Kurt Benjamin of the Rare Rock Archives, the Los Angeles operation handling the Bob Bonis Archive, a cache of Beatles and Rolling Stones tour pictures, has a twist.
Bob Bonis was a tour manager, and was asked to handle the Rolling Stones' first American tour.
"He said 'Look, I really appreciate it but I'm not into rock and roll—I'm a jazz guy!'" recalled Mr. Benjamin.
But the furor surrounding the British Invasion—"Would you let our daughter marry a Rolling Stone?" ran a headline—convinced him that there was some spirit to these guys. He took the tour. Then more tours. And the Beatles. Oh, yes, snapping away with his Leica all the while, but in 1965, it was over, and he stacked the pictures in his basement. He died in 1992.
Alex Bonis, his son, discovered the trove in 2008, and so Mr. Benjamin and his partners brought him in as a partner in what was now the Bonis Archive. There was a gallery show, they published a small book, and then the research began. The market launch is now.
The treasure trove includes 2700 pictures of the Stones, and about 750 of the Beatles.
"But we're not in the merchandise business," Mr. Benjamin said. "We will never ever do an open edition of any of the photos from our archive ever. If you go onto some of the other competitive sites, you will see open editions."
They make limited editions—between 50 and 250—and sell them inexpensively, at between $175 and $625, with a certificate of authenticity from the Grammy Museum for each. The platform is not one of the art sites, but eBay.
"There's 155 million registered users on eBay," Mr. Benjamin said. "They are cementing relationships with companies like Sotheby's. I realized wow, that this is a market which the art market is beginning to embrace."
The Bob Bonis Archive operation makes it very clear how adaptable to different target economies that machinery—trophies and all—has become.