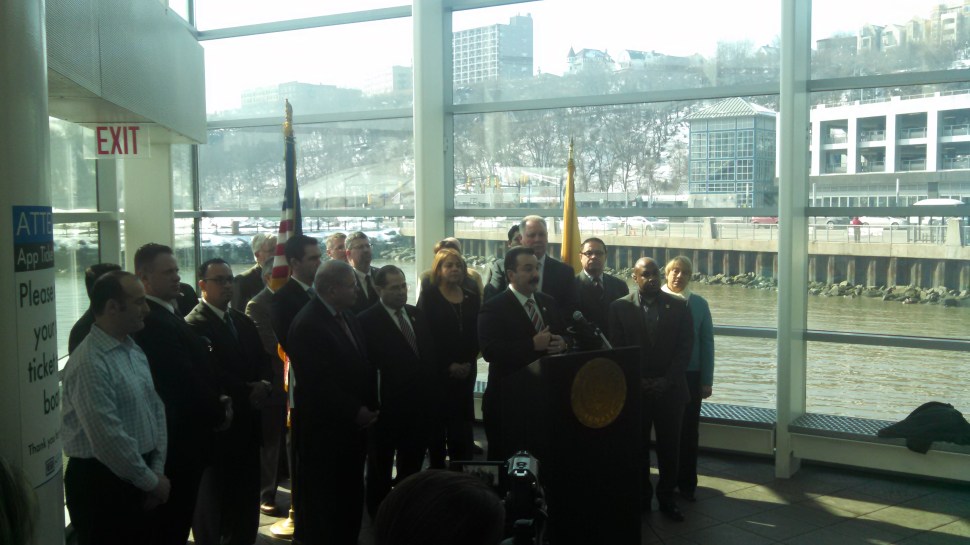 WEEHAWKEN — Stonewalled in their efforts at the federal level, U.S. Senator Bob Menendez (D-NJ) and a scrum of Hudson County politicos announced today the latest push to curtail the growth of tourist helicopter traffic along the Hudson River — this time with a bill in Trenton that would seek to ban tourist helicopters at state-licensed aviation facilities.
"We all know how beautiful New Jersey is, how beautiful the metropolitan area of New York and New Jersey is, and how majestic the Hudson is. And some would like to see it from the air," Menendez said today. "But we can't have a sky full of helicopters without absolute certainty of the safety of the passengers and people along the flight paths."
At the N.Y. Waterway ferry terminal here, Menendez and U.S. Reps. Albio Sires (D-08) and Jerrold Nadler, of New York, joined Assembly Speaker Vinnie Prieto (D-32) and others to unveil the new legislation, which would ask New Jersey state transportation commissioner Jamie Fox to prohibit tourist helicopter operations at aviation facilities licensed by the state. Officials decried the use of tourist helicopters along Hudson County's highly congested waterfront, arguing that they threaten the quality of life and public safety of residents living there.
"It's a safety and a quality of life issue for New Jersey," said Prieto, adding he decided to take up the issue after negotiations by Menendez and Sires at the federal level didn't pan out.
Prieto is sponsoring the bill along with state Sen. Nick Sacco (D-32), chair of the Senate Transportation Committee, to follow up on those calls for federal action by Menendez, Sires and Nadler last year. The group held a similar press conference on the issue in October, when Menendez and U.S. Sen. Cory Booker (D-NJ) and Sires sent a letter to the heads of the Federal Aviation Administration and New Jersey Department of Transportation to "provide guidance on additional authority needed to implement and enforce a ban on tour helicopters that present public nuisance and safety concerns."
"On any given day however flying over them is a growing swarm of news copters, medivac copters, and sightseeing copters, all competing for the same space," Menendez said.
The new legislation would help curb the use of tourist helicopters, officials said, by urging the state to rescind or deny licences to the many state-regulated aviation facilities they rely on. It also authorizes and requires the Department of Transportation to take action to eliminates the noise, safety hazards and other negative impacts on the quality of life of residents caused by tourist helicopter traffic.
A whole host of Hudson County lawmakers and officials attended the conference to support the measure, including Sires, Nadler, Jersey City Mayor Steve Fulop, Hoboken Mayor Dawn Zimmer, Hudson County Executive Tom DeGise, West New York Mayor Felix Roque, and Hudson County freeholders Anthony Romano and Junior Maldonado, among others.
"I live in one of the homes facing New York, and I can tell you that sometimes I think I can wave to the pilot they're so low as they fly by," Sires said. "This is the gold coast. This is an are that has taken off like no other place in the country. People's health and safety should not be compromised because people want to see New York in the summer."
Zimmer, who together with Menendez and Sires has been working to fight tourist helicopters for over two years, said the issue has come to a head and the time is ripe to take action.
"The fact is that the helicopter tourism industry is making a profit at the expense of hundreds of thousand of the residents that call Hudson County home," she said. "We don't want that and we can't wait anymore."
Nadler echoed the sentiment, likening the air over Manhattan and the Hudson to the 'Wild West' for the amount of poorly-regulated traffic it receives.
"Sadly, the airspace above New York City and northern New Jersey seems more like the Wild West than the airspace above one of the most populated and congested metropolitan areas in America," Nadler said, who is leading similar efforts to ban tourist helicopter traffic in New York."
Not everyone agrees with the outright ban of helicopter tourism traffic, however. Members of the industry argue it is an important component of the metropolitan region's economy, and that the new legislation would stamp out the industry's ability to create revenue and jobs.
"The helicopter industry is a critical contributor to the New Jersey and New York economies – and to our region's emergency response infrastructure," said Vice President Jeff Smith of the Eastern Region Helicopter Council in a statement following the press conference. "Our industry has worked to dramatically improve safety and reduce noise in this air space. This legislation would cost New Jersey and New York hundreds of jobs and millions of dollars in economic activity, and it will needlessly ban an industry that has been and will continue to be a responsible partner in safeguarding the public."
For Hudson County political animals, the press conference was another example of the relative unity that has befallen the Gold Coasts' frequently battle-scarred political landscape. Last week, many of the faces that could be found here today could also be spied at Degise's labor party in Jersey City. Up for re-election this year, the veteran politico, backed by the Hudson County Democratic Organization, is striding toward November unopposed.
Today, Fulop, a potential gubernatorial candidate in 2017, called the conference a "great example of government working together."