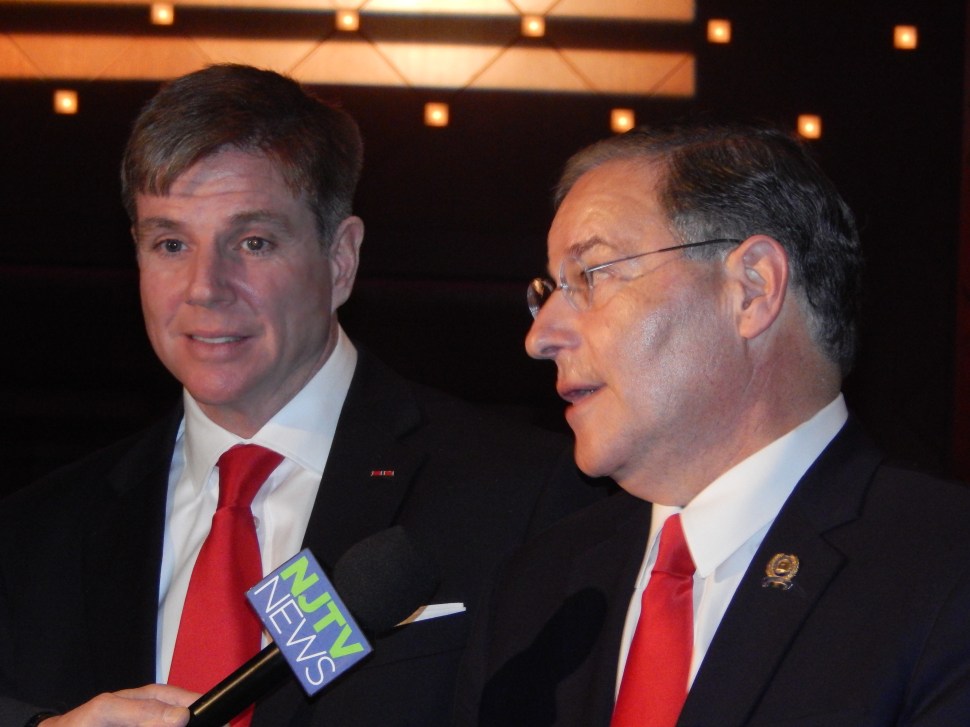 ATLANTIC CITY – The swinging doors in the Borgata spat into the ballroom a casting call of recognizable GOP faces, here out of the rain to celebrate the improved fortunes of a downbeat party, anchored by the front-line presence of Assemblyman Chris Brown (R-2), who's running for re-election this year in a battleground district.
While making the case for broadening their influence, Republicans simultaneously face the twin (arguably) social hurdles of Rep. Chris Smith (R-2) proclaiming that homosexual rights aren't human rights, and Gov. Chris Christie arguing from England that parents need to make their own choices about vaccinating their children against measles.
Brown (pictured above, left, with Assemblyman Jon Bramnick (R-21)) avoided taking a position in the first case, saying he wants to study the situation before commenting. As for the second, he noted his record of tolerance for minority groups and a membership of over two decades in the NAACP.
Pressed by PolitickerNJ on the casino PILOT plan championed by his rival Assemblyman Vince Mazzeo (D-2), Brown said he backs it with accompanying revisions supported by County Executive Dennis Levinson. The revisions are imperfect, he said, but contain measures to protect the taxpayers that did not exist in the original iteration. "I would support it," Brown said.
As a crowd filed in, which included Assemblyman Scott Rumana (R-40), Assemblywoman Donna Simon (R-16), Assemblyman Sam Fiocchi (R-1), and Assemblyman Jack Ciattarelli (R-16), two soul singers roamed the floor with handheld microphones, lending a siren song atmosphere to the developing scene in the grand ballroom.