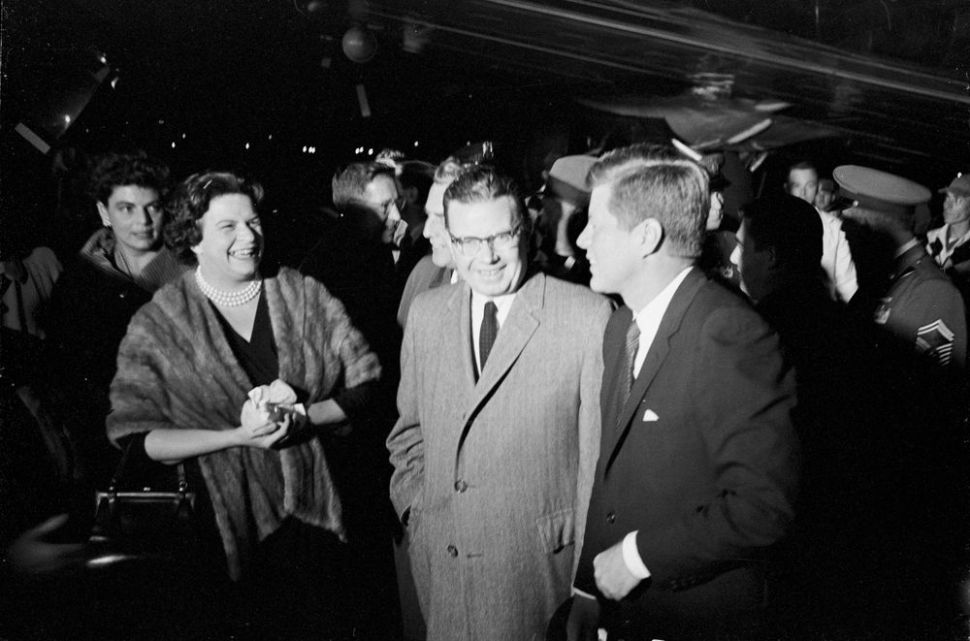 In honor of President's Day, PolitickerNJ looks back at some of the most memorable campaign cameos by Presidents in the last 50-plus years.
In 1961, President John F. Kennedy campaigned for Richard J. Hughes in Trenton and famously helped Hughes win. The experts picked against Hughes that year, but the superior court judge from Burlington County beat Republican James P. Mitchell 50-49%. The final vote tally:1,084,194 to 1,049,274; a margin of 34,920. An Elizabeth native, Mitchell had been secretary of labor in the Eisenhower Administration and switched parties to go after the governorship. He died in 1964. Hughes would serve two terms as governor, then go on to serve as chief justice of the New Jersey Supreme Court from 1973-1979.
In 1980, Ronald Reagan kicked off his presidential challenge to President Jimmy Carter in Liberty State Park. "Hudson County is the home of Democrats in such great numbers," the Republican from California declared. "I'm here because it is the home of Democrats, because I believe today in this country there are millions of Democrats who are just as unhappy with the way things are as all the rest of us are." New Jersey's 17 electoral votes went to the winning Reagan;
In 1992, New Jersey was a battleground state, with both Democratic challenger Bill Clinton and incumbent Republican President George H.W. Bush routinely campaigning here. As New Jersey went so went the country, but Bush went down fighting for the state's Jersey's 15 electoral votes, as he made his final election eve stop in Madison with a familiar face in the crowd. "May I salute Governor Tom Kean, there's a great nostalgia from people who wish they had Tom Kean back because they don't like the tax and spend policies of Governor Florio;"
In the 2008 Democratic Primary, Barack Obama won Iowa, then lost New Hampshire to Hillary Clinton on January 8th, then came to Jersey City a day later on January 9th in preparation for the February 5th Super Tuesday elections. The allies of then U.S. Senator Frank Lautenberg (D-NJ), who himself was running for re-election that year in a primary, had watched New Hampshire with a particular interest. Riding his momentum from Iowa, Obama might have kayoed Clinton with a in N.H. That outcome might have spurred Mr. Lautenberg to endorse Obama in Jersey city. But Clinton's win helped keep the senior senator on the sidelines of that presidential election. Clinton would beat Obama in New Jersey, while going on to lose the primary in a long war of attrition.  "I'm running for president because I intend to bring this war in Iraq to a close," Obama told the Jersey crowd, packed into the gym at St. Peter's.;
In the days just ahead of the 2012 general election, President Barack Obama responded to New Jersey to assist the Hurricane Sandy-ravaged state. A staunch public ally of Republican challenger Mitt Romney, Governor Chris Christie praised Obama for the president's handling of Sandy, outraging Republicans intent on upending the Democratic president on Election Day. "The president has kept every promise that he made," an unapologetic Christie said after Romney's loss.