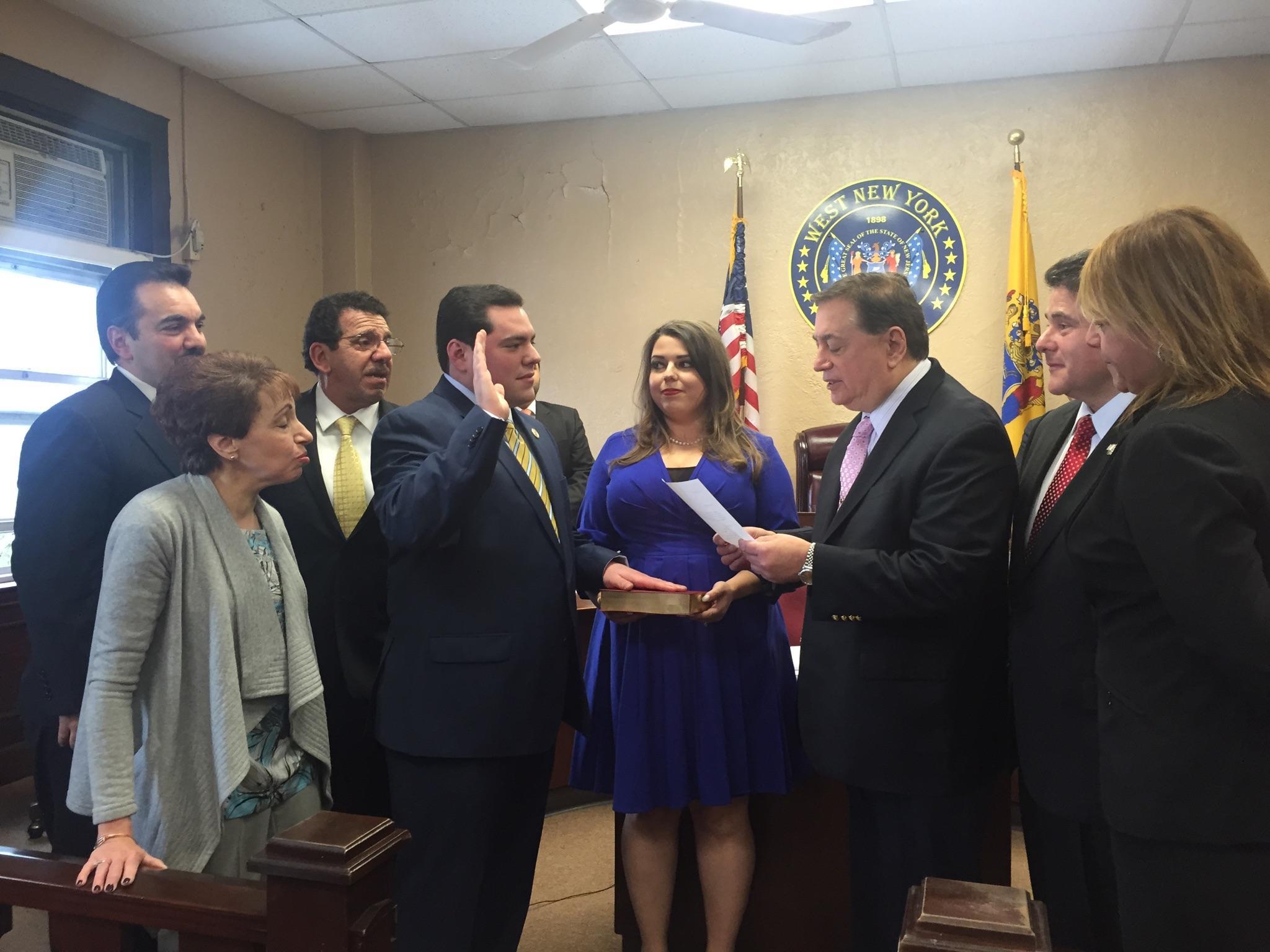 WEST NEW YORK – Cosmo Cirillo became the youngest commissioner in West New York history on Wednesday in a display of Hudson County Democratic political unity that some had to see to believe.
State Sen. Nicholas Sacco (D-32) swore in Cirillo, 27, while state Assembly Speaker Vinny Prieto D-32) looked on. Cirillo serves as Prieto's senior adviser in Trenton.
Behind Sacco stood West New York Mayor Felix Roque, who is seeking reelection in May. Roque is an ally of U.S. Rep. Albio Sires (D-8), who is a Sacco rival within the ranks of the Hudson County Democratic Organization (HCDO). Sacco and Prieto are themselves politically close.
But according to Roque, any fissures in these ranks, at least in West New York, are closing this election season.
"Even when I was going through my recall a few years ago, I was already seeking to bring Cosmo aboard," Roque said, referring to an ultimately unsuccessful recall attempt led by West New York Commissioner Count Wiley, who is leading a slate against Roque in the 2015 mayoral campaign, while Roque fought off federal charges filed against him. "I met with him, and he said 'No, I'm with [former West New York and Roque rival] Sal Vega. I can't work with you. At that time, I didn't think the world of Sal Vega. But what I liked the most about Cosmo was his loyalty. I said to himself, if I can ever bring Cosmo on board, he'll be loyal to me."
Roque pointed to Cirillo's service as the former West New York Board of Education president, his former job as the Chief of Staff for Assemblywoman Angelica Jimenez (D-32) and his current role with Prieto as other reasons why he tapped Cirillo for the West New York commissioner job.
"He's a rising star," Roque said. "Like Senator Sacco said, the road to Trenton has to come through Hudson County. Now, we're all getting along."
The day before former West New York Commissioner Ruben Vargas resigned last month, Gabriel Rodriguez, an ally of Roque and Sires, a former West New York mayor, was sworn in as commissioner to replace Caridad Rodriguez (no relation), who ascended to the Hudson County Freeholder board.
With Cirillo, a dedicated ally of Prieto and Sacco, now on the council, it seems that Roque's prediction that "we're aligning all the stars" in West New York is coming true.
A further affirmation of alliances was provided by Pablo Fonseca, Roque's campaign manager.
"We're running with a slate that will include Cosmo Cirillo and Gabriel Rodriguez, with the Hudson County Democratic Organization around them, 100 percent," Fonseca told PolitickerNJ. "We're building a strong team."
Fonseca added that the third out of four slate members will be announced at a Roque fundraising event on Feb. 12 at Las Palmas restaurant in West New York. The fourth candidate will be decided after "a process of interviewing" is completed, Fonseca said.
Even Roque's bitter rivalry with Vega, who he defeated in the 2011 West New York mayoral election, appears to have abated: Vega was present at Cirillo's swearing-in ceremony.
"Sal Vega is a good man," Roque said. "We fought the fight, and it wasn't a pretty fight. But at the end of the day, I give him the respect that he deserves. He was West New York's mayor. His portrait should be on our chamber walls."