TRENTON – On the heels of a report by the New Jersey Pension and Health Benefit Study Commission, which Gov. Chris Christie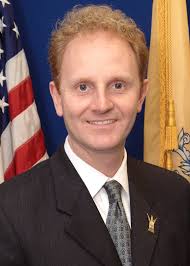 held up as his budget "Roadmap," Assemblyman Wayne P. DeAngelo (D-14), called the state's condition financial Armageddon, while his colleague on the other side of the aisle, Assemblyman Tony Bucco (R-25), clung to Christie's promise not to raise taxes.
Bucco's statement was one of a block of pro-budget speech statements issuing out of the Assembly Minority Office as lawmakers from both parties cleared the Statehouse.
A day after Judge Mary Jacobson said New Jersey must make the full required $2.25 billion payment into the pension system, Christie announced plans to freeze the system in order to save more than $2 billion in one year, a measure Democratic critics note would boomerang on state and local governments.
New Jersey Education Association President Wendell Steinhauer told NJTV reporter David Cruz "there is no deal" between the front office and his organization, while one Democratic source bemoaned Steinhauer's familiarity with a just released plan that legislators had not yet reviewed.
For his part, DeAngelo voiced concern about the impact of a proposed freeze.
"Today is the day that many of us knew would come," said the Democratic assemblyman (above right), a veteran lawmaker and labor leader from Hamilton. "No more deferrals or gimmicks will fix the significant multi-billion deficit in the pension fund and state budget. For five years, retirement funds for teachers, public safety workers, and public employees have been used as a credit card to cover the state expenses. We can no longer use these working-class individuals to solve the problems that the administration has chosen to push down the road by slashing and postponing pension payments. 
"Further delays in action – including appealing the Superior Court decision that calls for full payments to the pension system – will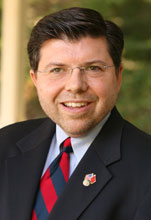 do nothing to provide relief for public employees, retirees and taxpayers," DeAngelo added. "I am concerned about, and will greatly consider, how proposed changes or a freeze on the pension system will impact the middle-class families of New Jersey.  This is not a decision that can be made with a broad-brush speech.  I will keenly review the pension commission report and engage those whose retirement hangs in the balance of any decision that the legislature may make to enact changes to the pension system."
Bucco objected.
"One doesn't have to look any further than today's Budget Address to realize the differences between Republicans and Democrats," the assemblyman said. "When Governor Christie said 'no new taxes' in his address, not one member of the Democratic party stood in support."