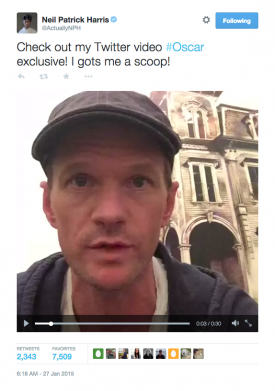 Neil Patrick Harris provided our first glimpse at Twitter Video last week when he used the never-before-seen features to make Academy Award announcements. NPH's video provided our first glimpse at the highly anticipated Twitter Video, which is going to be rolled out to Twitter users over the next several weeks, and has been rife with speculation since it was announced on Twitter's blog this past November.
Investor Jason Calacanis, who's been an active commentator on the video space over the last year blogged about the original announcement stating that he thinks Twitter getting into video will double their growth in 18 months, and brands will start throwing more ad dollars at the platform.
While I'm bullish on video, and I'm bullish on Twitter, I'm not bullish on Twitter Video.
The number of social media and video platforms vying for our attention has increased dramatically. Every few months there's a new social network popping up, and each of the established ones become increasingly complex, as they add more features in an effort to increase the amount of time spent with each platform.
Just five years ago there was only Facebook, Twitter, and YouTube. Today its Facebook, Twitter, YouTube, Snapchat, Vine, Instagram, Pinterest, as well as up and comers such as Kik, Ello, Medium, YikYak, Medium, etc. Plus Facebook has launched Facebook video and is making a serious attempt at being a YouTube competitor. Vessel launched its private beta to capture digital video eyeballs. YouTube is integrated with Google Plus, Instagram is no longer limited to images, but also has the ability to upload and share up to 15 seconds of video. Not to mention Facebook has ten different iPhone apps in the app store… ten! It's overwhelming to say the least.
I doubt the social media ecosystem has reached critical mass, and more than likely we'll continue to adopt more platforms and those platforms will spawn more features and so on. Where the time will come from for us to spend more time on social media—I have no idea. I've gotten so overwhelmed by the amount of push notifications and messages coming through Facebook and Twitter that I had to remove them from my phone a few months back. I installed StayFocsd, a chrome extension which allows me to put limits on how much time I can spend with sites to help me limit my Facebook and Twitter consumption on desktop (20 minutes total each day).
For myself, and countless others, the one thing that has made made Twitter so appealing is its simplicity. Whether you have a lot of time or a little, Twitter is a fun escape. You can easily scroll and flip through a great deal of content quickly, and there's no algorithm hiding content from your feed the way Facebook is. Adding video would more than likely make the platform more complex, and Twitter's point of differentiation (convenience and simplicity) would melt away.
It's difficult to imagine a video service that is a better fit for Twitter than the Twitter owned Vine. The six-second video platform acquired by Twitter back in 2012 has shown steady growth, but has not had the dramatic impact on Twitter growth that stockholders had hoped. While Vine grew to 40 million users by early 2014, Twitter's growth around that same period stalled. According to the Wall Street Journal, during the second quarter of 2014, "Twitter said it added 13 million monthly active users" that growth was considerably slower than the 6.3% growth the previous quarter. If Vine didn't spark the desired growth, why would long form video be any different?
What about the assumption Calacanis made about brands jumping on Twitter video? In the same post Calacanis wrote about Twitter video leading to exponential growth, he predicted that "when brands can start hosting native videos they will go absolutely NUCLEAR on Twitter".
While brands do tend to be more active on Twitter than YouTube its not as if Twitter video would suddenly open the floodgates for video content creation. The reality is video is a huge obstacle for brands—regardless of the medium. It's not unheard of for a single Tweet for a brand go through so many approvals that it takes 45 days for a tweet to go live—video can take considerably longer, regardless of what platform the content lives on.
I outlined in a recent blog post how brands are still spending hundreds of thousands of dollars in production to create content for digital. Brands are, more often than not, organizations which do not move fast, as they're typically bogged down by bureaucracy—something which the advent of an additional platform will not automatically clear up.
With Twitter's stock in the dumps, many armchair CEO's are chiming in on what needs to be done (Calacanis among them). And, while I agree with Jason that video is a powerful medium, it's a drastically different experience from what Twitter is today. Video takes an investment of time, whereas Twitter is all about speed, reacting in real time, and ease of use (something that Vine already fits nicely in).
By chasing growth and adding video, Twitter may generate short term gains (more ad dollars and new users), but long term this strategy seems incongruent with the existing Twitter environment and what makes the experience appealing to the existing users. To put it another way—what's the point of differentiation for Twitter video that's compelling enough for users to ignore the alternatives AND to not be alienated by, what we can assume, will be a more cumbersome platform? This is redefining and recreating the Twitter ecosystem—while I certainly hope the outcome is amazing, I'm not sure what it can offer that would be so drastically different from the other alternatives.
Brendan Gahan (@brendangahan) is a YouTube expert helping Fortune 500 brands with their YouTube influencer and community building campaigns. He was named Forbes 30 Under 30 in Marketing & Advertising and one of the 25 Top YouTube Business Power Players for 2013. Subscribe to his newsletter for additional whitepapers and case studies.