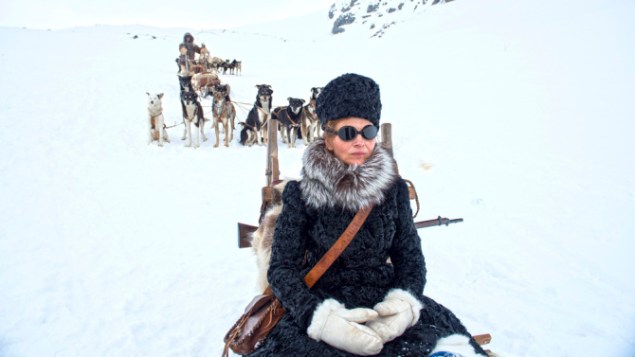 BERLIN — "I got my first bear!" cried a gun-toting Juliette Binoche, in the opening line of the opening night film here at the 65th Berlin International Film Festival, which kicked off on Thursday with the world premiere of Isabel Coixet's Nobody Wants the Night. Fresh kill is never a great image when sensitive works of art are presented to a ravenous audience hungry for entertainment—especially during an event with an ursine mascot. In this case, though, the film might have been the one mauled by the bear, since critics were not kind to the sluggish historical drama. (Ridicule is hard to avoid for any film with the words "Nobody Wants" in its title.)
The icy biopic about Josephine Peary and her pyrrhic 1908 North Pole trek to find chronically absent adventurer husband Robert E. Peary is visually ravishing but emotionally inert as it charts one woman's steely determination to prove her mettle as a peer to her spouse. Even a late-film encounter with a dewy-eyed Inuit (Rinko Kikuchi), ripe with melodramatic revelations and thematic resonance, trades existential dread for sleepy-eyed survivalist sisterhood.
The director and her cast were much livelier, though, when they appeared at the film's press conference. Worth noting, of course, though quickly dismissed as trivial by Ms. Coixet, is the fact that she is only the second woman ever to direct an opening night movie at the Berlinale. "Do we have to talk about that?" she sighed impatiently. "It's so boring. Yeah, we have tits, we don't have a dick. I don't know. You don't leave your tits and vagina in your room when you go on the set."
Still, the film is an impressively mounted production, with frosty snowscapes that look painfully chilling—even when they weren't. "How much of the truth should I tell?" admitted Ms. Binoche with a smile. "It was really bloody warm in the studio." Although they shot for three days on location in Norway, the arctic interiors were filmed on a movie set in June. Ms. Coixet even had a refrigerated meat truck standing by so that the fur-wrapped Binoche could jump in and cool off between takes. "It's all true," added Ms. Binoche, "but it's all false."
Werner Herzog would not approve. Notorious for his strident verisimilitude, the prolific director is in town with the competition entry Queen of the Night, coincidentally also another early 20th century biopic about a headstrong woman facing geographical extremes—this time trading the tundra of the Arctic for the deserts of the Ottoman Empire. Starring Nicole Kidman as British political advisor and passionate Islamophile Gertrude Bell, the surprisingly old-fashioned epic, which also stars James Franco, Robert Pattinson and Damian Lewis, was shot entirely on location. Ms. Kidman even brought her kids, rode her own camel, lived in a tent and slept under the stars.
The movie-star adventure film is an anomalous one for a filmmaker as eccentric as Mr. Herzog. But even he wasn't expecting to do it, never one for shepherding passion projects over decades. "My films are coming at me like burglars in the night," he said the day after the film's premiere during an interview at the Hotel Adlon, just steps from the Brandenburg Gate. "I haven't invited them, and they come with a certain vehemence." Most surprising, especially to Mr. Herzog, is the fact that Queen is his first picture in a 70-plus film career that has a female protagonist. "It never occurred to me, during pre-production, during filming," he shrugged. "Only now here at the Berlinale did people point it out to me."
Even more intriguing is that Queen is the first of his movies with romance; Herzog is being commended for handling scenes with a surprising amount of sensuality and intimacy. "Much of my personal experience with love somehow is like a distant echo in the film," he confessed after his wife dropped by the hotel with a friend to say hello. Certain moments he wrote into the screenplay—Mr. Franco's character gives Bell a Roman coin to prove their timeless love, and proposes marriage with such a quiet murmur that a confused Bell insists he speak up—came directly from Herzog's actual courtship. "It's not an abstract construct by a screenwriter," he said. "In this case, it reflects part of my life." (Hopefully not the moment in the film where Mr. Franco tries to kiss Ms. Kidman while vultures pick at Zoroastrian corpses.)
But don't worry about Mr. Herzog going soft. The legendary filmmaker's unlikely role in American pop culture as the ultimate Teutonic existentialist is definitely not in peril—especially when it comes to acting roles on Parks and Recreation, The Simpsons or even his turn as the heavy in the Hollywood actioner Jack Reacher. "Whenever it comes to a character who's dysfunctional, vile, debased, dangerous and hostile, I'm good at that," he said. "I'm the guy who's frightening."
Is there any contradiction between striving for what he famously describes as "ecstatic truth" and just simply entertaining his audience? "Not at all," he explained. "What's wrong with Shakespeare? He's sometimes hilarious. And if I was circling around my own navel," he added, "that would be terrible."