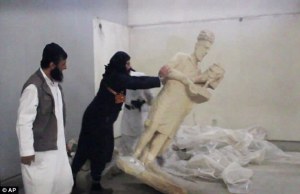 Terrorist group ISIS has destroyed with sledgehammers a series of ancient sculptures, some 3,000 years old and dating to the Assyrian Empire, in Iraq's Mosul Museum. The militant organization apparently released a video to YouTube Thursday morning documenting the destruction.
The group said it believes the sculptures in the museum were idolatrous. "The prophet, peace be upon him, ordered us to remove and obliterate statues," one member of the group said on video. The members, most or all unmasked, took drills and hammers to the art; other treasures were simply pushed over and shattered.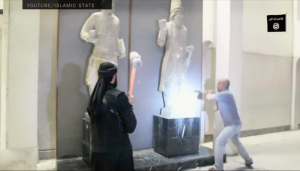 The Metropolitan Museum of Art has just released a statement condemning ISIS' actions in the strongest terms. "This mindless attack on great art, on history, and on human understanding constitutes a tragic assault not only on the Mosul Museum, but on our universal commitment to use art to unite people and promote human understanding," said Thomas P. Campbell, director and CEO of the Met. "Such wanton brutality must stop, before all vestiges of the ancient world are obliterated."
The incident echoes the 2001 destruction of two huge Buddhas in Afghanistan by the Taliban, despite interventions by the United Nations, the government of Pakistan, and the Metropolitan Museum, to save them. The director of the Metropolitan at that time, Philippe de Montebello, offered to send and pay for a delegation to save and remove any art that was portable. There was no response.
One Middle-Eastern news source quoted a local government official stating that some of the destroyed sculptures in the Mosul Museum were replicas, but that has not been widely reported.
The destruction comes after ISIS reportedly burned more than 100,000 rare books and manuscripts at the Mosul library earlier this month.