A minor subset of the vast swath of music called opera is the "monodrama," essentially a musical drama for only one singer. Poulenc's La Voix Humaine is one example, Schoenberg's Erwartung another. Now, if Mozart had only had the sense to write Don Giovanni in a similar single-performer format, last Wednesday's revival at the Met would have been one for the ages.
Baritone Peter Mattei in the title role gave what was probably the most impressive "in a vacuum" performance of any opera role I've ever seen. With little to no assistance from production, conductor or other singers, he embodied the legendary sex addict both vocally and physically, blazing far brighter than the pyro effects depicting the finale's descent into hell.
Mr. Mattei offers a sterling balance of voice, acting and stage magnetism in this protean role. His lyric sound is mellow and buttery, meltingly sweet in seductive moments like the serenade "Deh, vieni alla finestra" with poised, unforced legato. He can turn on a dime, though, and snarl at his enemies or howl in pain in damnation with cries that take him right to the cusp of what can properly be called "singing."
Meanwhile, he is a dynamo of physical energy, prowling about loose-limbed or seeming to whirr like a Maserati in neutral as he plots to pounce on his next victim. You always hear the word "demonic" applied to Don Giovanni, but what you generally see is no more than macho strutting; Mr. Mattei, on the other hand, gives a chillingly convincing impression of a man possessed by the devil.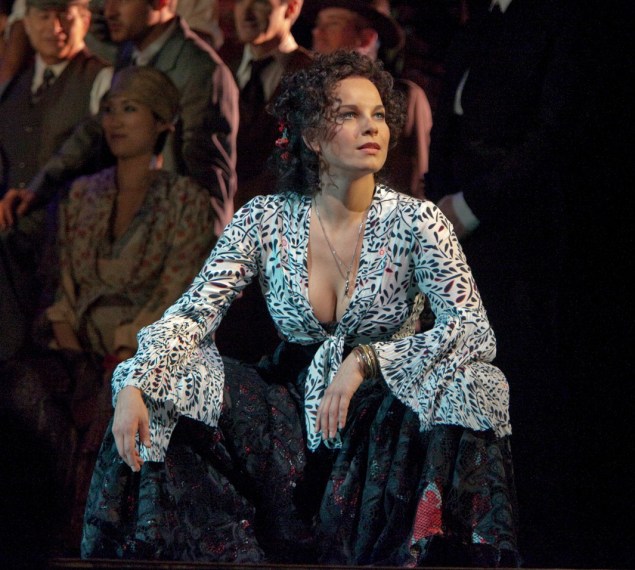 The opera is about Giovanni's serial seductions, but on the basis of the women in this show, you were left wondering, "Why would he bother?" Soprano Emma Bell returned for her third failed attempt at Mozart at the Met, this time as a Donna Elvira who sounded like a countertenor with a sore throat and behaved like a Northampton schoolmarm.
As the tragic young noblewoman Donna Anna, Elza van den Heever clamped down on what presumably must be a fairly sizable soprano, allowing only curdled tone and smudged coloratura to escape. She seemed to have run afoul of the Met's costume department, who draped her tall, big-boned form in rumpled taffeta and then balanced a beach ball-sized wig on her head.
Next to them, the mezzo Kate Lindsey as Zerlina at least sounded healthy, but both her timbre and personality lacked sparkle. She's supposed to be the peasant girl who drives all the men crazy with desire, but Ms. Lindsey came off more like a nice but plain friend of the heroine type. Opposite her was the debuting bass-baritone Adam Plachetka, whose warm voice might prove more appealing in a role with more to do than the bumpkin Masetto.
Another debuting artist, tenor Dmitry Korchak, sang sharp all night as Don Ottavio; in contrast, a singer who should have made his Met farewell years ago, James Morris, growled below the pitch as the Commendatore.
A couple of days after this performance, the New York Philharmonic's music director Alan Gilbert announced he plans to depart the orchestra in 2017, telling The New York Times he's interested in conducting more opera. However, on the basis of his noisy and square leadership of this Don Giovanni, maybe he shouldn't rule out other options.
Now, to be fair, Mr. Mattei wasn't completely alone up there; he had something close to a dream sidekick in bass-baritone Luca Pisaroni's Leporello. Mr. Pisaroni is a superb funnyman, with timing and shtick that feels modern and yet not anachronistic, a 21st-century take on 18th-century comedy. The voice is nothing special; so the character's big moment, the "Catalogue" patter song, fell flat. But the scenes between Mr. Pisarani and Mr. Mattei were golden; too bad we had to sit through all that other dreck to get to them.
If the title character carried the evening in Mozart, something like the opposite situation transpired at Friday night's Carmen. The mezzo Elina Garanca, who starred in this production when it was new in 2009-2010, returned to the leading role sounding as lovely—and blank—as ever. Her voice is surely one of the most gorgeous and technically polished in the world today, lithe and luxurious, and she looks if anything too ravishing as Bizet's seductive gypsy. But she always seemed to have something else on her mind; even at the point of being murdered she might have been making a mental note to pick up her dry cleaning.
To be sure, anyone would have trouble rivaling the intensity of Roberto Alagna as her jealous lover Don José. Now into his 50s, the tenor has developed into a truly outstanding singing actor, and, what's more, his vocalism is sounding more secure and easy than it has for years. The voice is bright and tangy, solidly in tune and confident in a broad range of dynamics from floated pianissimo head tones to a clarion high C that brought down the second-act curtain.
Supporting roles were also cast strongly, notably the debuting Ailyn Pérez as José's girl back home, Micaela. Her soprano has a distinctive smoky quality, with a solid, if not exactly dazzling, and she came close to matching Mr. Alagna's involvement in their scenes  together. Of the two types of singers who get cast as Carmen's bullfighter lover Escamillo—those with a spectacular range and those who can fill out a pair of toreador pants—debuting bass Gábor Bretz fell into the latter category.
Richard Eyre's production, if a little tame and drab, is at least not actively hideous like Michael Grandage's staging of Don Giovanni. And Louis Langrée's conducting shone a ray of sunlight on the piquant score, with lively, dancing tempi and airy orchestral textures.
One definition of a masterpiece is that it's a work that can survive a truly bad performance. Though both these operas can both be placed in that class, the smart opera fan should choose the one the Met has pummeled less, and enjoy the current revival of Carmen.