On Feb. 13, rising young painter Dean Levin filed a $200,000 lawsuit again Robert Blumenthal, the collector-turned-dealer who runs fledgling Robert Blumenthal Gallery on Manhattan's Upper East Side. Mr. Levin, an abstract painter once profiled in these pages, claimed that he had not been paid for the works from his solo show last May—there were 30, and the show sold out. Though it's not altogether uncommon for a gallery—especially a smaller and newish one like Robert Blumenthal Gallery—to be slow to pay its artists, Mr. Levin had had enough, apparently, and to the litigation he went.
But Mr. Blumenthal is fighting back. His attorney David Haber disclosed to the Observer that his client plans to countersue Mr. Levin and file a third party complaint against his current gallery, Marianne Boesky Gallery, for a total of $300,000 by early next week. The planned suit, he said, acknowledges that the gallery owes Mr. Levin some funds stemming from last year's show—"below $75,000″ said the lawyer—but counters that Mr. Blumenthal is owed 10 works that were never delivered and which subsequently ended up with Ms. Boesky at her gallery. It also seeks to recoup funds allotted for a studio in Tribeca, canvases, publicity for the show and "the people fabricating the sculptures".
It's poised to be a knock-down, drag-out war that will have repurcussions beyond the two gallerists and the hotshot painter; It illuminates the pressures and temptations facing young budding art stars. These days, they have two options. They can jump start their career with scrappy, smaller dealers such as Mr. Blumenthal who will rescue them from pennilessness by commissioning a bevy of works. Or they could hold out for the safe haven of representation from a blue-chip gallery in Chelsea, such as Marianne Boesky, daughter of famed financier Ivan Boesky.
In the case of Mr. Levin, who declined to comment, it appears he chose both.
"The guy owes 10 more paintings and then Marianne Boesky comes in and swoops from underneath!" said Mr. Haber, a Miami attorney with the firm Haber Slade, who is representing Mr. Blumenthal. "It just goes to show: You go and develop someone's talent and then they bite the hand that feeds you."
While Marianne Boesky didn't announce Mr. Levin's representation until July, Ms. Boesky told The Observer in a telephone interview last August that she first visited his studio in May, and had known of his work for some time before then. The solo show at Robert Blumenthal closed May 30.
Roping in Ms. Boesky adds to the intrigue of whole ordeal, and from the sounds of the lawyer's statement, it appears as she will be very roped in.
"It is my client" belief that Levin did not do this in a vacuum but instead did so with the assistance of another gallery owner whom my client believes intentionally interfered with Mr. Levin's relationship with the Blumenthal gallery," said Mr. Haber.
(Through a public relations firm retained by her gallery, Ms. Boesky declined to comment. When asked to comment for this story, Mr. Levin emailed and said, "No, but thanks for the offer.")
News that Mr. Levin had filed a lawsuit against Mr. Blumenthal was first reported in Josh Baer's widely read newsletter The Baerfaxt, but neither included news regarding the countersuit or Mr. Boesky's involvement. Mr. Blumenthal's legal representation said they plan to file the lawsuit early next week.
The legal drama for Mr. Blumenthal comes at a time when gallery operations appear to be in flux. Moreover, based on interviews with several involved parties who did not wish to disclose their names for fear of retribution, he has made some enemies through alleged improper practices. People with knowledge of the matter, for example, said he had paid curators and assistants and he has a reputation for flipping art for profit.
A representative from Brussels gallery Super Dakota claimed that the collector altered the deal to short him approximately €3000 related to a December solo show of an artist from of his stable, Baptiste Caccia."After three months, he said that the first list that he sent us didn't match the one in Europe—it didn't make sense," he said on the phone. "He's a liar… And it's a bit weird—it's such a little amount of money."
The gallery director in Brussels then began to unleash a stream of invective against the gallery and its proprietor.
"What matters is that my artist's integrity has been treated very poorly," he went on.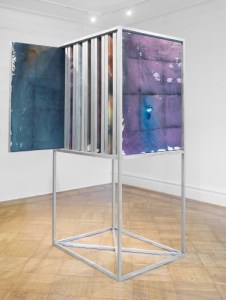 Others told us that he's widely seen as an art flipper, which could be inferred from the show currently on view: "Let's Talk Postmodernity," which closes Saturday, consists of "a selection of works from Robert Blumenthal's collection."
"Everything in the show right now is everything from his shows that he bought that are for sale again," said a source. "So he's flipping through his own gallery."
When asked to comment, a representative for Robert Blumenthal Gallery said, "All this is totally absurd."
One noted, though controversial dealer, however, Stefan Simchowitz, however, came to Mr. Blumenthal's defense.
"My experience with Robert has been nothing but pleasurable," said Mr. Simchowitz during a telephone call, adding that he had not done many transactions with him. "Robert Blumenthal might not be deserving of this smear campaign. I've been in the trenches with Robert but i've never seen any contractual illegality occur "
He went on to say that in February 2014, he had commissioned Mr. Levin to make 50 works. "About a quarter" of the 50 came in, and then Mr. Levin stopped returning phone messages and emails from Mr. Simchowitz and his assistants. (An associate of Mr. Levin's claimed no knowledge of any such deal or paintings delivered.)
The dealer said his experience with the missing pieces could lead him to believe that a similar thing is happening to Mr. Blumenthal.
Mr. Blumenthal—who made his fortune in real estate, and comes from a prominent Florida real estate family—opened his gallery on the Upper East Side in early 2014 after spending the previous decade amassing a collection, much of which is housed at his Miami residence. In an
interview
with
The Observer
announcing the new space, he said he liked the challenge of showing contemporary conceptual art by young unknowns just blocks from heavyweights such as Gagosian or Skarstedt or Dominique Levy. One of his early shows, "Ain'tings," which was curated by the critic (and Observer contributor) Ryan Steadman, inspired the column in which Walter Robinson coined the phrase  and movement "zombie formalism."
"There are very few people showing cutting-edge contemporary," Mr. Blumenthal said at the time. "There's no one really doing that."
Like many of his fellow collectors, Mr. Blumenthal is a frequent traveler (a habit our new
favorite
website freeze d/e
poked fun at
quite marvelously) and when we reached him this morning, he said he was about to get on a seven-hour flight to Europe.