Since he took over as editor of The New York Times Magazine about 10 months ago, Jake Silverstein has been eliminating a column here, bringing on a staff writer there. Mostly, though, the magazine has been quietly humming along, using up existing stories in the pipeline and, when those ran out, commissioning new ones, maintaining the existing sections and columns imagined by former editors. Mr. Silverstein's sensibility no doubt began to permeate the pages, but it was subtle. Change came slowly, then all at once.
This weekend, devoted readers will find tucked into their newspapers the first issue of the new New York Times Magazine, a redesigned, 220-page behemoth. "It is as if we have been bidding our dinner guests adieu each week," Mr. Silverstein wrote in his introductory editor's note, "bussing the dessert plates and then hurrying out to the garage to tinker with our strange creation under a flickering bulb."
On Thursday night at the Rainbow Room, the Times celebrated the relaunch of its prized Sunday supplement, and attendees walked away with advance copies of the magazine, branded as "The Global Issue," in tote bags branded with the Times Magazine's new logo. The magazine, now available online, is capacious, animated by disparate voices and rangy features, flecked with new games and columns and poetry and a new suite of typefaces.
The new magazine owes a lot to former iterations, too. The front-of-the-book essay, for instance, "First Words," which is written this week by Virginia Heffernan, is basically a mix of William Safire's "On Language" column and "Riff," introduced by Hugo Lindgren, Mr. Silverstein's dudeitor predecessor. "Lives" remains, though it has been changed to an as-told-to feature and moved to the middle of the book. The "Talk" column is still there, replacing the "Lives" column's real estate as the last page of the magazine.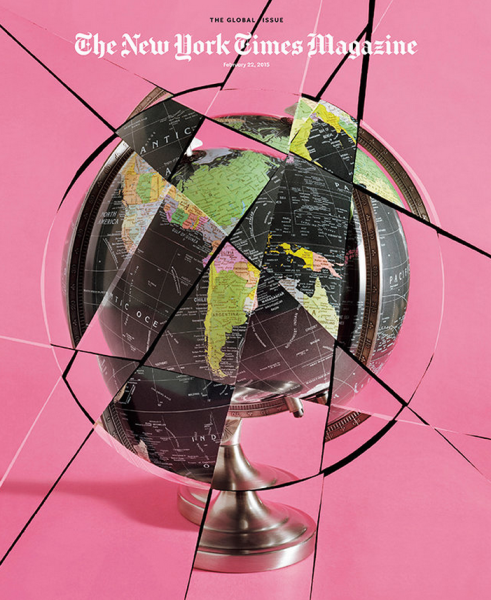 "It did not need to be dismantled, sawed into pieces or drilled full of holes," Mr. Silverstein wrote, mindful not to alienate the current readership. "Instead, we have set out to honor the shape of the magazine as it has been, while creating something that will, we hope, strike you as a version you have never read before."
Mr. Silverstein has also re-imagined "The Ethicist" column—established by former editor Adam Moss, in 1999—as a podcast called "The Ethicists," featuring the media critic Jack Shafer, the novelist Amy Bloom and the constitutional law professor Kenji Yoshino (an edited transcript will run in print). The novelist Gary Shteyngart took on the bizarre stunt of confining himself to a luxury hotel room for a week while continuously watching three screens turned to Russian state TV, until he inevitably went mad. Many of the contributors Mr. Silverstein has brought on are novelists, including Mohsin Hamid, who has a story in the magazine; Teju Cole, the author of Open City, who will write a regular column on photography; and Colson Whitehead. The poet and memoirist Helen Macdonald will contribute pieces on nature, too.
The influx of fiction writers shouldn't come as a shock. Mr. Silverstein, 39, has a particularly literary background, which may explain his affinity for novelists. Raised in Oakland, Calif., he attended Wesleyan University, where he studied non-fiction with the naturalist Annie Dillard. Mr. Silverstein still cites Ms. Dillard as his mentor, which strikes one as an unlikely influence for a journalist. Her work is meditative, un-newsy, intensely focused on the thoughts of weasels. But then again, studying with Ms. Dillard, who puts a premium on the power of observation and the importance of careful attention, may just be ideal training for a journalist.
"She's uncompromising about literature," Mr. Silverstein told me over coffee in the Times cafeteria last summer, "and she also has this kind of amazing capacity for this antic and fun spirit inside a very formal approach to writing, which was extremely instructive to me as a young writer."
When we met in July, Mr. Silverstein was just two months into his new job. It had been a hectic time. His boss, the former executive editor Jill Abramson, had been unceremoniously fired at his first department head meeting, prompting weeks of publicity and controversy, and the Times' Innovation Report was leaked on his fourth day. But if he was frazzled by the high-profile personnel changes, he didn't seem it. In person, he projects a chill California cool and gives off a kind of humble, aw-shucks vibe. But it's slyly undergirded by a quiet confidence that suggests he knows exactly what's going on. Mr. Silverstein is a fox with the mind of a hedgehog. He's unpredictable, a quality reflected in his career path.
---

'He has a very artistic sensibility,' said Pamela Colloff, the executive editor of Texas Monthly. 'He's not constrained by the typical structures editors impose on stories.'

---
Following a stint as a local reporter for the weekly Big Bend Sentinel and a year in Mexico on a Fulbright Scholarship, Mr. Silverstein spent three years at the Michener Writing Center in Austin, Tex. There, he worked on two books, the first of which, a novel in the style of Charles Portis, remains unfinished. ("For the right price, I will finish it," he joked.) The second, Nothing Happened and Then It Did (2010), contains a mix of factual and fictional essays, some of which appeared in Harper's, where he interned in the late '90s.
"He had a very sure story sense—that's one of the things I loved about him," said James Magnuson, the director of the Michener Center. "I was doing a little piece myself, and he helped me quickly. I suddenly thought, 'Oh, my God! The student is helping the teacher.'"
The playwright Kirk Lynn studied with Mr. Silverstein at Michener. He described him as a "hard guy to pin down" but one who was always asking tough, intellectual questions in their time together. "How do you structure your life so you can be awake?" Mr. Lynn recalled Mr. Silverstein wondering on more than one occasion (he is from the Bay Area, after all). In 2006, he said, they canoed down the Brazos River in north central Texas, retracing the route John Graves took in his 1957 book Goodbye to a River while discussing writing and ideas and Willie Nelson's Red-Headed Stranger. "Jake was interested," Mr. Lynn said, "in the beauty of prose and how to make it speak to journalism."
As an editor, Mr. Silverstein is more of a storyteller than a statesman. He has a boyish charm and an instinct for mixing the fun with the serious. When he was at Texas Monthly, where he worked as editor in chief from 2008 to 2014, Mr. Silverstein brought on a barbecue critic—a move that generated an outsized amount of publicity—while delivering big, sweeping issues on immigration and other topics.
"He has a very artistic sensibility," Pamela Colloff, the executive editor of Texas Monthly, told me in a phone interview. "He's not constrained by the typical structures editors impose on stories." Ms. Colloff mentioned an instance in which Mr. Silverstein encouraged her to think beyond those structures. In 2012, the two were working on a rewrite of a piece about a man who had been wrongfully convicted of murdering his wife and imprisoned for more than two decades. The evidence of his innocence was a blood-stained blue bandana found near the crime scene, then locked away in a sheriff's office for 25 years.
Why not, Mr. Silverstein wondered, tell the story from the point of view of the bandana? Although it ended up not being possible—at least not entirely—it epitomized Mr. Silverstein's imaginative editorial approach, which caught the attention of New York Times executive editor Dean Baquet, who, as managing editor at the time, had been tasked with finding a replacement for Mr. Lindgren.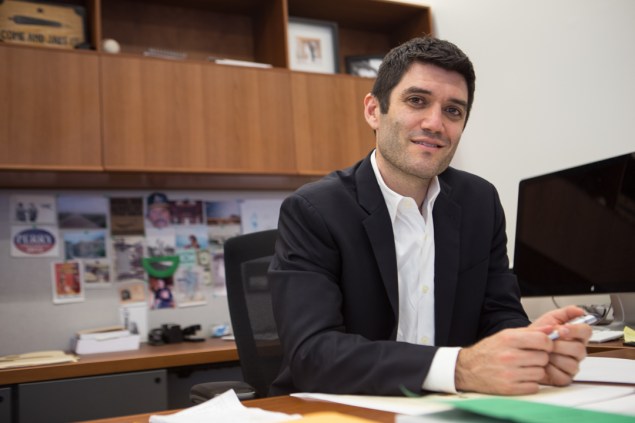 In recent years, The New York Times has encroached on the magazine's territory, putting out its own ambitious, long-form features, and the goal was to find an editor who could remedy that issue, among others. Stories have overlapped even during Mr. Silverstein's run. Jim Rutenberg and Sam Tanenhaus' big, front-page report on the philosophical foundations of Rand Paul's libertarianism, for example, was quite similar to Robert Draper's cover story on the libertarian movement. "I'd like Jake to reconcile that a little better," Mr. Baquet told me not long after Mr. Silverstein came on to the magazine. "It doesn't mean the broadsheet won't be narrative, but I'd like to push more of the narrative storytelling into the magazine."
With four features in the magazine now, rather than three, that will be more doable. There is also a push, Mr. Silverstein announced on Thursday night, to make the magazine more of a digital operation, with daily posts online as opposed to the weekly dump that feels more like an isolated event. Mr. Silverstein embraces technology. He is a funny presence on Twitter and has used it as a platform to find ideas for the magazine. When A.O. Scott off-handedly tweeted a comment about maturity and American culture, Mr. Silverstein encouraged him to expand on the idea, which became a provocative, 5,000-word essay that stirred much conversation. (Times writers be warned: be careful what you tweet.)
It is no small thing, too, that the paper stock of the physical magazine is a little sturdier now, lending it some much-needed gravitas and differentiating it from the coupons and circulars that clutter up the Sunday paper. The magazine has existed in a kind of embattled state of late, neutered by T, the Times' monthly style title, which siphoned precious luxury advertising dollars away from the publication. The magazine now has a dedicated publisher, Andy Wright, and the first issue contains more than 100 pages of advertising, the highest number since October 2007.
Of course, as the excitement over the redesign fades, the Silverstein-helmed publication will become a weekly occurrence rather than an anticipated event. It won't all be parties at the Rainbow Room and issues heavy with advertising dollars. But it's officially Mr. Silverstein's magazine now.