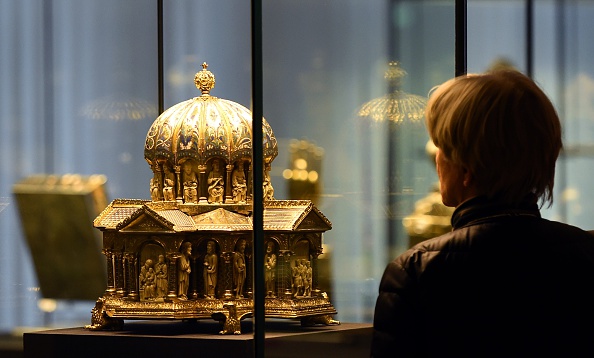 Two descendants of Jewish WWII-era art dealers are suing the German Government for the right to inherit a collection of medieval art known as the Guelph Treasure, worth an estimated $226 million, according to report from the New York Times. The heirs say they filed a lawsuit in U.S. District Court in Washington, D.C. on Monday, marking the latest battle in a long line of ownership claims for the medieval goods.
Collected over several centuries by the Braunschweig Cathedral, the Guelph Treasure (also known as the Welfenschatz) is comprised of Christian relics, gilded metalworks, and precious jewels, and includes pieces that are over 800 years old. The American and British claimants argue their ancestors were under duress during the 1935 sale of the works when to the State of Prussia, then overseen by Hermann Goring (a leading member of the Nazi party) who later gifted the treasure to Adolf Hitler.
The Prussian Culture Heritage Foundation, which oversees Berlin's museums, claims that the sale was consensual and the art dealers were paid a good price at the time for the valuable treasure—4.25 million Reich marks, or $1.7 million, according to the Wall Street Journal. However, in 1929 the Jewish art dealers paid 6 million Reich for the Guelph Treasure, further questioning the legitimacy of the sale to Prussia.
"Any transaction in 1935, where the sellers on the one side were Jews and the buyer on the other side was the Nazi state itself is by definition a void transaction," said the heirs' attorney Nicholas O'Donnell in an interview with the Associated Press.
The case was dismissed last year by the Limbach Commission, a special group created by the German government to evaluate restitution cases. The commission decided then that the 1935 sale was not forced.
Mr. O'Donnell, on behalf of the heirs, now claims that the Limbach Commission is inefficient in its decision-making processes, and called them "flawed." In a statement, he said the heirs have decided to file the lawsuit in the D.C. because "U.S. federal courts are the best suited to sort out these ownership rights."
It is unclear whether the case will go ahead as two recent restitution cases filed in U.S. courts both ended up being dismissed.