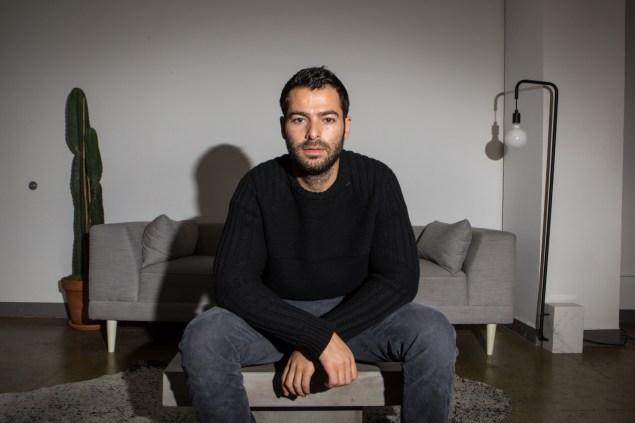 Ever wondered who the designer is behind those stretchy, body-conscious outfits Kim Kardashian wears so well?
Over the past two years, Jonathan Simkhai's designs have popped up on Beyoncé, her fashion daredevil sister Solange, and also of course, Ms. Kardashian. The voluptuous stars are drawn to Mr. Simkhai's supremely sexy, yet tastefully cut designs, which drape around the body in a way that shows a whole lot of curve without much skin. His signature, thick jersey-knit pencil skirt and crop top combinations are on trend yet clean and classical. Venerated retailers like Bergdorf Goodman, Neiman Marcus, Intermix and online emporium Net-a-Porter all agree.
---

Jonathan Simkhai's trademark cutout looks won prizes and became a favorite for Kim Kardashian; he tells the Observer that 'fearlessness' is the theme for his first-ever runway show this week

---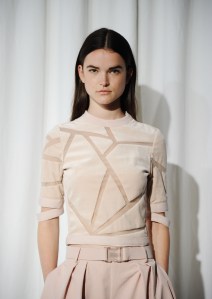 Huddled on a cream colored couch on a chilly day at his studio on West 37th Street, deep in conversation with a leggy blonde who was impressively clad in true, tailored NYC fashion exec attire, the designer welcomed us into his somewhat sparse studio. The Midtown office space was halfheartedly disguised with two cacti, a sofa and a cowhide rug. "It's really important to me to keep the studio serene," he explained, while trying "to create a really downtown feeling even though we're in Midtown." Clearly impatient to be moving on, Mr. Simkhai is ambitious for the next rung up the fashion ladder.
After helping his mother shop as a child, the designer pursued his passion for fashion at Parsons and FIT; then graduated from the prestigious, Anna Wintour-backed CFDA Incubator program. New York-based fashion financiers Hilldun then snapped him up and provided the backing he needed. Though he has been showing a presentation since his brand launched in 2010, fall/winter 2015 will be his first runway show. "I could easily get anxious and nervous about this whole thing, but I really want to have fun with it," he says, adding that "fearless" most summed up his mood.
His fall/winter 2015 lineup was pushed up against the walls where we sat to chat. The collection was inspired by a picture from Instagram—of course—that his brother posted of himself at a racetrack in Los Angeles.
"I thought, 'Oh my God, he has so much courage to go out and drive his car faster than the speed limit. I want to give women that same fearless courage and power.' " He pulled out a straight black dress comprised of thick strips of textured lace, supposed to create an effect akin to the wearer having "skid marks all over her."  Slightly alarming considering the fearless theme but the clothes were super glamorous regardless of their backstory. There were also the signature stretchy skirts, mesh paneling, and subtle cutouts and silk tops printed with oil slicks.
---

"I was never really an athlete growing up." He added that he might pop into Equinox before work for an occasional massage, but is more famous for his entertaining skills.

---
Though he incorporates sporty elements into his collections, Mr. Simkhai confessed, "I was never really an athlete growing up. I actually was a cheerleader my junior year in high school." He added that he might pop into Equinox before work for an occasional massage, but is more famous for his entertaining skills, such as finding a great bottle of wine and whipping up indulgent treats. "Kate, how would you describe my buffalo chicken dip?" he called off to his left into a side room. "It's crack!" a voice immediately called back.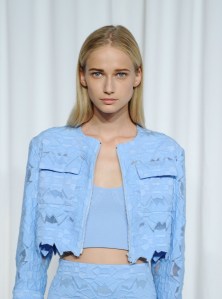 As it turned out, the leggy blonde was fellow designer, Kate Ciepluch, former fashion director at Shopbop who started the blazer and jacket line Laveer. The two met through Hilldun and also occupied the same showroom. "Jonathan is my mentor. I come here when I don't know what to do," she said without a hint of reservation. The designer studied the jacket she was wearing, a navy and red striped swingy thing with a tie belt, a winning spring look for warmer months ahead. "Drop the armhole, it's too high, but it's a beautiful jacket," he called out as she sauntered off to the other room. "That's going to sell with the armhole or not, but you should fix it."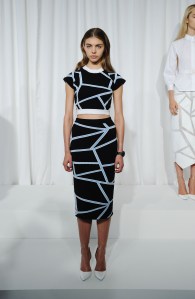 When asked what he thinks of the comparison between himself and an early Alexander Wang, Mr. Simkhai blushed. "I would say it's an honor. He's really talented and does beautiful work, but it's different. I think I can read uptown; his girl is very downtown," he said. Both designers make clothes that women actually want to wear, mixing sexiness and sportiness in a way that's come to define modern, urban glamour.  Messrs. Wang and Simkhai share party-throwing talents, too.  Mr. Simkhai's show after-party last season at No. 8 was an alcohol-fueled (sponsored of course) dance party. "I don't know how they (the parties) end up being so fun," he added with a mischievous smile. However, this knowledge of what really makes a party swing is part of the bigger picture at work with Mr. Simkhai. A love of entertaining combined with a feel for the kind of wantable, wearable designs women who are not standard model-size crave, add up to a very interesting future for this NYFW first-timer.