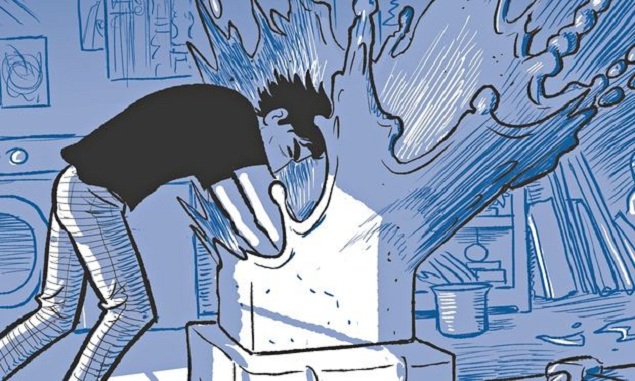 The Sculptor is something we've never seen before from Scott McCloud.
There's a special kind of pressure that comes with telling people how to create something, then creating that thing yourself. Mr. McCloud has literally written the book on creating, making and understanding comic books not once, not twice but three times over the course of his career. And it isn't as if he's never created his own fiction before. Zot!, written and drawn by Mr. McCloud, ran for six years from 1984 to 1990.
But The Sculptor, started from an idea from a young Mr. McCloud that then developed and changed over decades, is a completely different animal. Coming in at just around five hundred pages, this book is a massive, complex one. It tells the story of David, a 25-year old sculptor whose artistic fame once burned bright but fizzled out just as quickly, who makes a deal with Death itself — David can create anything he wants with his bare hands for 200 days, at the end of which he will die. On day one of 200 David meets Meg, the love of his life.
The Sculptor deals with everything from crippling self-doubt to blind hubris, and interweaves stories throughout. There was a chance that over the course of these 500 pages the story might unravel, or Mr. McCloud's art would become inconsistent, or maybe we'd even realize that telling people how to create comics is harder than actually creating comics. All of that was possible. But I can say, honestly, that The Sculptor is one of the most cohesive, moving and downright beautiful graphic novels I've ever seen.
I got the opportunity to chat with Mr. McCloud prior to the book's release and his appearance at the 92nd Street Y, and we discussed everything from art, to death, to life, and the troubles of drawing the afterlife as an atheist.
New York Observer: I know writing this book was a massive, decades-long process. What was it like working on an idea that you had so long ago?
Scott McCloud: It's not that hard for me to write a 25 year old artist with big pretentious ideas because I've only barely outgrown that anyway. The more important part was for me to use this as an opportunity to grow myself, to try to step back from it all and learn from all my years of living and struggling, and maybe do a bit of growing up in the process. Act my age, I guess you might say. So this book helped me to kind of grow to my full age in some ways as I looked back in the grand ambition we have when we're young.
One of the first parts of the book that struck me was early on, when Death touched David's hand and there are two straight blank pages which is odd for a medium so dependent on words and images.
There's a certain amount of ambiguity over what exactly this personification of death shows to David. This is a vision of the after-life, or the lack of one. And to me, I have to say straight away that I am an atheist. And that does inform this story. I felt that the only way to honestly represent that was with, not two pages that were colored white but simply had no ink on them. They aren't white pages, they're blank pages. It's the same thing either way. But it's that absence, that complete absence of any kind of mark as a kind of anti-visualization of a thing that cannot be visualized. For me that's the core of it, trying to show something that cannot be shown.
And in other media it would have to take other forms. For instance, if it were in digital, I don't know how I would do that.
It would look like a mistake.
Yeah, it would look like your device had failed. And it should look like your device has failed, really. It's as if I could have everybody's iPads just turn off, and they'd hit it a couple times and it would turn back on. I know that if the story ever becomes a movie, I would hope you'd see film running out of the projector. Even though most films are digital, I think it would be wonderful to see an old time tail out. It's the absence of media that seems to be the only credible way to portray the absence of consciousness.
Death and mortality in general is such a huge part of this book. Is that something that was on your mind often as a young artist?
I get pretty death-obsessed, from time to time. I understand people like Woody Allen. I always like his quote; somebody asked him, 'Do you want to achieve immortality through your art?' And Woody Allen said 'No, I want to achieve immortality by not dying.' I'm with him on that.
I have a series of improvisational web comics on my site called The Morning Improv, and I laugh when I realized two thirds of them end in some kind of awful catastrophe. I'm a fairly cheerful person, but I certainly always have death in mind. The finality of it. The absolute quality of death has never been far from my mind.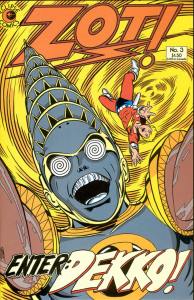 Do you think artists more than others are prone to the idea of mortality? Or even immortality?
I do think that all artists on some level are trying to create something that will last. They may hope for some earthly rewards, but at the very least they hope that what they do will be valued by people in the present and in the future. I'm no different from that.
The thing is, I've been thinking a lot about story structure, and a lot about the nature of stories. I think it's helpful to look at stories as the light side of a desire. And I think the most interesting stories are the ones in which the characters and the audiences are encouraged to interrogate the value and source of that desire. David desperately wants be remembered, or more precisely he's terrified of being forgotten. With him it's almost an animal need, and helping him to get peace with that is one of the arcs of the entire story.
David the character has this quirk where he always must keep his promises. How much of that comes from you?
I think I was more like that before I met and ultimately married Ivy [Ratafia], the real human being that inspired the character Meg. I think that absolutist behavior, which seems very noble on one hand but very brittle and corrosive in the long run, I think Ivy helped me overcome that. Now when I see some self-directed resolution breaking down because of the circumstances and compromises of modern life it doesn't worry me so much. I just see the acceptance of our nature as imperfect creatures as the healthiest way to live.
Was the decision to set the story in New York important?
New York seemed inevitable. New York is the center of attention, as David wants to be the center of attention. I loved this idea of that pure focus of attention, that neutron star of human activity with everyone drawn to that gravity, and yet David is still invisible.
What would you say, at this point in your life and your career, to a "David," to a 25-year old artist unsure about pretty much everything?  
Know that there is something noble and wonderful in simply wanting it. Just by making that effort, just by trying, you have done something wonderful, and noble. If it was all futile, then that's beautiful, too. To engage in something in the face of futility is heroic. And God knows you don't ever do what you think other people want you to do. Selling out on what you truly love, that doesn't produce very compelling art. You have to do what you genuinely love.
The Sculptor is out February 3rd from First Second Books.