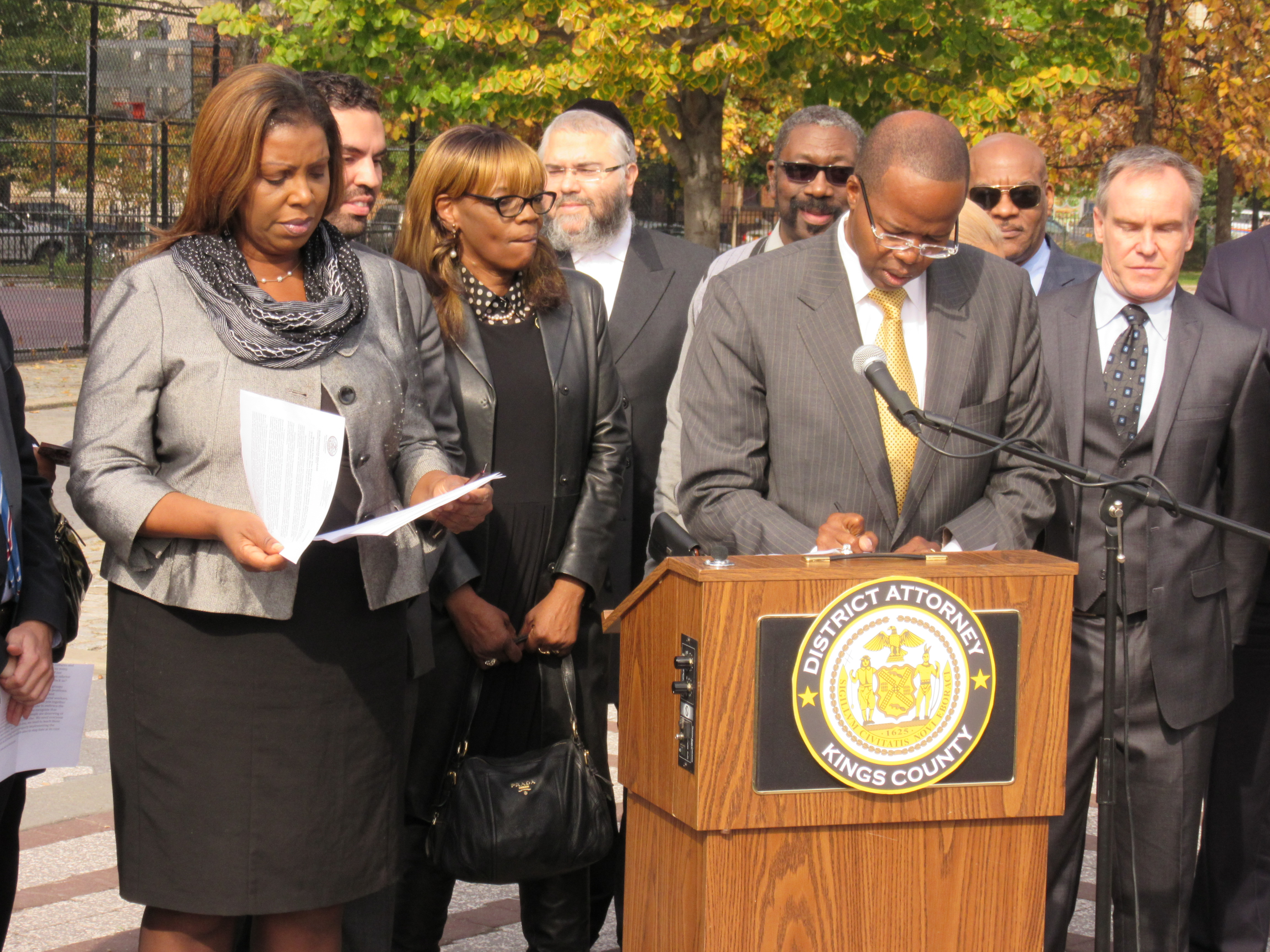 Public Advocate Letitia James stood by her earlier claims that the grand jury system is "antiquated," even after the indictment of NYPD Officer Peter Liang in the killing of Akai Gurley, an unarmed black man from Brooklyn.
In the weeks and months after a Staten Island grand jury refused to indict Officer Daniel Pantaleo in the death of Eric Garner, Ms. James lambasted the use of the grand jury system as a medieval relic, and complained that district attorneys are able to steer the process as they please. Speaking to the Observer shortly after Brooklyn District Attorney Kenneth Thompson obtained an indictment of Mr. Liang last week, she reiterated her arguments for sweeping statewide reform.
"Notwithstanding that I support Ken Thompson and I think that he's doing a wonderful job, I believe it should be state law," she said. "The grand jury process dates back to the Magna Carta."
Ms. James noted that New York State has existing statutes that allow for a preliminary hearing, where a judge determines whether to indict, instead of a grand jury procedure—though a defendant must agree to such a procedure. She aligned herself with two competing proposals from Gov. Andrew Cuomo and Attorney General Eric Schneiderman: one for a governor-appointed independent monitor to review police abuse cases where a D.A. fails to secure an indictment, the other for such cases to be automatically remanded to the Attorney General.
Mr. Thompson bitterly lashed out at the latter proposal as "unworkable." Ms. James disagreed, however.
"[Mr. Cuomo] suggested a monitor, that a monitor review to determine whether or not there ought to be a special prosecutor," she said. "I believe that Eric Schneiderman should be appointed as special prosecutor."
She also repeated her criticisms of New York's automatic sealing of grand jury records, which is done in order to protect witnesses. Ms. James maintained, however, that leaving the public in the dark allows mistrust to fester.
"Unfortunately, in New York State most district attorneys are not in a position to talk about the grand jury because of secrecy, and I believe that secrecy just breeds suspicion," she said. "The grand jury process should be open and transparent, and there should be sunlight on the process, and I believe we should move toward sunshine laws in the state of New York."
Ms. James has sued to unseal the records of the Garner grand jury. At a January 28 presser before the first hearing, she attacked the existing system, saying the 800-year-old grand jury process is outdated.
"Our understanding of justice and the law, however, has evolved a lot over eight centuries. Here we are in America in 2015, we are in the most progressive city in the most progressive state, and the grand jury system is flawed," she said. "The prosecutor has complete control over the process. He decides what witnesses to call, what charges to bring, which witnesses will receive immunity, the basic questions that are asked solely by the prosecutor."