Leave it to London to lovingly exploit an aesthetic.
The quirkiest fashion capital knows how to push a trend as far as possible—this is why we have the Brits to thank for the birth of the mini-skirt.
This London Fashion Week was no different. The current '70s craze came through loud and clear, with punched-up prints, bright florals and a sense of humor not seen in the comparably toned-down NYC collections. Brits also remixed and remastered the '50s and '60s with zeal, and even Gareth Pugh's menacing all-black collection had New York's goth obsession almost beat.
As always, London provided a welcome dose of joie de vivre, with none of the apologetic restraint so often seen in the department-store-ready New York collections.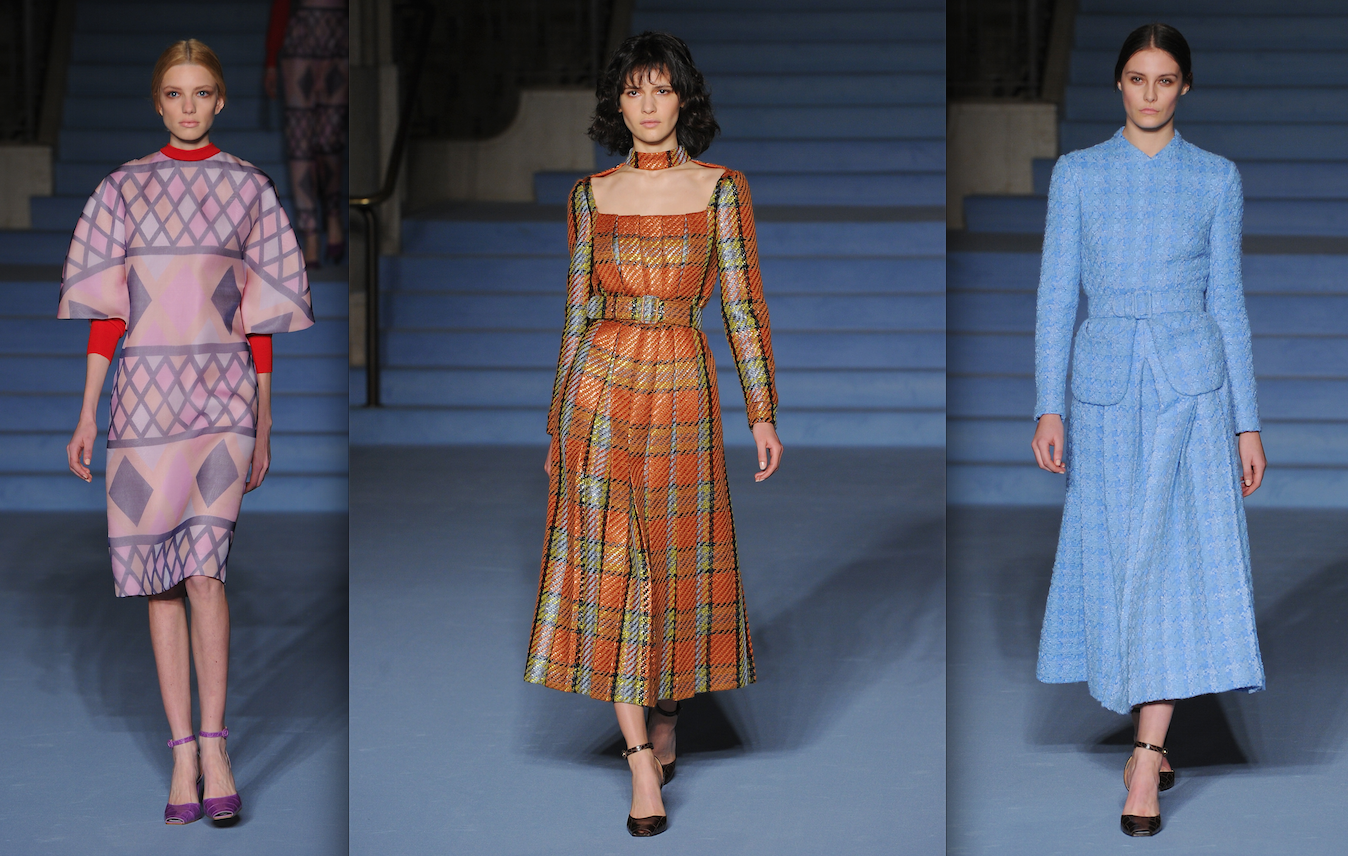 On Saturday morning, Emilia Wickstead showed classic 1950s silhouettes, perfect for a woman who is totally modern but still loves a good Hitchcock reference. There were also clean pantsuits and red-carpet-ready ball gowns of which Tippi Hedren would approve.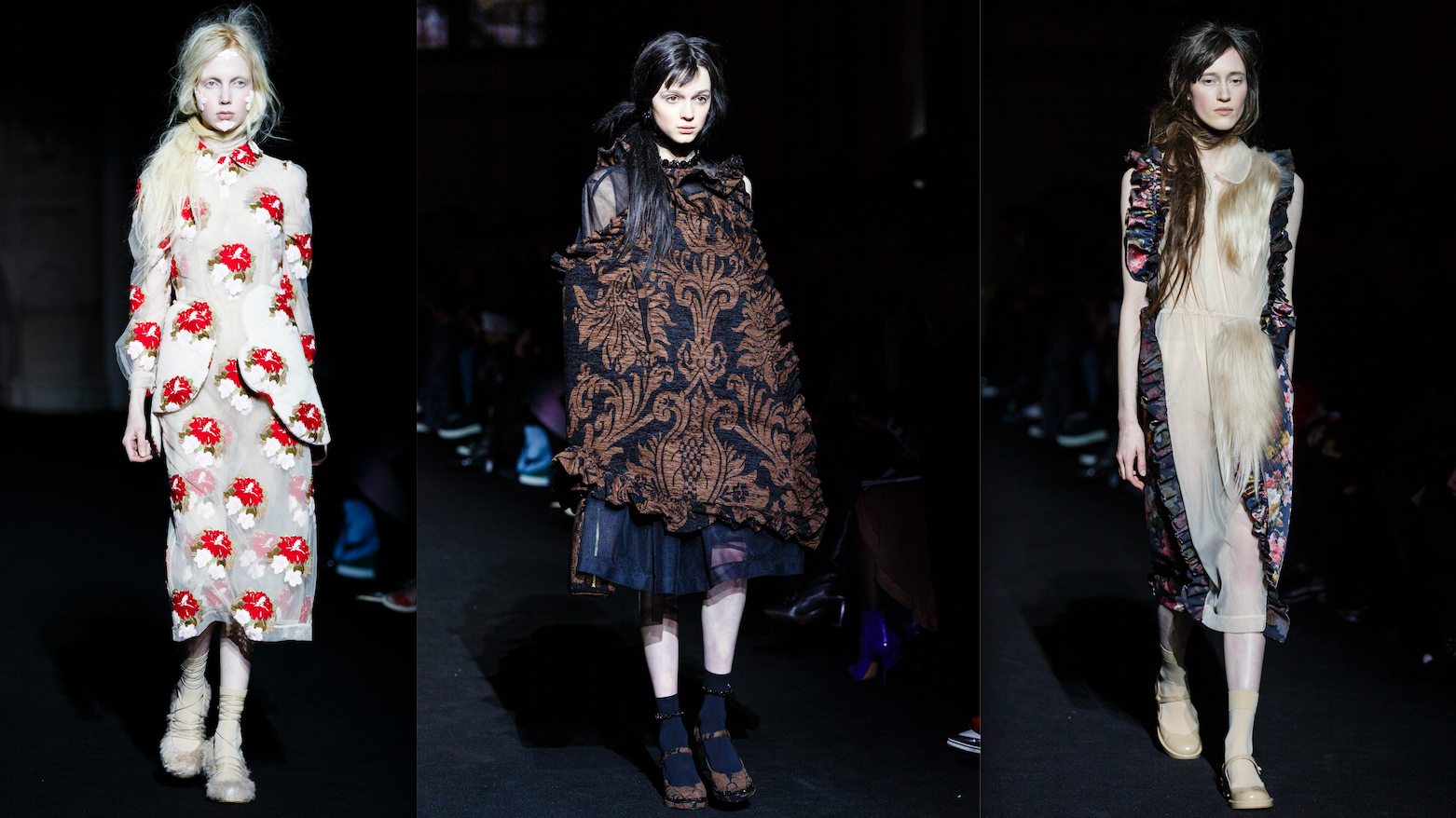 Simone Rocha jolted crowds to attention on Saturday with blown-up rose prints, carpet-like cloaks and even dresses with fur panels down the middle. The eccentric collection was united in its exuberant excess.
Providing a quick break from color, Gareth Pugh threw a veritable goth jamboree (if goths have jamborees) on Saturday night. Known as New Yorkers are for their love of all things black, Mr. Pugh outdid us. There were black feathers, black cloaks, armor-like black chestplates. One model wore a black ballgown and fur hat, perfect for the Super Sweet Sixteen of a Visigoth warlord's daughter. One model was bare-chested, wearing a billowing black skirt and waving a giant red flag like a victorious bride of Dracula.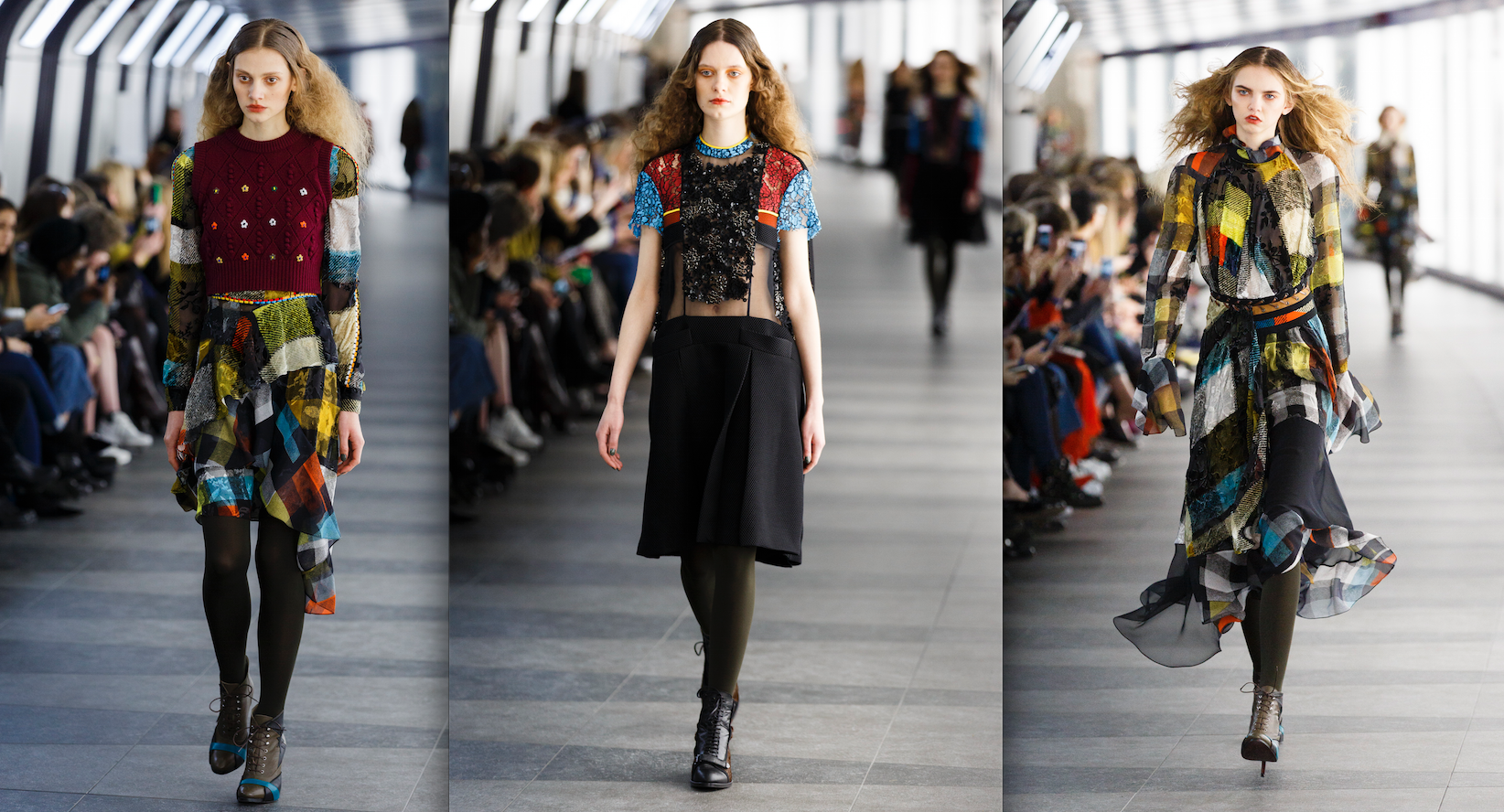 On Sunday, Preen played with such British classics as cable knits, tartan and lace-up boots, giving the effect of a technicolor punk-rock garden party. Models sported middle-parted, fluffy curls, like a bad '70s school portrait made chic. The plaids were perfect for your neighborhood Helena Bonham Carter wannabe.
Punk rock's dowager queen, Vivienne Westwood, incorporated every color of her muted ruffian's rainbow for her autumn and winter collection. Matchy stripes and plaids, sculptural cloaks and oversize jackets were on offer.
Next, Mary Katrantzou showed a collection that was more '60s than '70s—and thank goodness, because not everyone looks model-esque in the latter decade's long, lean lines. Patterns and textures duked it out on shift dresses, collars were pumped up with fur or hardware, and models wore velvet Mary Janes perfect for chasing down cute boys in bands.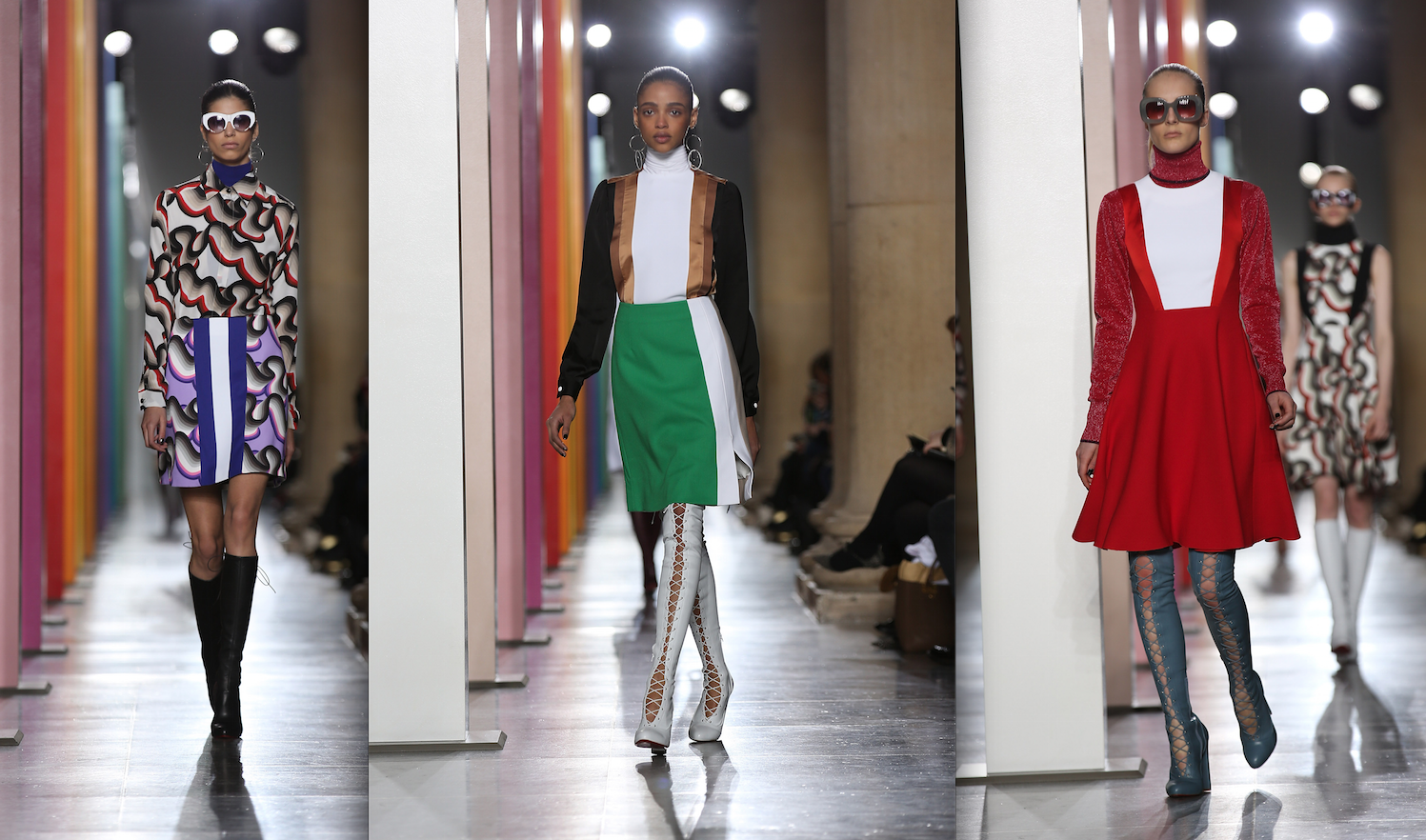 Jonathan Saunders focused on '60s futurism, with pieces that would look at home in an aprés-ski lodge or a first-class lounge—clean lines and bold colors that pair nicely with a martini glass and an air of saucy boredom. Turtlenecks, google-like glasses and high boots were ubiquitous.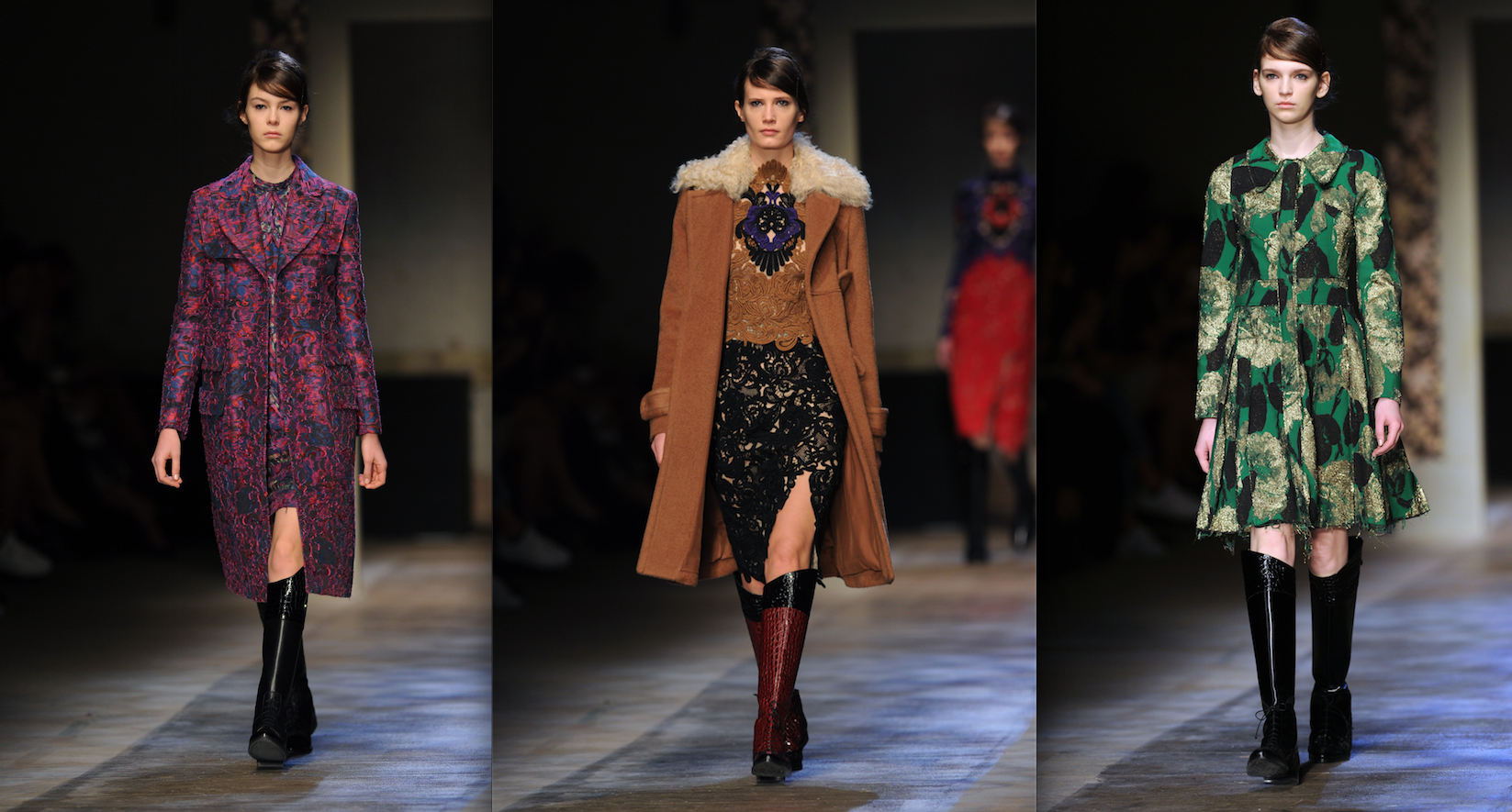 Yesterday, Erdem showed metallic florals that also felt practical and unfussy. The colorful prints were matured by sturdy fabrics, modest hemlines and long sleeves. Never before has a purple, pink and blue allover flower print looked so grown-up.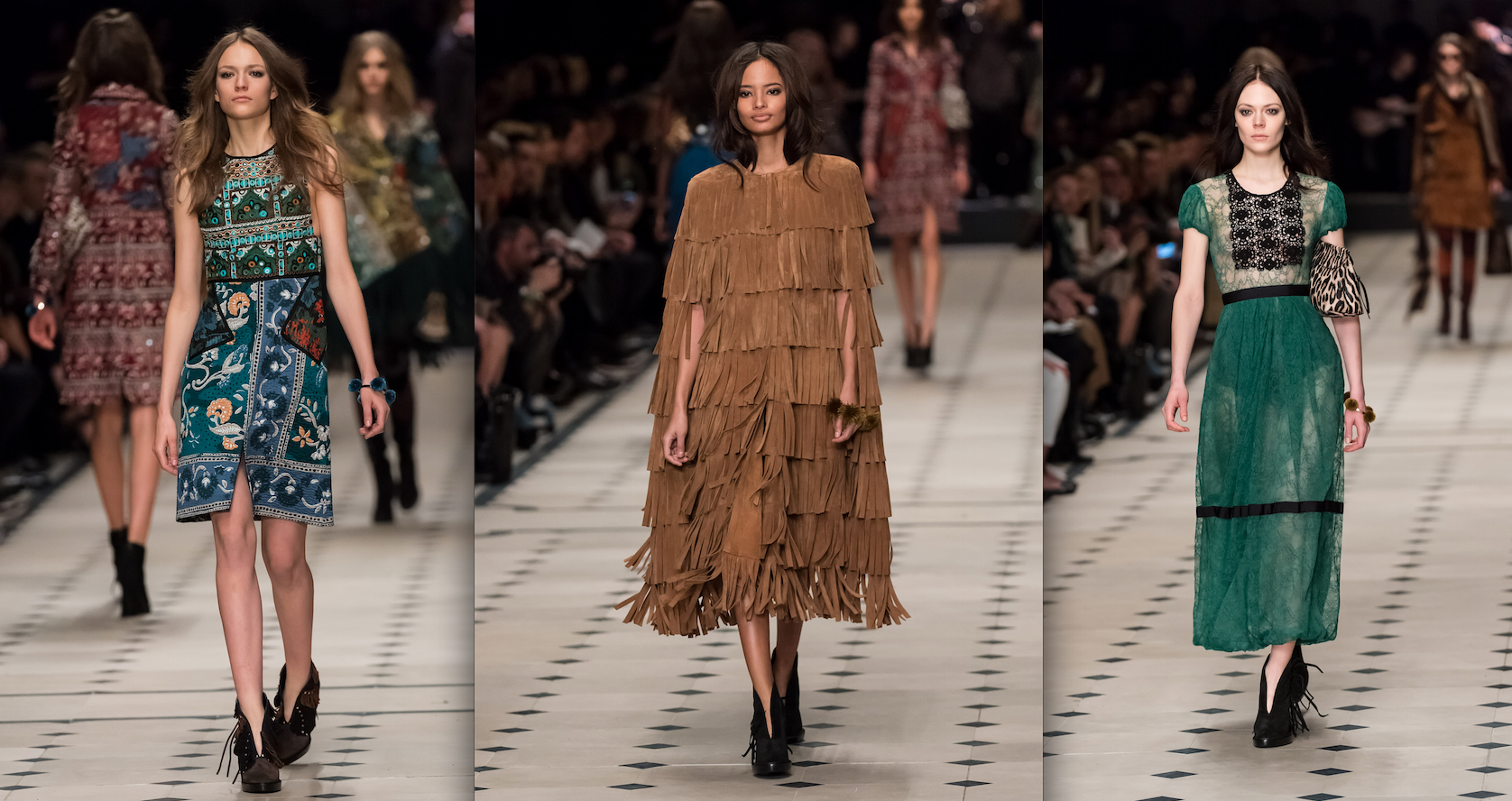 Burberry trumped the American designers' suede and fringe mania by sending out a knee-length poncho made entirely of suede fringe. Empire-waisted dresses not only recalled the Dynasty era, but also—thanks to ornate florals and a Renaissance feel—dynastic royal families of past centuries.
Kate Moss and Naomi Campbell, along with their model-mini-mes, Cara Delevingne and Jourdan Dunn, sized up the opulent goods from the front row. It is easy to imagine Ms. Moss making the collection's boho-luxe feel work overtime for her.
Christopher Kane wrapped things up yesterday with Studio 54-friendly velvets and sparkles. We also saw prints made from piles of lacy body parts, recalling what went on after the party each night.