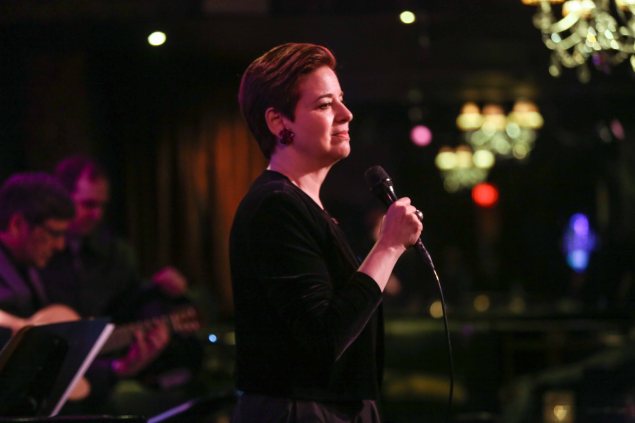 The usually raucous Metropolitan Room, a popular cabaret clubhouse with the ambience of a football rally, is bathing in the dreamy glow of hushed rapture these days whenever a captivating new singer named Celia Berk calls the meeting to order. Charm, sophistication, good taste and a titanic talent are all rare gifts in cabaret. You can search for years and almost never find them combined in the same package. Ms. Berk displays them all, setting the bar very high indeed for every girl singer who follows.
Not since the dearly departed Susannah McCorkle and Mary Cleere Haran—or the more recent Joyce Breach—have I spent a solid hour in the company of a new song stylist with this much class. Trained in classical opera, she has the range of a mezzo, but the throaty intimacy with which she investigates a lyric in her current act onstage and in her gorgeous new debut CD You Can't Rush Spring (a great new song by jazz diva Ann Hampton Callaway) has a dreamy baritone sound that will wash over you like a warm surf in the dead of an arctic winter. Do not expect the familiar or the mundane. She specializes in exposing her listeners to rare, unusual gems that cannot be found on the ordinary cabaret menu. You won't hear "Alfie" or "My Funny Valentine" or any of the other ossifications I'm so tired of that cabaret audiences know well enough to sing along with. She eschews the musical varicose veins that plague most of the alleged "acts" I suffer through these days.
Instead, she applies cabaret triage to worn-out sensibilities with a gorgeous ballad by Marilyn and Alan Bergman and the estimable Billy Goldenberg from their superb score for Ballroom. Dedicated to polishing overlooked agates by great songwriters, she enthralls with discoveries like "You're All the World to Me" (Burton Lane and Alan Jay Lerner) and "Friendly Star" (Harry Warren and Mack Gordon, which Judy Garland introduced in her MGM swan song, Summer Stock), and even a Stephen Sondheim tune I had never heard before called "Sand." Just to make sure you understand that she also has a healthy appetite for the classics, her lush, exclusive phrasing on Jerome Kern and Oscar Hammerstein II's "The Folks Who Live on the Hill" makes it sound fresh as gingerbread straight from the oven. Sometimes, just to keep you alert, she even throws in a pinch of Bach or a dash of Puccini—and she does it with "am I really hearing this, or is somebody piping in a few bars of a Renée Fleming record?" panache. This show, tastefully directed by Jeff Harnar, hits all the right notes. Get in now, on the ground floor, while she's still passing the white glove test. All too often, her kind of artistry goes away unappreciated.
Through all of this serendipity, Ms. Berk phrases precisely and eloquently. You can hear every word, luxuriate in every vowel. What a thrill to see and hear so much elegance and polish. On a soaring arrangement of "Penthouse Serenade" and "Stairway to the Stars" by her accomplished pianist-musical director Alex Rybeck, she doesn't waft or stumble. She glides. On a witty, sardonic comedy song called "Mamaroneck" by Lew Spence ("Nice 'n' Easy") and Tex Arnold (Margaret Whiting's accompanist for 30 years) she reduces you to sudden laughter ("A village so quaint/Secaucus it ain't"). Yes, she's got a sense of humor, too. Intimate, exquisite, understated, her facial expressions are as exciting to watch as her lyrics are to hear. Celia Berk sings in tune and from the heart, with resonance in her lower register, power in her upper register, and passion in both. Where has she been all my life?