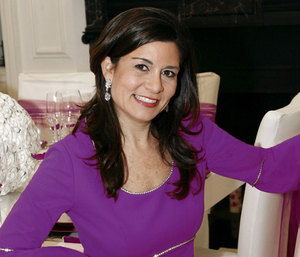 Longtime matchmaker Samantha Daniels was noticing her clients all shared the same problem: they were sick of online dating.
On popular dating sites, she said, people hide behind their profile names, and users are forced to fill out "endless information." At the other end of the spectrum is Tinder, whose hot-or-not swiping format "turns dating into a game."
"I decided it was good idea to build an app," Ms. Daniels told the Observer, "where people could interact with each other on a higher level."
Ms. Daniels is the face behind Samantha's Table, the matchmaking service that caters to clients who are, according to its site, "ultra-successful, ultra-busy, ultra-cultured [and] ultra-educated." They're people without the time required for eHarmony or the low standards required for Tinder.
So she set out to build a hybrid between the two. She would target "successful, high-end people" looking for "real relationships," she explained.
Ms. Daniels launched the first iteration of The Dating Lounge as a Facebook app around two-and-a-half years ago. But after countless users begged her for a mobile version, she's now debuting the The Dating Lounge for iPhone.
Certain aspects of The Dating Lounge—which, for now, is free to use—will be familiar to those who've tried their hand (and hearts) at other forms of online dating. In other ways, the app is also clearly the brainchild of an upscale matchmaker like Ms. Daniels.
Like with most dating apps, members make profiles; they can upload photos and share personal information and interests. Ms. Daniels stressed that members get to be extremely specific about just how rich they are. Whereas the highest income level you can list on Match.com is $100,000, on The Dating Lounge, "we start at $100,000, and you can say you make a million, or two million, [or more]," Ms. Daniels said.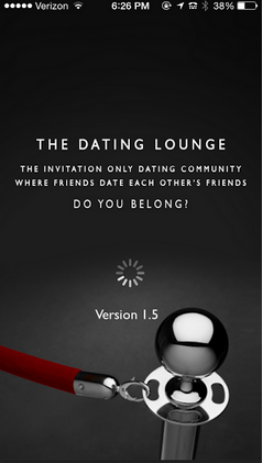 Every day, the app sends each member five recommended matches. Users can also search for potential matches by 15 different criteria like location, education, income and religion. Should two potential matches approve each other, they can start instant messaging within the app. Received a match who you think is great, but not for you? You can refer that person to a friend.
There's also a section of the app where users can seek advice from a matchmaker; they can choose to keep their questions private, or let them be published on the Dating Lounge's blog.
"What I've really tried to do," Ms. Daniels said, "is emulate what I have going on offline, which is a high-end strategic matchmaking service."
One of the trickiest parts of The Dating Lounge is getting in; after all, it's an invitation-only group.
There are a few ways to gain access. First off, anyone who was a member on Facebook will automatically have their membership transferred to the mobile app. Then there's the possibility of getting in through a friend; know someone who's already in The Dating Lounge, and they can send you an invite.
Beyond that, you'll have to submit an application if you want to gain entry, and only the high-end and well-connected need apply.
That tends to mean people who make at least $100,000 per year, but, as Ms. Daniels explained, there are "also members of the Lounge who make under $100,000, but are 'high-end' because of their job or their social connections."
They're also looking for daters who will "mix well with other members"—people who have jobs, education, and friends in common with existing users.
Finally, invitations will only be extended to single people looking for meaningful relationships—i.e., no sleazy married guys looking for some fun on the side.
For Dating Lounge members who've scored dates, Ms. Daniels offered up some advice on how a "wealthy, high-end" person can make a good first impression. "Don't be a braggart," she advised. "People in The Lounge already know you are accomplished. Instead, spend time sharing your interests and experiences and make sure to ask your date questions."
She also recommends "drinks and appetizers" as a first date activity, because they're "low pressure but a good way to get to know each other." Choose a place where you can sit down at a table, and where the music isn't so loud that you can't hear each other talk—hotel lobby bars work well.
"And a guy should always get there a little early to secure a table," she added. "Nothing is worse than when you have to stand at the bar."
Perhaps because matchmaking is an age-old practice, we were surprised that Ms. Daniels is so in favor of using technology to find love.
"My grandmother always said to me, 'If you get invited, you go, because you never know who you're going to meet,'" Ms. Daniels said. "It's the same when you're dating. You should be doing as much as you can, because you never know what will happen."