Ship Your Enemies Glitter isn't just a marketing stunt anymore. Since Mat Carpenter's company—if you could even call it that—was purchased for $85,000, it appears it's been operating as a legitimate glitter-shipping company. Today, we heard from the man who shelled out tens of thousands for Ship Your Enemies Glitter, and learned about his big plans for the business.
The new owner of Ship Your Enemies Glitter introduced himself over email as Peter Boychuk, of Buford, GA. Mr. Boychuk is an "Internet entrepreneur," who owns and operates businesses including partsbuddy.com/mpgautoparts, whmcsdesigns.com, cardsharkcutters.com and hairbarsalon.com.
He initially purchased Ship Your Enemies Glitter as an investment, but soon realized it was worthy of his full-time attention; he put his other businesses "on the back burner," and is now focusing all his energies on developing new product ideas and other ways to evolve the glitter-shipping company.
"There is real demand for the product," Mr. Boychuk told the Observer. "From day one I have set my sights on becoming the 1-800-Flowers of prank gifting, but now I have even greater aspirations and hope to be on their radar as direct competition in the years to come."
"Of course, not selling flowers and chocolates," he continued, "but unique products that people will really enjoy or hate."
When asked about how many orders he's shipped out since taking over the company, Mr. Boychuk said he's "decided to keep the finances of the business private." He did admit, however, that "sales have been surprisingly steady."
"I think people assume some kid is just throwing everything together in a basement somewhere," he said. "But I have a full staff—we have a room in the warehouse dedicated to packing glitter."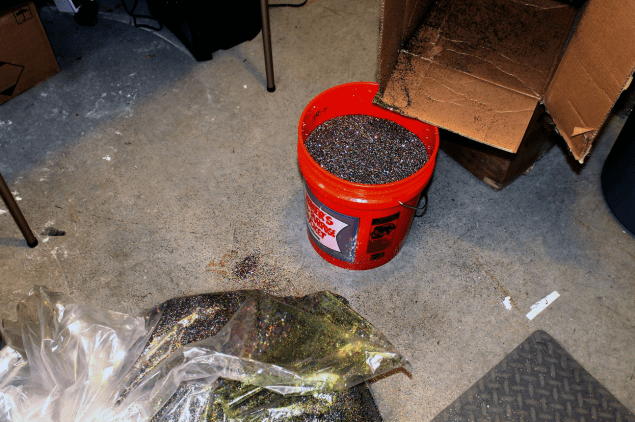 "Everything has been scaled and optimized," he went on. "We are probably one of very few businesses that has 32-gallon trash cans full of glitter."
And we had to ask—what on Earth had inspired Mr. Boychuk to fork over $85,000 for such a seemingly-trivial endeavor? He told us the full story—starting with how he'd followed the sale throughout the week, and talked about it daily with coworkers. They threw around 'what if?' scenarios, and asked themselves why Mr. Carpenter wasn't carrying Ship Your Enemies Glitter to its full potential. Still, Mr. Boychuk was fairly certain it was out of his price range.
But on the final day of the sale, Mr. Boychuk found himself following the numbers closely. He decided it was actually something he could afford, and proceeded to shoot a few questions over to Mr. Carpenter "to make sure I wasn't going to lose my shirt on the deal," he said.
"I set a max price, and convinced myself if I did not buy this site, I would regret it for the rest of my life," Mr. Boychuk said.
"And here we are today," he concluded. "No regrets."