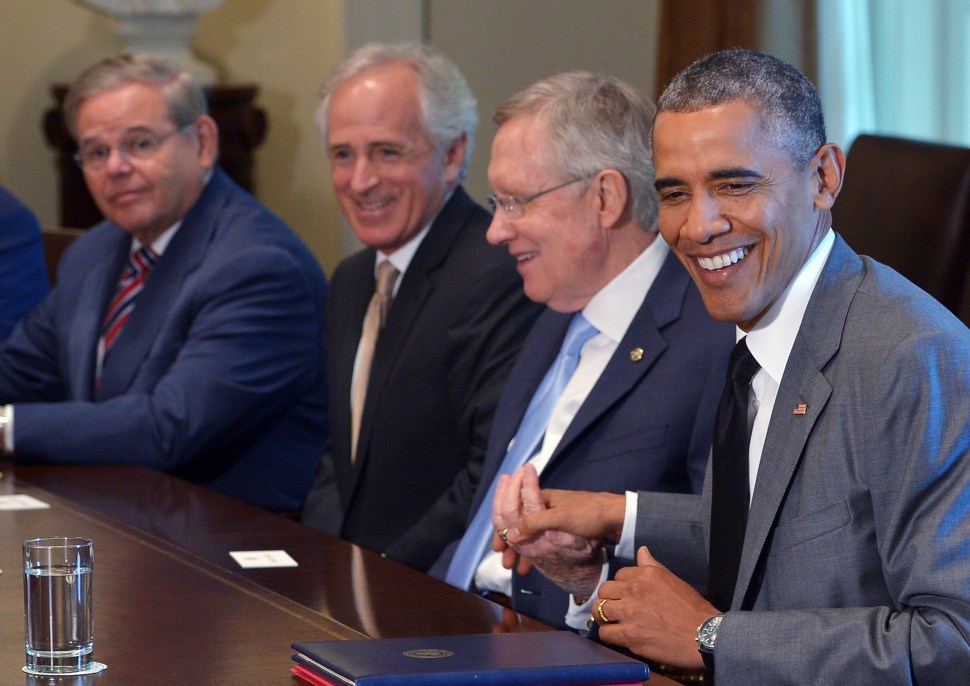 WEEHAWKEN — Google search the names "Bob Menendez" and "Barack Obama" these last few weeks and you'll be met with a barrage of headlines that suggest the two Washington Democrats are in the midst of some deep, untenable standoff over every issue known to man. On easing diplomatic relations and lifting trade restrictions with Cuba, the ranking senator and lame duck president stand on opposite side of a great "rift." In debates over Iranian sanctions, Menendez says Obama's stance comes "straight out of Tehran." And over the course of their careers, the two have alternated roles of friends and enemies, leading one publication to declare them, finally, "frenemies."
True, U.S. Senator Bob Menendez (D-NJ) and President Barack Obama have their differences. But are they as serious as these scandal-hungry news outlets make out?
Not so, says the Hudson County-raised politico.
"I guess for the press the essence of a good story is conflict no co-operation," Menendez, speaking after a press conference in Weehawken today, told PolitickerNJ. "On 98 percent that I have helped the president and have been his strongest advocate — on healthcare reform, on Wall Street reform, on every ambassador that he has nominated, on secretary of state, on a gazillion other things — nobody wants to write about."
"As a matter of fact the president called me yesterday and we spoke on AUMF and on trade," he added.
The headlines that have characterized Menendez and Obama's relationship as one between two allies struggling over real disagreements are not far off, of course: the two have found themselves at odds over issues relating mainly to foreign policy in recent weeks. A hawkish Democrat and ranking member of the Senate Foreign Relations Committee, Menendez has harshly questioned Obama's decision to soften diplomatic relations with Cuba last year, calling it "a bad deal" that "compromised bedrock principles for virtually no concessions." In a letter about continuing nuclear talks with Iran, Menendez supported new sanctions on the Middle East country opposed by Obama, though he and other Democrats did promise the president two months to reach a deal.
And just last week, he left the door open as to whether he would support the Obama's new war draft for battling ISIS/ISIL in Syria, saying he "welcomes" the president's willingness to get Congress' approval for the now-six month bombing campaign in the country, but adding he doesn't believe the draft should be based on previous Authorizations for Use of Military Force. (Obama's new AMUF would repeal the 2002 Authorization of the Use of Military Force that allowed the George W. Bush administration to launch the Iraq War, but would keep in place the 2001 AUMF used to justify the war against terror in Afghanistan.)
But Menendez denied that this behavior is in any way out of the ordinary, saying he and Obama talk often about policy matters both foreign and domestic.
"I have through my 23-some-odd years in Congress, through three presidents, both Republican and Democrat, have been strongly supportive when I agree with them, and when I disagreed with them, had a very principled and strong view about what I think is in the best interest for the people I represent in the state of New Jersey," he said. "That hasn't changed."
Menendez admitted that he does have qualms about Cuba — he and fellow U.S. Rep. Albio Sires (D-08), both of Cuban descent, decried the move to restore relations with the country after more than 50 years of hostility when the administration first announced it last year — but he said he's confident matters can be improved going forward.
"On trade, I told him some of the concerns I had, but you know, I'm confident he can get the type of deal that takes care of labor, the environment, currency manipulation, things like that," he said.
Menendez also said he's working to help tweak Obama's new AMUF, trying to "help him navigate an AMUF that helps him fight ISIL and at the same time doesn't give him or any other future president a blank check," he said, adding the two spoke for 20 minutes via phone yesterday.