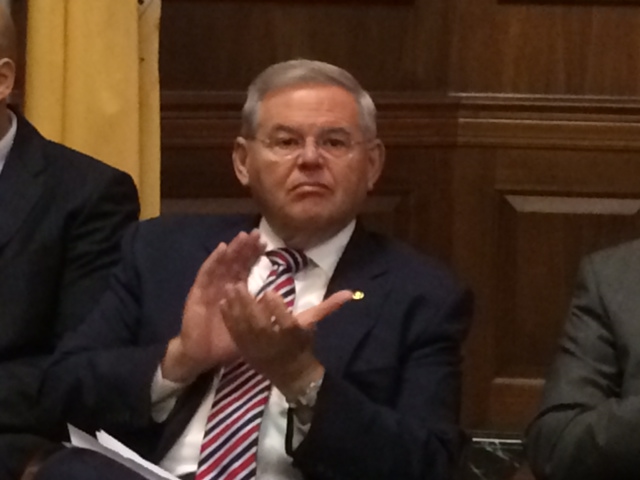 U.S. Senator Robert Menendez (D-NJ) today commended President Barack Obama's proposed war draft to combat the Islamic State of Iraq and Levant, saying he looks "forward to the congressional debate on the Authorization for Use of Military Force to combat ISIL."
"I welcome the Administration laying out the type of authorization they are seeking, and look forward to their continued involvement and engagement in order to achieve congressional approval of an AUMF," Menendez said. "It is vitally important that we act together to send ISIL a clear and unified message that they will be defeated."
Menendez's comments come shortly after Obama took steps to ask Congress for a three-year authorization of war against the Islamic State of Iraq and Levant, the terrorist organization ravaging parts of the Middle East, that would restrict the U.S. military from engaging in "enduring offensive ground combat operations."
The former chairman of the Senate Foreign Relations Committee, Menendez has been at the center of the debate on military action against ISIS in Washington in recent months. He helped the Senate draft and pass its own AMUF late last year, which, like Obama's, would limit authorization to three years and prohibit the deployment of U.S. combat troops, except in specific cases such as those involving the rescue or protection of U.S. soldiers or for intelligence operations.
And while Obama's new draft repeal the 2002 Authorization of the Use of Military Force that allowed the George W. Bush administration to launch the Iraq War, it would keep in place the 2001 AUMF used to justify the war against terror in Afghanistan.
"My longstanding view remains that the 9/11 AUMF should not serve as the legal basis for this fight against ISIL, nor should the 2002 Iraq AUMF," Menendez said. "That is why the Senate Foreign Relations Committee last year led on this issue and passed an AUMF.
Menendez himself earlier this summer told PolitickerNJ that he "obviously … does not support nor would I any combat boots on the ground", though he has expressed strong concern over allowing ISIS to operate uninhibited in the Middle East and left the door open as to what tactics the U.S. should use going forward.
If approved, Obama's new draft would offer Congress' official blessing of what has become a six-month bombing campaign in ISIS-affected regions of the Middle East.
"We continue to mourn the loss of the innocent people who have died in a most brutal fashion at the hands of ISIL," Menendez said. "In recent days and weeks, humanitarian aid worker and American citizen Kayla Mueller was killed, as were two Japanese civilians, a Jordanian pilot, countless Syrians, Iraqis, Kurds, and peoples of varied faiths and backgrounds. Families have endured untold suffering and we share in their pain and grief."
"ISIL is a national security threat and we must ensure that we can defeat and degrade this organization before they develop the operational capacity to strike us here at home. To achieve that goal, we will continue to need our partners in the Arab world and beyond to remain committed and prepared to contribute resources, funding, and strategic support. ISIL is a barbaric organization, destabilizing and terrorizing the region, and the world must stand united against everything this terrorist group represents," he added.