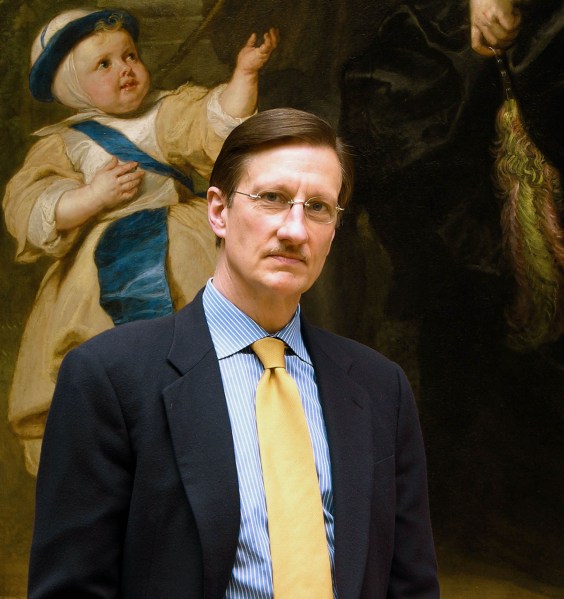 Walter Liedtke, curator in the department of European paintings at the Metropolitan Museum of Art, and one of the most respected museum curators in the country, was killed last night when a Metro-North train crashed into an S.U.V. in Valhalla, New York. Liedtke was among six people confirmed dead in the accident.
Liedtke was responsible for overseeing the Met's collection of 382 Dutch and Flemish paintings. Among the notable exhibitions he organized during his decades with the institution are "Rembrandt/Not Rembrandt in the Metropolitan Museum of Art," which ran from 1995 through 1996, 2001's "Vermeer and the Delft School," and a large-scale showing of the museum's entire Dutch paintings holdings, "The Age of Rembrandt," in 2007. He was the author of more than fifty articles, and seven books.
The museum sent out the following statement announcing his passing:
We are deeply saddened by this tragic loss. Walter Liedtke was a brilliant, respected curator and scholar of Dutch and Flemish paintings who was part of the Met family for 35 years. He organized dozens of major exhibitions that brought the works of Rembrandt, Vermeer, Hals, and many other great artists to millions of our visitors. He will long be remembered for his vast knowledge, his wit, and a passion for art that inspired all who came in contact with him
Met director Thomas P. Campbell also posted a statement to his Instagram, with an image of Rembrandt's Aristotle with the Bust of Homer that was featured in an episode of the museum's web series "82nd and Fifth," narrated by Liedtke:
Walter Liedtke, killed last night in the train crash at Valhalla. Walter was one of the preeminent scholars of Dutch and Flemish painting, whose contribution to the field lives on in a range of scholarly and popular publications. Here, a still from Rembrandt's "Aristotle with the Bust of Homer" about which Walter memorably spoke in his recent "82nd and Fifth" webisode.
In a 2009 Curator in the Spotlight interview with Leidtke for Codart, he revealed some of his favorite paintings at the Met. Not surprisingly, one of them was the Rembrandt masterpiece highlighted in his "82nd and Fifth" spot. He said:
When asked what may favorite painting in the Met might be, I sometimes explain that historians don't think that way and then answer frankly that it depends on my frame of mind. The two main alternatives are Rembrandt's Aristotle with a Bust of Homer and Vermeer's Young Woman with a Water Pitcher. The Delft painting was bought in Paris in 1887 by Henry Marquand, the museum's president, as part of an intended donation (he gave a collection of 37 major works in 1889). It was the first of 13 genuine Vermeers to enter American collections during a 30 year period. The Met now has five Vermeers, the Frick Collection three, and a "Friend" of my department owns one which is currently on loan here.

As for Aristotle, it is the most important of (in my view) 20 Rembrandt paintings in the collection, which are complemented by an equal number of 17th-century pictures in the "Style of Rembrandt" and many works securely attributed to Bol, Dou, Van den Eeckhout, Flinck, et al.
Below is Liedtke's 2013 film The Choice for "82nd and Fifth":