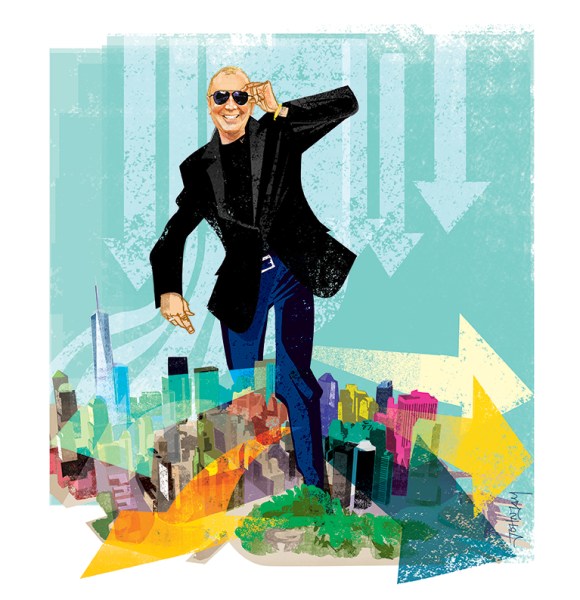 Whenever I tell someone I worked at Michael Kors, I get the same question: "So what's he really like?"
My response is always, "Exactly as you would imagine. The real life Michael Kors is the same as the public version. He is the same guy who had Project Runway viewers in stitches for nine years as he doled out such droll critiques of contestants' designs as "She looks like a transvestite flamenco dancer at a funeral." He is also the same guy who circles the entire runway after each fashion show, grinning, waving and soaking up the glamour while most designers barely muster a smile. Wherever Michael Kors is, he exudes a very real, candid humor reflective of his New York upbringing, whether in the privacy of his office or on set at Good Morning America.
"If Michael wasn't a designer, he could have been a stand-up comic," Fern Mallis, a consultant who worked closely with Mr. Kors during her time as executive director at the CFDA, told the Observer. "He has a very funny take on everything and is quick to share his wit, which is remarkable."
On my first day running the brand's social media division in 2010, Mr. Kors quipped, "Facebook is the new cigarette." He was right. Instead of taking 10 minutes to go smoke, employees were sneaking onto the social site in-between meetings. His ability to create a four-word snapshot of a cultural moment is, in many ways, what has contributed to his success. "I'm constantly guessing what you want before you know you want it," Mr. Kors told the Observer on a recent Thursday afternoon. "Would I have been a good sociologist? Maybe. I think I know how people think, what people dream of."
In Kors world, women dream of feeling glamorous going about their daily lives; they believe luxury can be injected into every day. That is the  foundation Mr. Kors built his business on in 1981 which stands strong today. The style of the brand still draws heavily on New York City women's style from the 1970s, when female celebrities exuded a casual, irreverent elegance, as documented in the black and white Ron Galella photographs that hang throughout his camel colored offices in Bryant Park.
Sit with Mr. Kors long enough and you'll start to get the references. Ali MacGraw strolling through the airport in a wool camel cape, Jackie Kennedy walking to work at Simon & Schuster in a trench coat and oversized sunglasses or Gena Rowlands in the classic movie Opening Night. It could be the suburban mom doing drop-off in a fur coat and cashmere sweats. Season after season, these references come alive through luxurious, wearable staples, like a fur-lined wool pea coat, double-faced cashmere knits, the perfect black pant or slim-fitting dresses in the most flattering form of jersey. Mr. Kors brings the fantasy of classic American sportswear to life. A gingham tunic may be great for summers at the town pool, but in the Kors world, the location is Palm Beach or lunch at Fontelina Beach Club in Capri. "I always loved to travel. Even when I started doing zillions of trunk shows, I loved the experience of going to all these places," said Mr. Kors. "Now the world has gotten smaller, so my inspiration has gotten bigger. It's not just Chicago or Phoenix, but what's going on in Kuala Lumpur or Sydney?"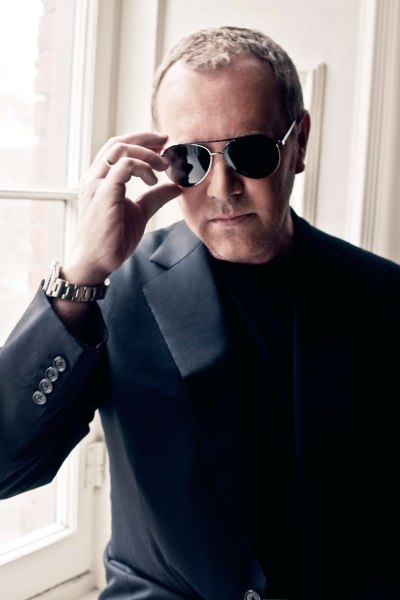 In case you missed it, Michael Kors has gone global. No longer a purveyor of knits for the uptown set, the label is now a 360-degree lifestyle brand, complete with two collections of ready-to-wear and footwear; top selling accessories, licensed products such as fragrances, cosmetics, eyewear, jewelry and watches and a major retail network. Branching out into men's accessories with the Jetmaster watch, the name says it all. The brand is currently valued at an estimated $14.4 billion dollars with over 600 stores in 95 countries. "The Kors team has been strategic in growing their business," said Roopal Patel, a consultant and former fashion director at Bergdorf Goodman. "Most designers want it all at once. Michael established himself first in ready-to-wear and waited for the appropriate time to launch each category." With such considered growth, Mr. Kors and his staff have created a huge following throughout Asia, the Middle East and in much of Europe.
New York though, is the lifeblood of Michael Kors who has traditionally attracted an uptown, glossy crowd. But with a 22,000-square-feet store, his biggest ever, opening at 520 Broadway, he is finally getting a firm foothold downtown.
"New York really is the United Nations of shopping," said the designer. "You have people from all over the world—every age, every nationality, with a specific style point of view. Now, I'm able to take that broad mix of customers, which you find particularly in Soho, and really show the breadth of what we do."
That breadth includes the complete lineup of men's and women's ready-to-wear from both the Michael Kors Collection and the lower-priced MICHAEL, Michael Kors line. The expansive new space will feature a floor dedicated solely to accessories, as well as eyewear and fragrance. There's also a shoe salon unlike any other Kors store in the world, that will showcase footwear from summer flip-flops to high-end heels for disco dancing. And in a new design concept, the brand will devote an entire floor to its growing menswear business that will be housed separately from the rest of the store.
Menswear remains the one category Mr. Kors hasn't tackled since launching his label over 30 years ago. "Men have really changed," said the designer. "It used to be a very small group of men who were interested in fashion and willing to admit they were interested in fashion. Now, for any man interested in culture at large, fashion is up there with politics, sports, business."
But will men buy into the Kors "jet set" attitude that translates so well for women? The introduction of the new Jetmaster watch into the men's accessories range is a start, but it takes a certain type of man to carry a chic summer duffle and work a pair of cropped plaid pants accented by a Grecian sandal. Mr. Kors' undeniable 
lare for glamour has yet to really capture the attention of the average New York guy. "Menswear has to have a yin and yang, a balance," said the designer, thoughtfully. "Something about it has to feel like an old friend so it's not scary or daunting. But at the same time, an old friend has to tell you a new story. It can't be traffic-stopping, but he has to take a little bit of a chance." Mr. Kors cites George Clooney and Ryan Gosling as his modern muses—men who look stylish but aren't fashion victims.
The new Soho flagship is a fitting location for the designer, who has lived downtown throughout his adult life. In 1979, Mr. Kors, then 18 years old, moved to Manhattan from the nearby suburb of Merrick, Long Island, to study at the Fashion Institute of Technology. Mr. Kors' penchant for fashion came early. At age 5 he famously designed his mother's wedding dress for her marriage to her second husband. A precocious young boy, he told her it was too fussy and that she should remove some of the bows. She did. After nine months at FIT, he dropped out and got a job working at Lothar's department store on 57th Street, where he was given a small window space to showcase his work. When the fashion director at Bergdorf Goodman walked by, she bought his entire collection on the spot.
In 1981, Mr. Kors launched the Michael Kors womenswear line at Bloomingdale's, Bergdorf Goodman, Lord & Taylor and Saks Fifth Avenue. A bankruptcy in 1993 forced him to discontinue the line for a time but he managed to get back on his feet by 1997 and launched KORS, a beloved and short-lived lower-priced line. He also took the helm at French fashion house Celine. Mr. Kors left Celine in October 2003 to focus on his brand. At the same time, John Idol came aboard as chief executive officer and acquired the label with Lawrence Stroll, Silas Chou, and their private equity firm Sportswear Holdings, LLC. Over the next 10 years, with Mr. Idol spearheading growth, Kors would build beautifully designed boutiques around the world, in such cities as Milan, Tokyo, London and Paris. The team's effort climaxed with a billion-dollar IPO in December 2011.
wenty years from now, future designers will be studying the Michael Kors business model in their text books and how it came to be," said Ms. Patel. "A brand built from the ground up. That's the magic of Michael's story. Good, old-fashioned work and the American dream."
Yet the magic of Michael Kors truly is his reach. On one hand, the brand sees throngs of tourists lined up daily outside its outlets. On the other, original upper-crust New Yorkers, (AKA Mr. Kors' "girls" ) Aerin Lauder, Renee Rockefeller and Blaine Trump sit front row every season and wear his clothing to the MET Costume Institute Benefit. "Whenever I wear anything he's created, I instantly feel classic and polished," said Ms. Lauder, a close friend. "Michael knows how to make women feel special and luxurious."
Mr. Kors is also a red carpet favorite, dressing such celebrities as Gwyneth Paltrow, Catherine Zeta-Jones and Michelle Obama, who wore a gray Michael Kors Collection suit at last month's State of the Union Address and a black sleeveless Kors dress for her official first term portrait. But while the designer is busy spreading the gospel of luxury American sportswear all over the globe, New York remains his toughest nut to crack.
"It's an exciting dance to think about New Yorkers when I design, which is the best thing about basing my career here," said Mr. Kors. "What do New Yorkers want when they buy something? Easy. They want everything."