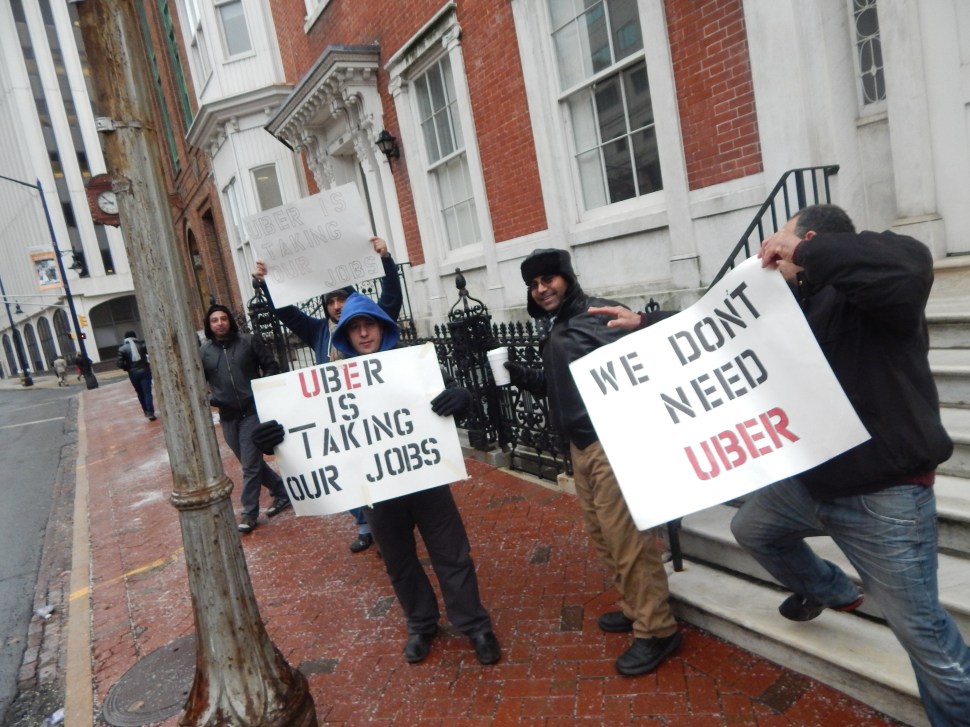 Forward NJ coalition calls on Christie, legislature to put 'politicking' aside and fund TTF
TRENTON — Flexing their political and labor support muscles in a jam-packed committee room up on the fourth floor of the statehouse annex here today, Forward NJ — the blue-ribbon coalition launched last year to advocate for the state's ailing transportation system — offered a scathing appraisal of the progress the legislature and the governor's administration is making toward fixing a depleted Transportation Trust Fund. (Brush/PolitickerNJ)
Forward NJ coalition calls on Christie, legislature to put 'politicking' aside and fund TTF | New Jersey News, Politics, Opinion, and Analysis
Bergen lawmakers go head-to-head on treatment facilitation bill
Following multiple gut-wrenching testimonials, including several by cops, the Senate Commerce Committee this afternoon passed a drug, alcohol and psychiatric treatment facilitation bill backed by state Senator Robert Gordon (D-38), without the support of Gordon's fellow Bergen County lawmaker, Senator Gerald Cardinale (R-39), who questioned cost implications of the bill. (Pizarro/PolitickerNJ)
Bergen lawmakers go head-to-head on treatment facilitation bill | New Jersey News, Politics, Opinion, and Analysis
At Hoboken blogger trial, defense moves for dismissal
JERSEY CITY – Attorneys representing two Hoboken-based bloggers accused of defamation moved to dismiss the case against their clients in Hudson County Superior Court on Monday, stating that the plaintiffs had failed to make a prima facie, or sufficient, case against the defendants. (Bonamo/PolitickerNJ)
At Hoboken blogger trial, defense moves for dismissal | New Jersey News, Politics, Opinion, and Analysis
Pascrell 'extremely disappointed' by Obama-Merkel tag team efforts on Ukraine
U.S. Rep. Bill Pascrell, Jr. (D-9), a member of the Congressional Ukrainian Caucus, expressed dismay in the aftermath of a joint press conference held this afternoon by President Barack Obama and German Chancellor Angela Merkel.
Obama said he was some way from a decision on whether to arm Ukraine in its conflict against Russian-backed rebels, and said he still hopes for a diplomatic solution, according to this report by Reuters. (Pizarro/PolitickerNJ)
Pascrell 'extremely disappointed' by Obama-Merkel tag team efforts on Ukraine | New Jersey News, Politics, Opinion, and Analysis
Hoboken blogger trial continues, highlighting Hudson city's political rifts
JERSEY CITY – A defamation case involving Hoboken political bloggers continued before jurors in Hudson County Superior Court on Monday, underscoring freedom of speech issues and the general nastiness of political discourse in Hoboken, Hudson's real estate boom town.
The trial, which began last week, is rooted in a lawsuit filed by Hoboken resident Lane Bajardi and wife Kimberly Cardinal Bajardi in July 2012 in Hudson County Superior Court seeking $2 million in damages. The Hoboken-based bloggers Roman Brice and Nancy Pincus are named as defendants, as well as 10 other unnamed individuals – listed in the court documents by their on-line screen names – for allegedly posting remarks in 2011 and 2012 that allegedly injured the careers and future employment of the Bajardis. Lane Bajardi is a WINS 1010 radio reporter. (Bonamo/PolitickerNJ)
Hoboken blogger trial continues, highlighting Hudson city's political rifts | New Jersey News, Politics, Opinion, and Analysis
Christie Talks Up His Pork Bona Fides In Iowa
New Jersey Governor Chris Christie told Iowa Republicans on Monday that his experience governing a traditionally liberal state has prepared him to deal with a polarized Congress as president.
Speaking at a Dallas County GOP event, Christie recalled several times that he's butted heads with his state legislature, including his recent veto of a ban on gestational crates in pig farming. As the Des Moines Register reported: (Elkin/Bloomberg)
http://www.bloomberg.com/politics/articles/2015-02-10/christie-talks-up-his-pork-bona-fides-in-iowa
Will Scott Walker Fare Better in London Than Chris Christie Did?
Wisconsin Gov. Scott Walker heads to London Monday for a four-day trade mission, and he's got to be hoping that his trip goes better than the one fellow Republican Gov. Chris Christie took last week.
Christie's three-day trip abroad went awry after the second day, when he fielded a question about the United States measles outbreak and said that parents should have "some measure of choice" in whether to vaccinate their children. The outcome: his staff struggled to reassure the press that yes, Christie does believe children should be vaccinated, a contentious interaction with a reporter in which the governor refused to answer other foreign policy questions, and scores of headlines declaring the trip a train wreck and a disaster. (Kaplan/CBS News)
http://www.cbsnews.com/news/will-scott-walker-fare-better-in-london-than-chris-christie-did/
Chris Christie makes Iowa trip No. 13
Chris Christie, "a conservative Republican governor from New Jersey," returns to Iowa today as he continues to test the waters for a presidential bid.
He speaks at 6 p.m. at a Dallas County GOP fundraiser tonight. The event begins at 5:30 p.m. at the Marriott Hotel in West Des Moines, 1250 Jordan Creek Parkway. Tickets are $25 at the door. The fast-growing Dallas County has an outsized influence in GOP politics in Iowa – although its population is 10th largest in the state, it ranked fifth for the most votes cast in the Iowa caucuses in 2012.
Christie also meets privately today with Iowa Gov. Terry Branstad and Lt. Gov. Kim Reynolds, both fellow Republicans. (Jacobs/Des Moines Register)
http://www.desmoinesregister.com/story/news/elections/presidential/caucus/2015/02/09/chris-christie-makes-iowa-trip-number-12-today/23109021/
Christie pushes blunt style as strength in Iowa
West Des Moines, Iowa (CNN)Visiting Iowa for the third time this year, Gov. Chris Christie blasted President Barack Obama for "taking bows" while ISIS is beheading people, arguing that terrorism has been "emboldened by the lack of leadership from Washington." (Killough/CNN)
http://www.cnn.com/2015/02/09/politics/chris-christie-2016-candidate-iowa/
Booker not ready for VP, according to Monmouth Poll findings
Senator Booker? Yes. Vice-President Booker? Not so fast, according to those polled by Monmouth University. (Pizarro/PolitickerNJ)
Booker not ready for VP, according to Monmouth Poll findings