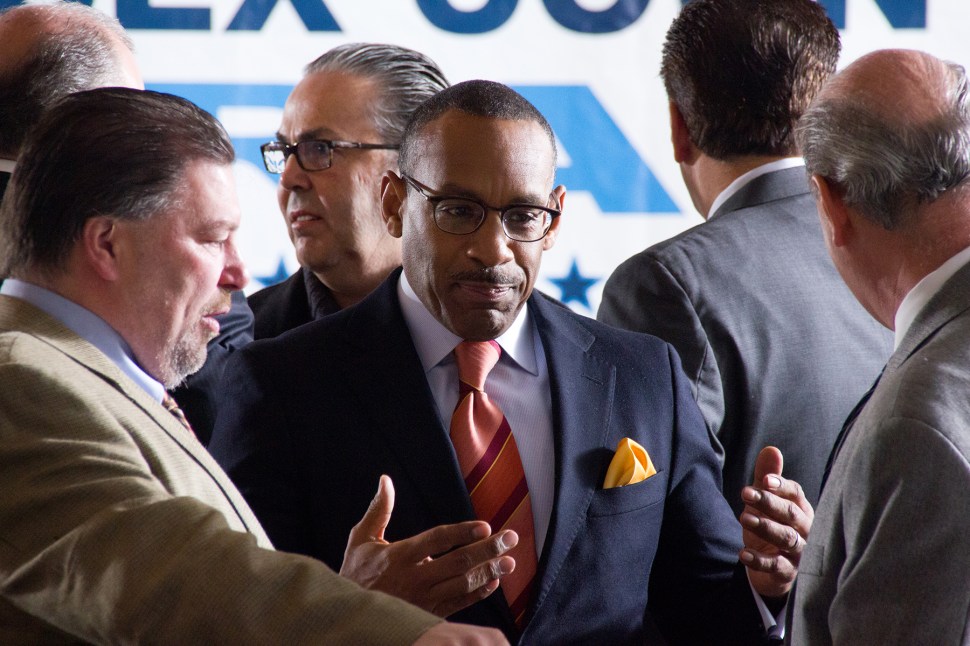 The Catholic Church and the Parade of New Jersey Politics
UNION CITY – It might have been the most raucous scene in New Jersey on that fall afternoon, as Marc Anthony's "Vivir mi Vida" blared on Bergenline Avenue, a pulsating accompaniment to those slow-motion floats crammed with Central American beauty queens, standing-room-only sidewalks arrayed with flags, and a tramping horde of beaming politicians: Grand Marshal U.S. Senator Bob Menendez (D-NJ) and U.S. Senator Cory Booker (D-NJ) in matching sashes at the vanguard. (Pizarro/PolitickerNJ)
The Catholic Church and the Parade of New Jersey Politics | New Jersey News, Politics, Opinion, and Analysis
Rutgers-Eagleton: Clinton beats Christie 58-35% in New Jersey
Former Secretary of State Hillary Clinton beats up potential 2016 Republican opponents in head-to-head New Jersey match-ups, starting with homegrown Gov. Chris Christie, according to this morning's Rutgers-Eagleton Poll. (Pizarro/PolitickerNJ)
Rutgers-Eagleton: Clinton beats Christie 58-35% in New Jersey | New Jersey News, Politics, Opinion, and Analysis
Hoboken blogger to seek legal fees, may pursue libel charges after defamation lawsuit dismissal
HOBOKEN – One of the Hoboken-based bloggers who saw a defamation case filed against her dismissed last week will seek legal fees from the plaintiffs, and could pursue libel charges against a Hudson County weekly newspaper's coverage of the case. (Bonamo/PolitickerNJ)
Hoboken blogger to seek legal fees, may pursue libel charges after defamation lawsuit dismissal | New Jersey News, Politics, Opinion, and Analysis
Does Chris Christie have an Atlantic City problem, too?
Last week, PolitickerNJ documented the uncertainty surrounding efforts to shore up the beleaguered seaside gaming mecca in the face of stiff economic and fiscal problems. It includes, though is not limited to: A mammoth, $24 billion casino, bankrupt and left without an investor for a second time; legislation to create a PILOT program and bring some much-needed tax relief to residents and hemorrhaging casino owners, still idle in the Senate as lawmakers work frantically to build support; and a new emergency management team, installed via executive order by Gov. Chris Christie, striking fear in some observers who worry the state might take the city the way of Detroit. (Brush/PolitickerNJ)
Does Christie have an Atlantic City problem, too? | New Jersey News, Politics, Opinion, and Analysis
Christie urges Concord crowd to check out his YouTube greatest hits
Appearing this evening in Concord, New Hampshire, Gov. Chris Christie packaged himself as a blunt truth-teller and told audience members to go look up YouTube videos of some of his past animated town hall interactions.
CNN has the story here. (Pizarro/PolitickerNJ)
Christie urges Concord crowd to check out his YouTube greatest hits | New Jersey News, Politics, Opinion, and Analysis
Chris Christie Tells New Hampshire Republicans He Is Who He Is
CONCORD, N.H.—New Jersey Governor Chris Christie knows better than to attempt an extreme makeover in his bid to become the Republican presidential nominee. Delivering a self-assured keynote address Monday at the Concord and Merrimack County Republican parties' annual Lincoln-Reagan dinner, Christie told an audience of more than 200 people that he wouldn't change who he was in order to get elected.  (Elkin/Bloomberg)
http://www.bloomberg.com/politics/articles/2015-02-17/chris-christie-tells-new-hampshire-republicans-he-is-who-he-is
Chris Christie has an Atlantic City problem.
Casinos on the famed boardwalk are failing. The crime rate is one of the highest in the state. And now the New Jersey governor's decision to bring in an emergency manager to turn things around has created a nasty political backlash. (Flynn and White/Politico)
http://www.politico.com/story/2015/02/atlantic-city-meltdown-chris-christie-115204.html#ixzz3RudIL05W
Gov. Chris Christie's to visit Macomb County in March
New Jersey Governor Chris Christie will be the keynote speaker at the Macomb County Republican Party's Lincoln Dinner Fundraiser in March.
The event will be held at 6:30 p.m. on March 27 at the Palazzo Grande Banquet and Event Center in Shelby Township and is the MCRP's largest fundraiser of the year. (Stafford/Detroit Free Press)
http://www.freep.com/story/news/local/michigan/macomb/2015/02/16/chris-christie-macomb-county-republicans/23530389/
Abe Lincoln and the 'unsophisticated heathens' of New Jersey
President Abe Lincoln and New Jersey: imperfect together.
Lincoln didn't really care to stop here when he traveled from Washington, D.C. to New York City.
And so he didn't, despite multiple invitations.
Democrat Stephen Douglas and his fusion ticket beat Lincoln in the general election of 1860: 62,000 votes to 58,300; but New Jersey's College of Electors awarded Lincoln four NJ electoral votes to three for Douglas.
Lincoln was lucky to obtain those, as relations with Democratic Party stronghold New Jersey only worsened during the Civil War. (Pizarro/PolitickerNJ)
Abe Lincoln and the 'unsophisticated heathens' of New Jersey | New Jersey News, Politics, Opinion, and Analysis