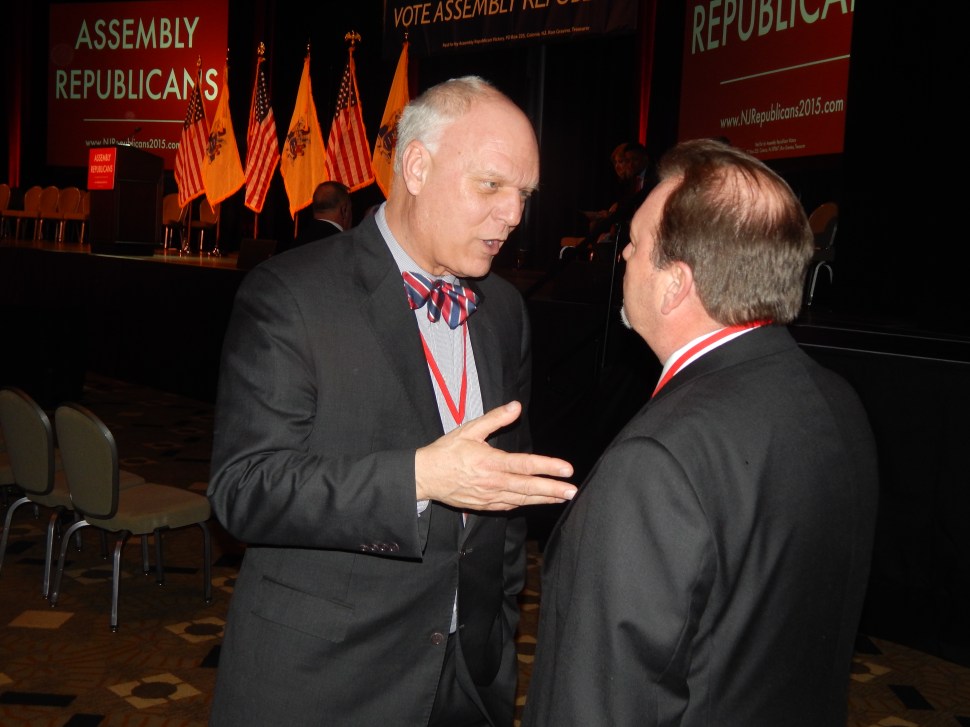 Ferriero Corruption Trial: Judge says it's about defendant, not others
NEWARK – The defense attorneys for former Bergen County Democratic Chairman Joe Ferriero this afternoon argued that their embattled client didn't know he was breaking the law when he drew the attention of federal investigators who ultimately slapped him with bribery and extortion charges. (Pizarro/PolitickerNJ)
In Hudson unity display, Cirillo sworn in as West New York commissioner as Roque slate begins to take shape
WEST NEW YORK – Cosmo Cirillo became the youngest commissioner in West New York history on Wednesday in a display of Hudson County Democratic political unity that some had to see to believe.
State Sen. Nicholas Sacco (D-32) swore in Cirillo, 27, while state Assembly Speaker Vinny Prieto D-32) looked on. Cirillo serves as Prieto's senior adviser in Trenton. (Bonamo/PolitickerNJ)
In Hudson unity display, Cirillo sworn in as West New York commissioner as Roque slate begins to take shape | New Jersey News, Politics, Opinion, and Analysis
MacArthur's first bill aims to protect disaster victims from FEMA 'recoups'
U.S. Rep. Tom MacArthur (R-3) has authored his first piece of legislation in Washington, aiming to bring some federal protection to relief-seeking victims of natural disasters like Hurricane Sandy.
MacArthur introduced a bill today called the Disaster Assistance Fairness and Accountability Act of 2015, meant to prohibit the Federal Emergency Management Agency (FEMA) from recouping funds — awarding relief money to victims of natural disasters only to later change their determination —  except under certain circumstances. (Brush/PolitickerNJ)
MacArthur's first bill aims to protect disaster victims from FEMA 'recoups' | New Jersey News, Politics, Opinion, and Analysis
Wisniewski-Bramnick battle continues after testy morning debate
TRENTON — The Wisniewski-Bramnick debate isn't over yet.
Shortly after the conclusion of a League of Municipalities Legislative Day panel talk where the two first sparred, Assemblyman John Wisniewski (D-19) released a statement bashing Assembly Minority Leader Jon Bramnick (R-21) and his suggestion that New Jersey's school funding formula be revised to fund a depleted Transportation Trust Fund. (Brush/PolitickerNJ)
Using school funding to fix TTF a 'dead on arrival' idea, Wisniewski says | New Jersey News, Politics, Opinion, and Analysis
Newark council members spar over Triangle Park project
NEWARK – Members of the Newark City Council sparred at a Wednesday meeting over proposed changes in the direction of the more-than-decade long effort to build Triangle Park, a park meant to provide a pedestrian link between Newark's Ironbound neighborhood, Penn Station and the Prudential Center arena and spur downtown development.
A first reading of the proposed changes was not immediately conclusive. The reading was conditionally approved – out of seven council members present, five supported an amendment that could change the original plan to develop the park, signed between major Newark property owners Edison Properties, Jose Lopez and the Newark Housing Authority. (Bonamo/PolitickerNJ)
Newark council members spar over Triangle Park project | New Jersey News, Politics, Opinion, and Analysis
Chris Christie Dodges Press in UK, Raising Questions About Handling 2016 Media Spotlight
NEW YORK — One of the easiest ways to get bad press is to ignore the press. That's especially true on a foreign trip where news organizations have spent thousands of dollars to send reporters thousands of miles away in search of something newsworthy.
New Jersey Gov. Chris Christie (R) made news this week in the United Kingdom, though not the kind a presidential hopeful wants to make on a trip meant to enhance his foreign policy bona fides. Christie came under fire Monday for suggesting parents need to have a "choice" in the matter of vaccinating children. That night, The New York Times dropped a bombshell story about Christie accepting lavish gifts from wealthy individuals, including some with business ties to New Jersey. (Calderon/Huffington Post)
http://www.huffingtonpost.com/2015/02/04/chris-christie-press-uk_n_6612834.html
What Chris Christie Must Do to Get Back on Track
Chris Christie is looking for a reset button.
As he returns to the United States from an off-message trip to England, during which the topic of vaccination trumped his state's trade ties with the United Kingdom, the New Jersey governor must now figure out a way to emerge from under Jeb Bush' shadow in the competition for the hearts and wallets of center-right donors, and do so fast. (Talev/Bloomberg)
https://www.bloomberg.com/politics/articles/2015-02-05/what-chris-christie-must-do-to-get-back-on-track
Frustrated With Christie, New Jersey Republican Lawmakers Weigh Override Veto
Gov. Chris Christie has used his veto power more aggressively than any other New Jersey governor, rejecting more than 350 bills in five years in Trenton. His vetoes—from mundane bills related to fiscal matters to more controversial measures such as gun control—have never been overridden.
That record could end with a bill requiring more transparency at the Port Authority that both legislative chambers passed unanimously in November. (Dawsey/The Wall Street Journal)
http://www.wsj.com/articles/frustrated-with-christie-new-jersey-republican-lawmakers-weigh-overriding-veto-1423100869
New Jersey environmentalists who oppose Sunday hunting ask top lawmakers to vote 'no'
A coalition of New Jersey environmental groups has asked state Senate and Assembly leaders to stop a proposal to allow hunting with firearms on Sundays.
They argue Sunday is the only day New Jersey residents and others can enjoy public lands without the sound of gunshots or fear of getting hit. Hikers, bikers, bird watchers and photographers will no longer have that peace of mind if Sen. Joe Kyrillos' bill becomes law, they say.
The bill allows hunting every day of the week of any animal during the season prescribed by the fish and game code. In their letter, the coalition of seven environmental groups points out there's a firearms season every week of the year for one or more species of game. (Peters/The Express-Times)
http://www.lehighvalleylive.com/newjersey/2015/02/new_jersey_environmentalists_w.html
Back in Trenton, Christie to meet with premier of Alberta
Back from his trip to England this week, Gov. Chris Christie has scheduled a closed session tomorrow with Jim Prentice, Premier of Alberta, according to the governor's office.
Back in Trenton, Christie to meet with premier of Alberta | New Jersey News, Politics, Opinion, and Analysis
The Top Eight All-Time Most Disastrous Trips to England
In 1965, Byrds publicist Derek Taylor attempted to package the mop-topped California five-some as America's answer to the Beatles. Considering the fact that only one of the five guys actually played an instrument on their debut single, the Byrds' British tour horrendously flopped.
Germany's ill-conceived "Operation Sea Lion" – a plan to invade Great Britain – never materialized after its cancellation in 1940.
Eva Peron's 1947 "Rainbow Tour" notoriously ran amok when the Argentinian accepted the Queen's invitation to tea, but failed to secure an invitation to stay overnight in Buckingham Palace….
Read More by Clicking the link below
The Top Eight All-Time Most Disastrous Trips to England | New Jersey News, Politics, Opinion, and Analysis