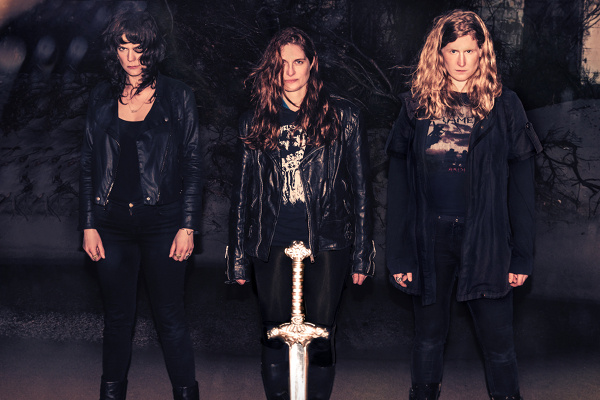 Mortals' indelible debut album Cursed to See the Future (Relapse) is a melange of blackened thrash metal's brisk yet bleak overtones and doom/sludge metal's scarring grit. Imbued with the classic styles of Watain and High On Fire, Cursed has earned the Brooklyn-based trio respect from NPR, Metal Injection, Village Voice and Wondering Sound.
A former web editor at New York magazine, and currently a contributor to Sundance, AMC and The Atlantic online, Mortals' guitarist Elizabeth Cline also just published her first book, Overdressed: The Shockingly High Cost of Cheap Fashion, which analyzes consumerism and fashion production. Ms. Cline chatted with the Observer via email about juggling her journalistic and musical endeavors—along with Mortals' plans for 2015:
The New York Observer: How did you balance playing music and working as an editor at New York magazine? Did journalism slow down your musical pursuits in any way?
Elizabeth Cline: Mortals didn't start to take off until after my book came out. These days, I work freelance as a journalist, which compliments our touring schedule pretty well—I've done radio interviews about my book while we're on tour, in a hotel room, under a deck behind a coffee shop. You just figure it out. Of course, it's not possible to do everything that I want with both my writing career and my music career at the same time, but life is always a series of trade-offs.
This year, we're going to be writing the next Mortals full length, so that means that writing another book this year is probably off the table. I'm thinking I'll focus on composing features or personal essays about this crazy adventure we're on together when I'm home.
How do you structure your songs? When shifting from black metal-esque tremolo picking to heavy sludge melodies, is that usually planned or is it improvised through jamming?
I would say our most successful songs start with a string of sludge riffs and the black metal parts are added as a sort of interlude and are more improvised. The transitions are something we put an undue amount of time into; black metal, crust and sludge aren't often positioned next to each other, which means there aren't a lot of bands that we can look to for references or for precedents of how to do the transitions. Our transitions used to really stump us, but getting them right and developing them has become one of the most satisfying parts of writing our songs.
In your Bandcamp bio, you talk about how Mortals didn't follow the "straight line" that other metal bands have. Was your path spontaneous or thought out?
Completely spontaneous. Mortals started out six years ago as a sort of post-metal, more progressive, and NWOBHM-influenced band—just by the nature of combining all our various influences. We even had clean singing. In the beginning, we put together our various inspirations and just let the band happen and our sound emerge.
We ended up kind of stepping backward into the blackened sludge sound—by carving away the elements that weren't working and developing the elements that we loved.
What are your thoughts on having the opportunity to tour with Skeletonwitch and Goatwhore?
It's going to be the experience of a lifetime. We're touring with two bands who are among the best live acts in metal, so I'm very excited to see the fan response and watch their sets every night. We already know they're all fun dudes and nice people, which is extremely important when you're sharing a van and on the road together for a month. Playing Europe and Roadburn festival in particular have been goals of ours for a while, so we're looking forward to pretty much every aspect of this tour.
[bandcamp width=350 height=470 album=510553246 size=large bgcol=ffffff linkcol=0687f5 tracklist=false]
Mortals open for New Orleans sludge legends Eyehategod at Greenpoint, Brooklyn's St. Vitus on Friday, February 6.